Though any food truck is a good food truck, there are definitely some that fly above the rest (note: none of these trucks actually fly, though if one of them did, that would be even better). For example, you'll have a hard time topping these 16 badass Houston food trucks.
Recommended Video
This Brisket Sandwich Weighs Over 20 Pounds
Global-inspired street foods like chicken tikka tacos, kimchi sausages, and dreamy-as-hell truffle tots are worth putting your pants on to leave the house. Seriously, put some pants on.
 
Houston favorites like Frito pie, boudin balls, and CFS sliders are allllllll on the menu at this fat kid's fantasy truck. But don't be afraid to step outside of Houston for things like the Chicago Dog or the Nashville Sammich. Look out for a new menu this spring.
With delivery AND late night hours, these whacked-out pizza geniuses have served many an inebriated Houstonian in need. Get huge-as-all hell slices loaded with cheeseburger stuffs, Fritos, and soppressata.
These two cousins -- who consider themselves a modern day Cheech & Chong, which is pretty fantastic on its own -- take Filipino street food to a new level. Get house-ground burgers loaded with Spam and sweet aoili, chicken & pork-stuffed siopao, and mayo-loaded fries -- because they are all amazing.
 
Forget Philly -- a Korean-style kimchi-and-spicy-mayo-smothered cheesesteak is where it's at. So are kimchi-and-spicy-mayo-covered fries and kimchi-and-spicy-mayo-covered hot dogs.
The best part about this taco truck, besides the fact that you can down, like, five tacos with some beer at West Alabama Ice House, is watching your friends burn the crap out of their mouths when they mistake the green salsa for guacamole. Stupids.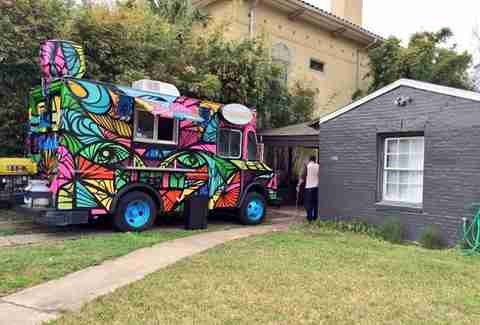 Because when a mobile eatery knocks out chef-driven cuisine like roasted bone marrow and lobster risotto, you find it. The truck, run by Chicken Ranch owner Josh Martinez and crew, was just selected as the only Houston rep for the SXSW Southbites Trailer Park this year. Come back soon, guys.
Fact: Houstonians love Mexican food. Double fact: Houstonians love Korean food. If a is equal to b and b is equal to... forget it. We suck at math. Just know that this truck's Korexican eats are on fleek.
 
This food trucks sells "Mexican cuisine with Korean in between" -- which we just established is something Houstonians like, like two seconds ago. But if you're still not sure what that means, it means your tacos, burritos, and fries will have will have things like twice-cooked BBQ pork, kimchi, and "el scorcho" sauce on them.
Raise your hand if you like waffles. Raise your hand if you like waffles sandwiched with things like buttermilk fried chicken & ancho honey, smoked salmon, and chocolate ganache & toasted marshmallow. No, not all together, you weirdo. Put your hand down.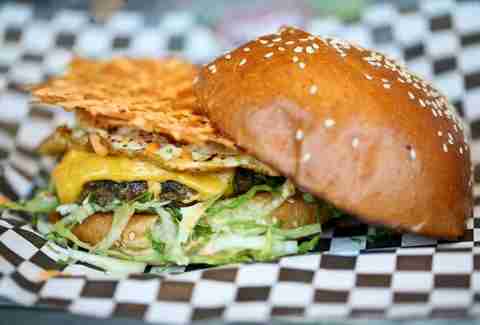 Here, comfort food gets an Asian twist... and sometimes a Mexican twist when the truck feels like it. Find it to get your fill of triple-cheese curry burgers, chicken udon, and "TV dinner" tacos packed with ribeye, chimichurri, and corn mash.
 
Three words: Donut. Bacon. Cheeseburger.
Head here to eat all of the mac & cheese-stuffed egg rolls, Asian chicken nuggets, and Pork Belly Bunz you can handle. Then take some more mac & cheese-stuffed egg rolls to-go, because they exist and therefore you should definitely do that.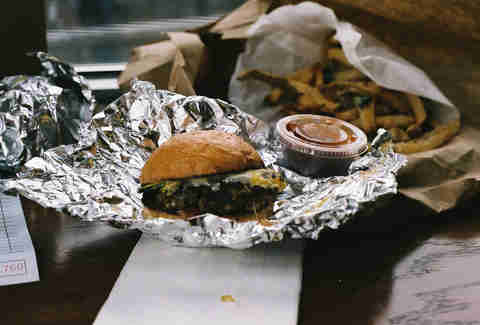 The king of burgers may have gone brick-and-mortar, but the big yellow school bus is still roaming the streets. Get your fill of beautifully sloppy burgers, all made with daily-ground black Angus stuffed into scratch-made buns.
 
We know. We know. You make the best grilled cheese, like ever. Just try a Buffalo chicken- or carnitas-loaded cheese bomb from this grilled cheese truck and get back to us on that claim.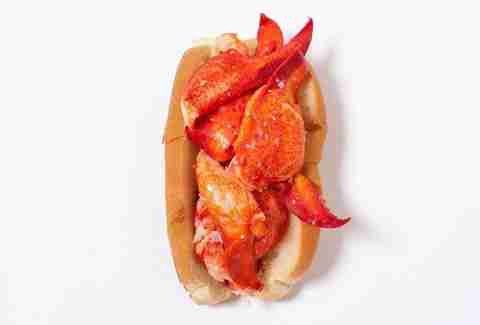 This Shark Tank-funded truck may be new to the scene, but we can guarantee you that its badass lobster rolls that are way more excellent than the lobster rolls you aren't making for yourself right now.
Sign up here for our daily Houston email and be the first to get all the food/drink/fun in town.