The 11 Best Fried Chicken Joints in Houston
Winner winner, chicken dinner.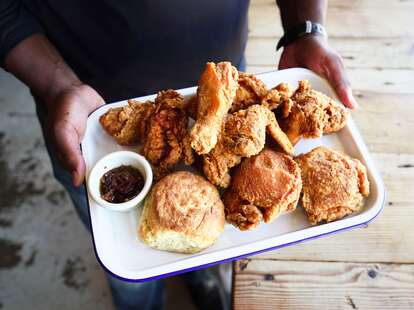 Lindsey Cooper | Gatlin's Fins & Feathers
Lindsey Cooper | Gatlin's Fins & Feathers
Houston may be synonymous with Tex-Mex cuisine, but it's also a part of the American South. Meaning when it comes to fried bird, this city knows how to shake its tail feather. In true H-town fashion, it does so in a myriad of ways. We've got double-fried Korean chicken slingers, old-school chicken and biscuits just like your Maw-Maw made, and one Creole style joint that's been churning out some of the best food in town for over five decades.
Independence Heights
Generations of Houstonians have been able to enjoy The Barbecue Inn's family charm and Southern specialties. Their recipes have been honed and perfected over the last 76 years, including some seriously mind-blowing fried chicken that isn't even the most sought-after menu item. (That title goes to the Fried Shrimp.) But sometimes only bird will do, and this one does beautifully with a homemade batter that crisps up perfectly around an impossibly juicy interior.
How to book: Stop by for first come, first served seating or get delivery via DoorDash and Grubhub.
Lazybrook/Timbergrove
Korean Fried Chicken is so nice they fry it twice at this homegrown fried bird and rice shop. Though the specialties are in the name, the Alief-born and -raised owners put out way more than chicken (dak) and rice (bop). Start by choosing your bird (wings, tenders, or legs); choose your housemade sauce, Soy Garlic, Medium Spicy, Hot & Spicy, or Sriracha Honey Lime; then figure out whatever the hell else you're ordering. Options range from Kimchi Fried Rice and Korean Curry Fries, to Summer Truffle Bread. It's Seoul food at its finest.
How to book: Stop by for first come, first served seating, order takeout online, or get delivery via DoorDash and UberEats.
Independence Heights
If you live in Houston, we're sure you know of Greg Gatlin by now. He's the proud owner of one of the greatest bbq joints in America—which is no small feat—but he's now venturing into the world of feather (and fins) at his new (opening soon) fried chicken and seafood shack. Paying homage to the historic neighborhood and stepping into the shoes of former fixture Herrera's Mexicatessen Restaurant, y'all better come here hungry, as you will get your hands messy with Gatlin's and chef Michelle Wallace's crisp AF, juice-dripping fried chicken and biscuits, plus all the fried treasures of the Gulf.
How to book: Stop by for first come, first served seating (coming soon).
Washington
We'd like to think most Houstonians have absolutely no qualms admitting an import knows what it's doing, as evidenced by the local love given to this Tennessee-born fried chicken hero. The old Bonner Family recipe has stood the test of time (over 60 years), with nicely spiced fried chicken plates served alongside slightly sweet baked beans, coleslaw, and white bread to cool your tastebuds down if you actually need it—though, this Memphis-style specialty isn't nearly as spicy as its hot Nashville brethren. Either way, we've heard Chess Pie helps to wash it down.
How to book: Stop by for first come, first served seating or get delivery via DoorDash.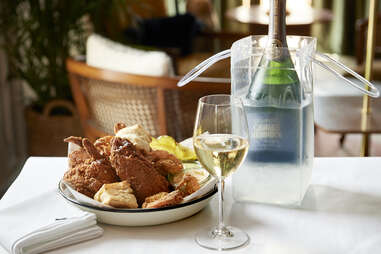 Heights
The Pollo Especial truly is special at acclaimed chef Ford Fry's fancified fried poultry and oyster house, a much-welcomed tribute to the shuttered San Jacinto Inn. Get the hot, fresh, made-to-order fried chicken by the half or whole, served alongside biscuits, pickles, honey sambal, and jam so you can dip, drizzle, and smash as you please.
How to book: Stop by for first come, first served seating, order curbside pickup, or get delivery via DoorDash.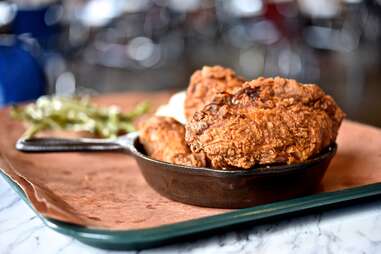 Washington
Chef Ronnie Killen expanded his empire of steaks, BBQ, burgers, and Tex-Mex to include one all-encompassing style of cuisine that covers all of his bases. The menu at his namesake restaurant off Washington focuses on comfort food classics. And just like everything else he does, Killen's fried chicken is stupid good. It's brined for 24 hours to add a punch of moisture and flavor, aggressively seasoned and coated, then crisped up with a hefty crunch. It certainly stands up on its own; however, this version is accompanied by mashed potatoes & gravy that puts the whole thing over the top.
How to book: Stop by for first come, first served seating, book a table on OpenTable, or order takeout via Toast.
Heights (& Willowbrook Food Truck)
Nashville-style hot chicken sandwiches are all the rage these days, and we totally get it. At the same time, this isn't a "Best Hot Chicken Joints in Houston" roundup, so we didn't want to go off the rails and include too many off-the-bone birdie spots. But we happily made one very big exception, and that's for this local gem, because the Sammiches and Tenders it's slinging are just that good. Choose your heat level, and be warned, when Mico's says "Hot," Mico's means it.
How to book: Stop by for first come, first served seating or order takeout via Toast.
Multiple locations
This fast food fried chicken empire puts a Creole twist on its menu, which includes Boudin, Red Beans & Rice, and Jambalaya. It also includes some impressive fried chicken that's always accompanied by a tasty jalapeño. If you've been to one of their many Houston locations, you've likely experienced a long line, and the feeling (as soon as you take a bite) that said line was worth it. This makes sense, as they've been perfecting their game since the original location popped up on Scott Street in 1969.
How to book: Stop by for first come, first served seating or get delivery via DoorDash, Grubhub, and UberEats.
Montrose (& Washington)
With two locations inside the loop, Max's Wine Dive is making a name for itself on the fried chicken map here in Houston. Dimly-lit, and with an ambiance that tempts you to stick around for "one more drink" (or two more bottles of wine), the place also keeps you coming back with a Southern-style menu that'll have you cleaning every last bit off your plate. The hard part is picking between the Jalapeño-Buttermilk Marinated Fried Chicken (also available in H-Town Hot) with home fries, collared greens & Texas toast, or the Jalapeño-Buttermilk Marinated Fried Chicken Wings & Waffle. The easy part is saying "f*** it" and choosing both.
How to book: Book via OpenTable for the Fairvirew or Washington location, or order online for takeout and delivery.
Midtown
How did a breakfast place land a spot on this list? Pretty easily, because this breakfast place fries some of the best damn chicken wings in the city, throws 'em on top of a crispy Belgian waffle, and then blows taste buds away with its sweet and savory amazingness. Do yourself a favor, and add some grits into the mix while you're at it—and don't mind the clown who may or may not be making balloon animals outside while you wait for a table.
How to book: Stop by for first come, first served seating or place takeout orders via Toast.
Midtown
This fowl-frying establishment was named after the chef/owner's great-grandmother, Lucille, the first African American businesswoman in Texas. Chef Chris Williams (a James Beard Foundation award nominee) serves Southern-style dishes with European twists to make his food both familiar and unique. Freshness is key, and he proves it with a backyard garden that supplies much of his produce. When it comes to the Yard Bird, that freshness is not spared. Organic and slow fried to a gorgeous crisp, your choice of white or dark meat is served with garden-grown braised collards, Smoked Mash, and a Texas-sized smothering of Honey Spiced Gravy. Throw in some Hot Rolls and Oxtail Tamales because you totally should; or pop in for brunch and get that chicken with a sweet potato waffle and Bourbon Pecan Syrup.
How to book: Reserve a table via Resy.
Sign up here for our daily Houston email and be the first to get all the food/drink/fun in town.