In a land of burgers, BBQ, and queso, you'd think the healthy options would taste (ugh) healthy... and some do. However, there are a few diamonds in the rough that manage to stay healthy AND do it in a way that is actually satisfying to taste. Surprised? Us too. From alarmingly tasty vegan options (including cupcakes!) to local eats that hit all the nutritional checkpoints (including burgers!), these health-conscious Houston restaurants should help keep you in fine fettle. Now, if only they could find a way to make negative-calorie queso...
Galleria
With all of its fresh/local/sustainable eats, TFK is the perfect example of a "health food" concept that gets it right. The California chain thinks every opportunity to eat is an opportunity to nourish your body, and it does so through winners like grass-fed umami burgers, Texas redfish tacos, and gluten-free chocolate cakes that'll have you wondering why you're still baking with flour. The best part? A legit doctor has approved it all. Even the space doesn't suck, with an airy dining room mixing wood with bright colors to bring a stylish, earthy look to match its food.
Bellaire
This San Antonio import impresses with a solid roster of of soul-satisfying eats of the vegetarian, vegan, AND kosher variety, all of which are offered on the cheap. Brunch like the best of them with tofu scramble breakfast bowls, avocado eggs Benny, and sweet potato pancakes. Later, cauliflower hot wings, "chik-n" Parmesan, and falafel bowls are there to keep you happy as a vegetarian clam. Then there are the cupcakes, which are just as 100% vegan as they are 100% surprisingly good.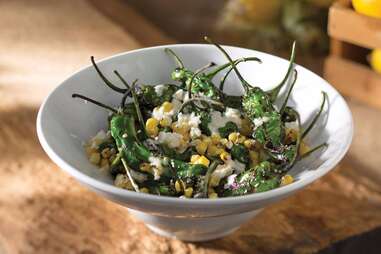 Galleria (& CityCentre)
Calories are displayed right next to the food description at this rustic, fresh-to-death grill... but with dishes like 460-calorie wood-grilled flat iron steak in red wine sauce and 500-calorie caramelized scallops with butternut squash risotto, the outcome is a lot less alarming than one may think. The menu changes seasonally, and portions are spot-on to keep you right and tight, even at dessert (a raspberry chocolate chip cannoli and carrot cake are both under 250 calories). Since you're eating all responsibly and stuff, you may as well treat yourself to a glass of vino, too. The restaurant employs a master sommelier to hand-pick wines from a selection of over 100 different bottles, an appropriate 52 of which are available by the glass.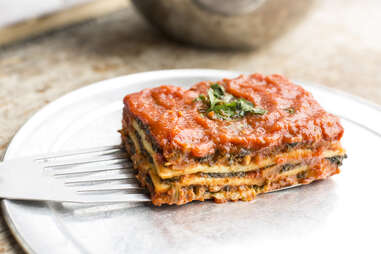 Upper Kirby (& other locations)
This grab-and-go health food concept is an absolute lifesaver, both for those without time on their hands and those without kitchen skills that reach beyond sad-looking steamed chicken and broccoli. Options read like a playbook of the hottest lifestyle trends, from gluten-free, dairy-free, Whole30, and Paleo to vegan, vegetarian, and pescatarian. But the kicker is that this "diet" stuff actually tastes good. Start your mornings with chili & eggs or lemon ricotta pancakes, then dig into chicken tikka masala and chimichurri beef before finishing off with chocolate mousse. It's OK, because it's vegan.
Third Ward
Not only can you sip some excellent locally roasted coffee at this cult favorite cafe, you can also pop in for some excellent vegetarian fare. Evening meals (after 5pm) consist of a rotating selection of globally inspired vegan eats, including "not so" butter chicken, creole-style red beans & rice, and Thai red curry. Lunch gives you the opportunity to smash things like vegetarian curried potato and Muenster cheese panini or creamy garlic and mushroom soup. All of it leaves you feeling a little bit better about that pint of ice cream you smashed the night before.
Katy
Yes, the guy behind the Eatsie Boys food truck and 8th Wonder Brewery got behind a health food concept, and yes, it's just as good as his other two concepts. Chef Matt Marcus consulted on the project with RP's chef, Pablo Gomez, to bring the residents of Katy exactly what they were missing: a health-driven restaurant that goes full-throttle on flavor. You won't feel guilty about downing eats like gluten-free shrimp and crab nachos, Asian soba noodle salad, and pork porterhouse with creamy polenta.The menu is constantly being refreshed when the guys get restless, so visit often to see what's up.
Heights (& other locations)
While not everything on the menu at this green cafe is healthy, there's enough nutritional stuff to warrant it a spot on the list. Gut-busting mac & cheese takes a spin on the lighter side with quinoa instead of noodles; greasy tacos get decidedly less greasy with portobello 'shrooms and black beans; towering salads are always on-point; and even burgers go fit with lean buffalo meat and whole wheat buns. The white chocolate bread pudding, on the other hand... you may want to split that one with a few pals.
Museum District
Even the meatiest of meat eaters can get momentary amnesia at this refreshingly good plant-based cafe and juice bar. Get hand-cut dill fries to stuff inside loaded veggie burgers and portobello mushroom "cheesesteaks," dip crispy cauliflower nuggets in fiery hot sauce, or go full beast mode on a protein-packed kale and quinoa bowl BECAUSE YOU CAN.
River Oaks
While the restaurant is currently closed for renovations (expected to re-open December 2016), this Paleo-friendly spot will be your new bae if you plan on trying out one of those cavemen diets after the holidays. Things like paella, enchiladas, and lasagna go Paleo through gratifying additions like spaghetti squash, coconut flour tortillas, and zucchini, portobello, and shaved butternut squash. You can even trick your SO into eating vegan, with a crazy-good raw pad Thai that mimics the real thing with zucchini noodles and almond butter. No one has to know a thing.
Upper Kirby
OK, so maybe chocolate-laced brioche bun carb bombs and #FriedChickenTuesdays aren't exactly healthy, but Meatless Mondays are! Better yet, they are full of flavor that will have you forgetting there's not even a hint of animal fat on your plate. The vegetarian-friendly Indian fusion spot wows with paneer masala curries, smoked eggplant dosas, and black garbanzo Buddha burgers. After filling yourself with the good-for-you stuff, maybe you can have a bite or two of that chocolate chip cookie.
Downtown/Warehouse District
Chef Justin Yu wasn't named Best Chef Southwest at the 2016 James Beard Awards without merit. His tiny Warehouse District restaurant's "garden" tasting menu is a total game changer. Along with pastry chef Karen Man, Yu has transformed the way meat-minded Houstonians think about faceless food through an array of intricately composed plates with brilliantly intense flavor. The dishes change often and run the gamut from mung bean pancakes stuffed with pickled beets to a spiced Texas grains porridge amped up by cauliflower, cilantro, and 'Navel' orange. No matter what's in the lineup, the stunning six-course menu remains the gold standard for how to eat without meat and leave fully satisfied.
Sign up here for our daily Houston email and be the first to get all the food/drink/fun in town.
Brooke Viggiano is a Houston-based writer who will most definitely be eating something green tonight because she had way too many buffalo wings last weekend, but whatever, football started. Go green with her @BrookeViggiano.