Whether it's smoke-kissed brisket or perfectly pink ribeyes, Houstonians know how to treat their meat right. And the same can be said for even the most humble, tubular of meats: America's darling, the hot dog. From sloppy dogs smothered in chili to Vietnamese Frankenweenies, here are 10 crave-worthy dogs you need to get acquainted with:
Recommended Video
Art of the Meal: Chloe Rose Makes Super Mario Bros Art With Hot Sauces
Picnic Dog
Good Dog Houston (address and info)
Heights 
This food truck turned brick-and-mortar dog joint is a powerhouse in the weiner scene. That's because every big and beefy Texas frank gets stuffed inside fresh, locally-made buns and stacked with addicting housemade condiments and outside-the-box accoutrements. Case in point: The Picnic Dog, where beef chili gets an extra kick from spicy chorizo, and potato salad is served ON (not on the side of) the dog.
 
Chili Dog
The Hay Merchant (address and info)  
Montrose 
If you're going to eat a tube of meat loaded with even more meat, let it be this craftsmen-style monstrosity, where a fat and juicy 44 Farms jalapeño cheddar dog gets absolutely smothered with HM's heat-packing chili. Not enough pizzazz for you yet? The extra helping of cheddar and pickled jalapeño should help with that.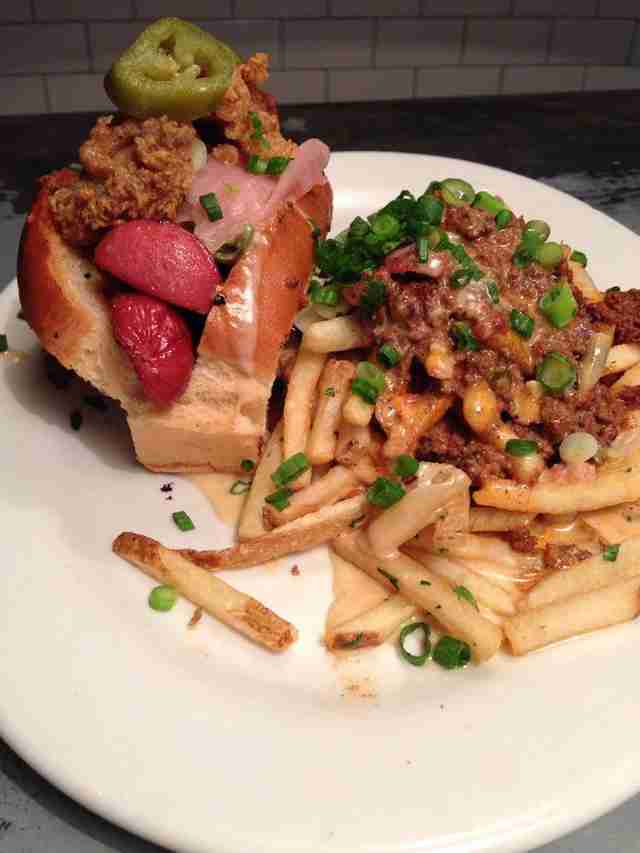 LKHH Hot Dog
Liberty Kitchen & Oyster Bar (address and info)
Heights
This King Kong of hot dogs is probably not something you want to attempt with your hands (unless you totally don't want that second Tinder date). As if smashing a duo of Wimmer's weenies was a bit too tame, the kitchen stacks on spicy and beefy lager chili, pickled onion and 'peño, chile con queso, white cheddar, and a fried egg. Then, because they're really just trying to kill you at this point, they serve the dog alongside chili cheese fries.
Cheese Coney
JCI Grill (address and info)
Multiple locations
While akaushi beef and artisan creole mustard are awesome, sometimes you just want an old-school, messy-as-all-hell chili dog. And they don't get messier or more old-school than the cheesy and meaty, whiz, mustard, and chili coated Cheese Coneys. The grill has been serving 'em sloppy since 1923.
The Nobi Dog
Nobi Public House (address and info)
Pearland 
Ever have trouble choosing between a sandwich and a hot dog, then stare blankly at the server's face for a minute before panic-ordering something you totally didn't want at the buzzer? Well, hit up this Pearland beer house and you'll never have that problem again – because your fat all-beef frank comes stuffed right into buttery French bread and loaded with alllll the banh mi foodstuffs, including chargrilled pork, pickled carrots, jalapeño, and sriracha mayo. 
Slaw Dog Millionaire
Happy Fatz (address and info)
Heights 
Fact: Eat this quarter-pound Hebrew National wiener -- blanketed with creamy slaw and bacon and nestled inside a grilled artisan bun crib -- and you'll be leaving the specialty dog and dessert shop both happy and fat.
 
Build Your Own Dog
JerryBuilt Homegrown Burgers (address and info)
West U/Woodlands 
 Because when you can stack your Texas-sized Angus beef tube with house angus chili, fried egg, and jalapeño cream cheese -- all inside a fluffy and buttery house-made bun -- you do exactly that. Then you finish it with a hand-spun chocolate milkshake and exploding fist bump yourself for being a BOSS.
Wild Game Dog
Moon Tower Inn (address and info)
East End 
Houston's coolest and weirdest weenie shack makes some serious jaw-stretchers. Packed in outlandish combos -- think wild boar with marsala and provolone; and duck with a two fingers splash of apple brandy -- the wild game dogs get stuffed inside local pretzel buns and dressed to your liking. Our advice? Trust the tatted guys to hook you up properly...
Kimchi/Koagie Dog
Koagie Hots (address and info)
Montrose
ICYMI, kimchi is the new bacon. Try the hot & sour family-secret kimchi coming out this Korean food truck to see why. Then get said kimchi atop one of their juicy beef dogs alongside spicy mayo and Asian slaw. Bonus points if you add it to the Koagie Dog, which is also loaded with marinated ribeye and a fried egg.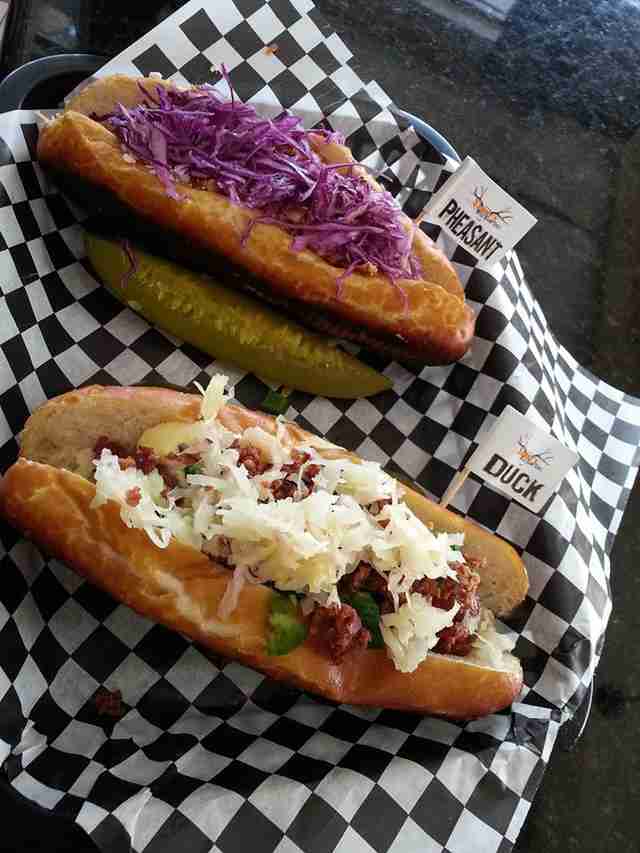 Pheasant Dog
Sammy's Wild Game Grill (address and info)
Washington 
Trust us when we say a dog spiked with cognac is a dog you want to try. Load the pheasant frank your way with toppings like fried onion strings, dill relish, and bacon bits; then pick a fiery sauce to drizzle across the top. Warning: The ghost pepper is most definitely not a joke.
Sign up here for our daily Houston email and be the first to get all the food/drink/fun in town.