Recommended Video
Tuna Eyeball with Timothy DeLaGhetto and Ben Sinclair
Saying that it's been a crazy year is probably the biggest understatement of 2016. But in Houston, we still had plenty of shining moments -- and we recall many of those moments having to do with food. With plenty of new restaurants on the block and some old favorites seriously upping the game, it's been a excellent year to be living, and more importantly eating, in this fair city. As such, we'd like to take a moment to thank the chefs who gave us refuge from the craziness of the outside world and made 2016 as craveable as ever.
Thrillist Houston's Best Chef of the Year nod is not a lifetime achievement award, but rather a closer look at the chefs making waves, at home and nationally, over the past 366 days (yes, it was a leap year, we checked).
Justin Yu
Oxheart
Address and Info
It's been a big year for chef Justin Yu. The Oxheart chef was honored with the coveted Best Chef Southwest award by the James Beard Foundation, a lifelong dream that came to fruition thanks to the 30-seat restaurant's game-changing, garden-focused tasting menus -- the brainchild of both Yu and former partner Karen Man. Five years and an extraordinary amount of intricately plated, painstakingly thoughtful plates later, the chef announced that he will soon be saying goodbye to Oxheart and hello to a fresh a la carte concept via a poetic blog post. It was a surprising blow, but it's that kind of bravery and ambition that made diners fall in love with Oxheart and Yu in the first place. As the chef steps away from running the kitchen and falls into a more directorial role, we can't wait to see what next year will bring (including the unnamed neighborhood hangout in the Heights, a collaboration with longtime friend and colleague Bobby Heugel of Anvil fame).
Ronnie Killen
Killen's Steakhouse
Address and Info
Chef Ronnie Killen is not new to receiving accolades. He was first in his class at the renowned Le Cordon Bleu Culinary Institute in London, then later a finalist for the chance to be the White House Executive Chef in 2005, and was named Certified Executive Chef by the American Culinary Federation -- an honor held by only about 1,200 chefs across the country -- that same year. This year, with uber-successful spots already under his belt -- one steak, one smoke -- the baron of beef added some more meat to the bones of his burgeoning empire. In May, he opened Killen's Burgers, a burger concept to complete the beef monopoly in Pearland. In a surprise to absolutely no one, his fans came out in hoards. Just this month, the chef debuted his latest creation, Killen's STQ, his most personal concept yet. There, the chef aims to focus on the kind of food he likes to cook, combining a relaxed fine-dining atmosphere and a more farm-to-table approach with his proven talent for Central Texas-style barbecue and live-fire steakhouse -- think dry-aged pork long bone chop, smoked brisket bolognese, and short rib tamales. It's Killen's first restaurant within the city limits, and we fully expect it to draw even more frenzy than his OTL counterparts, if that's even possible.
Rebecca Masson
Fluff Bake Bar
Address and Info
At her brick-and-mortar sweet shop, pastry chef, and self-proclaimed "sugar hooker" Rebecca Masson has been running some of the most interesting pop-up collaborations of the year. The "Dinner with My Friends" cooking series brought in talent from Dallas, Austin, Milwaukee, and Houston to give diners a playful six-course tasting menu each month, and the collabs didn't stop there. The Le Cordon Bleu Paris graduate was the Pastry Chair and co-hosted the first ever "Sweet Week" for Houston's Taste of the Nation for No Kid Hungry, served up bites at Texas Monthly's First Annual Whiskey Affair, created a special treat for iPic Theaters, and worked on a Cup|cake Crunch shake with NYC burger deity Shake Shack, which opened its first Houston outpost in the Galleria this November. Masson also gives us plenty of reasons to get out of bed and "wakey bakey" every weekend, thanks to concoctions like tandoori chicken bagel balls, speck buttermilk biscuits and Texas apple pop tarts at her shop's Saturday Morning Bake Sales.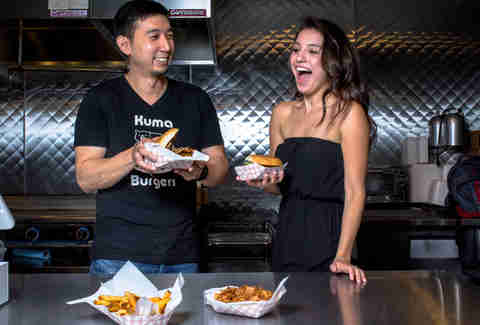 Willet Feng
Kuma Burgers
Address and Info
Rumor has it the thought of opening a burger joint wasn't even on the former Oxheart cook and private/pop-up chef's radar. After two years in China and a stint as the chef at a Shanghai restaurant called The Grumpy Pig, Feng was looking to jumpstart his own Southeast Asian restaurant in Houston when it happened: Greenway Coffee's David Buehrer approached him about filling a vacant burger kiosk in the Greenway Plaza food court. Thankfully for us all, Feng decided to be a "yes man," opening what is now regarded as one of the best new burger spots in the city. Since quietly opening, the burger stand gained a steady cult following. It's Feng's vast experience and close attention to flavor that allows Kuma Burgers to shine in an already saturated burger market. Each aggressively seared patty gets an umami-boost from an in-house soy and shiitake sauce; and customizables like a punchy mayo with scratch-made sambal paste and deep Texas chili made with a 10-spice, house-ground blend sourced from Rice Village's Savory Spice Shop provide further depth and intrigue, while also showing off Feng's chefy skills.
Robert Del Grande
Cafe Annie
Address and Info
It's been 24 years since Robert Del Grande won a James Beard Award for the late Cafe Annie, and 35 years since the bonafide celebrity chef opened the then groundbreaking, now iconic restaurant that was one of the first to focus on the "local" movement. In 2009, the building that housed Cafe Annie for 20 plus years was torn down to make room for BLVD Place, and the restaurant morphed into a new entity, RDG Bar + Annie, in a new location. It remained that way until this year, when the biochemist-turned-chef resurrected Cafe Annie, embracing nostalgia and harkening back to the whimsical brilliance of the French-Texan bistro in its original form (with some 2016 updates, of course). Del Grande puts it best: "To revolve, akin to revolution, is to return to the beginning but with a fresh view -- all revolving involves revisiting, and all revisiting offers the opportunity to see something new in something old. The past can be just as intriguing as the future." Consider us intrigued.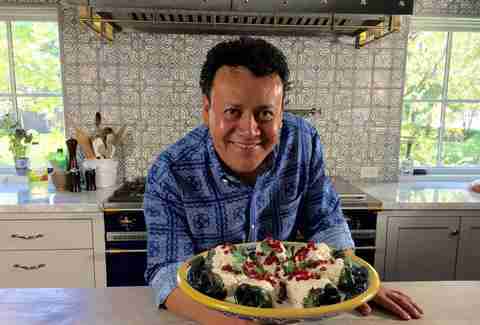 Hugo Ortega
Hugo's
Address and Info
Executive chef and co-owner of three Houston staples, Hugo Ortega is deserving of every accolade he's received, and even those that he hasn't (in an "always the bridesmaid, never the bride" type situation, he's been up for the James Beard Award for Best Chef Southwest every year since 2012). He's long been perceived as an example of the modern-day American dream, an immigrant from Mexico City who began as a dishwasher at Backstreet Cafe before graduating from culinary school and becoming the restaurant's executive chef and co-owner along with his wife, restaurateur Tracy Vaught. Along with keeping things interesting at three tremendously successful restaurants, which also includes Hugo's and Caracol, Ortega has been busy readying H-Town Restaurant Group's latest concept, Xochi, which is set to open on the ground floor of the Marriott Marquis Houston Downtown (yeah, that one with the lazy river in the shape of Texas). This will be a creative endeavor -- its name means to bloom or to catch fire -- with a "by author" menu that will allow Ortega's imagination to shine.
Richard Knight
Hunky-Dory Tavern
Address and Info
We all missed chef Richard Knight with the closing of the late "nose to tail" restaurant, Feast. But late last year, the other-side-of-the-pond chef came back swinging with the opening of the elevated British tavern, Hunky-Dory. Here he shows us just what we've been missing through a series of old school pub dishes made better by clever, modern-day tweaks. That means a usually greasy fish & chips become fish & chip tartare, plump with fresh Gulf fish, pickly stuff and a side of chips and malt vinegar aioli. Pork chops are stacked high on a cake stand and dolloped with schmaltz that melts over the chops in the most IG-worthy way; and then there's awesomeness like NY strip with burrata and oxtail gravy poutine, which doesn't sound British at all but we'll take it. One year later, Knight has turned Hunky-Dory into one of the most buzzed-about restaurants in Houston.
Anita Jaisinghani
Indika
Address and Info
Chef and owner of the highly lauded Indika and Pondicheri, Anita Jaisinghani makes this year's hot list thanks to not only what she's accomplished at home, but what she's accomplished outside of Houston. At home, that means keeping two progressive Indian concepts afloat (one more formal, the other street-food style with a bake lab attached) and running a series of popular pop-up dinners, all while she shifts a bit of focus to the away: opening a spice-loving Pondicheri outpost in New York City. We often see Big Apple spots make their way to Houston, but it's not often the vice-versa situation exists. So far, it's been more than well received, even earning a favorable review from New York Times restaurant critic Pete Wells. He said "There isn't anything in the city quite like Pondicheri." We'd say there's nothing quite like it in this city, either.
William Wright
Arthur Ave
Address and Info
After coming into the culinary spotlight with the launch of Helen Greek Food and Wine in 2015, chef William Wright continued his dominance with Italian American jewel Arthur Ave, which opened to much anticipation in September of this year. Here, Wright pays tribute to a cuisine centered on unapologetically hearty dishes and classic red sauce in a way that feels much more current than any of those old-school restaurants you'll find on Arthur Ave, in New York's "real Little Italy." The revival-style cooking with a modern spin works in dishes like spatchcocked, brined chicken Parm and a belly-busting, slow-braised Sunday gravy, perhaps because Wright once spent a year learning the ins and outs of authentic Italian food while traveling around Northern and Southern Italy, but also because the young gun chef is a downright genius.
Lance Gillum
Uchi
Address and Info
Hometown boy Lance Gillum had big shoes to fill when he stepped in as chef de cuisine at what is easily one of the city's best restaurants. Earlier this year, Kaz Edwards moved on to become concept chef for the entire HAI Hospitality group, but he knew he was leaving Uchi Houston in skilled, highly capable hands. Gillum had been with the company since 2011, after a serendipitous meeting with Edwards and Tyson Cole at a class demo held at the Texas Culinary Academy in 2010. He moved from prep team to line cook, then to junior chef and eventually, sous chef. In 2016, Gillum finally got to prove the full magnitude of his culinary chops, and he did so as he deftly led the kitchen and introduced new craveable dishes to Uchi's already bangin' lineup this fall.
Chris Shepherd
Underbelly
Address and Info
Though he was raised in the Midwest, Chef Chris Shepherd is pretty much the mayor of Houston's food scene. No one is a more passionate ambassador for the city's underbelly -- the ethnically diverse mom-and-pop shops that dot the city -- a fact that is showcased in the restaurant's Mutt City menu (his Korean braised goat & dumplings dish is pretty much legendary at this point, and he even staged in kitchens like Vieng Thai and Thanh Phuong before opening). In 2014, he won the James Beard Award for Best Chef Southwest, and over the next two years, he showed no sign of slowing down. He recently announced a formidable undertaking called One Fifth, a groundbreaking project that will turn the late Mark's into five different concepts over the next five years, beginning with One Fifth Steak in January 2017.
Graham LaBorde
Bernadine's
Address and Info
It's hard to think that just a few years ago, the name Graham LaBorde wouldn't ring a bell to most Houstonians. You would have known him had you been paying attention to the culinary scene in New Orleans, where he thrived at Commander's Palace, Stella, and Boucherie, or if you remembered him from his brief stint as Jonathan Jones' sous chef at the late Concepción. It wasn't until the cult hit Kipper Club Test Kitchen that the chef made a big splash locally, and even more so just one year ago, when the Louisiana native became the executive chef of one of the most well-regarded seafood restaurants in Houston. Bernadine's is a self-proclaimed "love letter to the Gulf Coast," and it's there that LaBorde solidified his status through dishes that go beyond the realm of Southern comfort food and dive into the refined. Inspired by his rural Louisiana upbringing and frequent visits to oyster houses and fish shacks, Graham celebrates local ingredients in a way that feels like a journey through the Gulf. We'd go on a journey with him any day.
Sign up here for our daily Houston email and be the first to get all the food/drink/fun in town.