With a heavy focus on Tex-Mex, BBQ, and Asian fare, Houston's dining scene doesn't exactly scream "Italian!" However, through a steady infusion of modern restaurants playing up the tastes of the Boot combined with a handful of local institutions that have been feeding Houstonians nonna-sized portions for decades, Italian food is far more prevalent here than you'd think. Given the fact that no one should have to live a day without carbs, we rounded up Houston's finest spots to get your mangia on. Here's to red sauce, wine-stained teeth, and good times!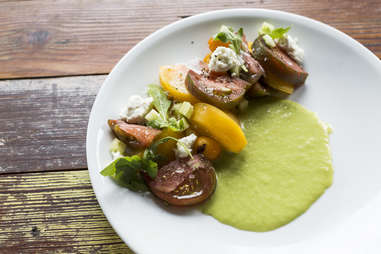 Heights
The fresh-from-the-garden spot (coltivare means "to grow") may just be the best example of why you shouldn't discount Italian in Houston. The menu gets a constant refresh throughout the seasons as ingredients legitimately come straight from its 3,000sqft on-site garden. If it's not grown in the yard, it's carefully sourced from local farms or made in-house, like charcuterie from sibling concept Revival Market. Don't come here expecting your grandma's Sunday gravy or fine-dining veal chops. Instead you'll find shareable plates in the form of bubbly wood-fired pies, unrivaled cacio e pepe, whole-roasted fish, and seasonal fruit crostata that you must absolutely top with Mexican vanilla ice cream.
Greenway/Upper Kirby
Tony Vallone's swanky fine-dining establishment isn't just one of the greatest Italian restaurants in Houston, it's one of the greatest restaurants in Houston. Period. End of story... though we guess we'll elaborate, because the high-end spot has been the gold standard of over-the-top service since hitting the scene in 1965 (even hosting the likes of Tony Bennett, Oscar de la Renta, and seven sitting presidents). With Naples and Milan as its muse, Tony's lets you feast on elegant throwbacks and seasonal inspirations, from salt-crusted snapper to porcini pasta made from scratch. The soaring truffle soufflé goes unmatched, as does its world-class wine list.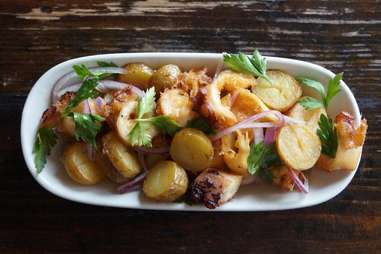 Montrose
One of chef Marco Wiles' trio of powerhouse restaurants, Dolce Vita is best known for teaching Houstonians about the charms of scorched, Neapolitan-style pizza. The wood-burning oven doles out perfectly bubbling and scorched pies (they only take about 90 seconds to cook) in thoughtful flavor combinations like taleggio, pear, and truffle oil or roasted clams and garlic. But you'd be remiss not to get a taste of the rest of the menu, too. Tuck into a dark corner with a bottle of Italian vino and grub on artichoke fritti, Sicilian-style calamari, and perfectly al dente rigatoni studded with guanciale and rich cream.
Rice Village
Sud means south in Italian. Now that you know that, we bet you'll never guess what region of Italy this restaurant zeroes in on. Set in an adorable bungalow in Rice Village, this charmer is a nice refuge from the noise of the neighborhood. Even the fare is easy-breezy, with coastal Southern classics that focus on high-quality ingredients prepared simply to draw out their intrinsic flavor. Cozy up with regional Italian wines and saffron-kissed arancini, squid-ink lobster pasta, fresh zuppa di mare in a light tomato broth, and rustic grilled lamb chops that you won't want share.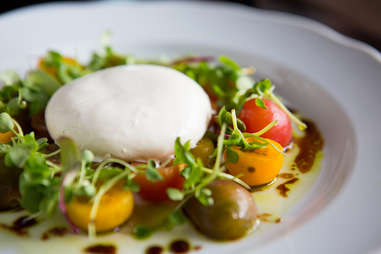 Heights
If you thought Houston was missing a classic red-sauce Italian joint from the streets of New York, you were right… for a long time, at least, but not anymore! From the powerhouse braintrust that brought Helen Greek Food & Wine, this newly christened Heights eatery -- named after the famed Arthur Ave in Little Italy -- brings old-school Italian-American to a higher level, and it does so in a way that would make your nonna weep. The team takes every measure to ensure full flavor, from executive chef William Wright's hand-pulled, made-to-order mozzarella for the gorgeous caprese salad and Grana Padano rind brine for the seriously massive chicken Parm (made with an organic, spatchcocked chicken, obviously), to the house herb-infused gin for their "old world meets new" gin & tonic from all-star beverage director Lainey Collum. Pasta lovers will die for the penne alla vodka, made with perfectly al dente Martelli pasta fresh off the boat from Italy and blanketed in a mascarpone cream sauce that is absolute heaven. Take it all in along with wines from Pax Americana co-owner and somm Shepard Ross, but save room for dessert, featuring some boozy white Russian soft serve and game-changing, fresh-as-hell cannoli that will make you rethink the cannolis of your past.
Montrose
Chef Marco Wiles takes inspiration from Venice and the greater Friulian region for this higher-end take on Italian, so much so that he imports a lot of the product from the motherland itself. What he doesn't import, he makes fresh, like the sweet corn ravioli with lobster, made-from-scratch garganelli with slow-cooked rabbit, and artichokes alla "giudia" that get fried to a heavenly, airy crisp. Dress to impress here (for real, jackets preferred), and be ready to splurge on vintage Italian wines, a couple of which date back to the '70s.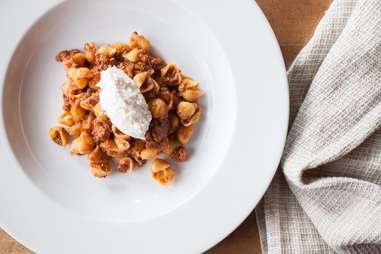 Rice Village
There's an entire room just for dough-making at this Rice Village cool kid, and since it's glass-enclosed, you get to peek in while your stomach rumbles. Get ready to go carb-heavy here, because you'll want all the made-from-scratch stuff it has to offer. Think pies loaded with, like, 100 kinds of sausage and salumi, and house-made conchiglie Bolognese with whipped ricotta, and then some (that "some" being roast chicken "under a brick," and dreamy spaghetti carbonara that gets cream straight-up poured over the yolk-topped pasta before being tossed tableside). True to Clark Cooper Concepts form, the wine list is beyond reasonable, with bottles priced close to retail for your popping pleasure.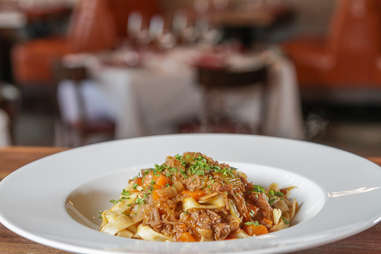 Bellaire
Does it get better than espresso, wine, pizza, and classic plates straight from an Italian-born chef? Don't strain yourself too hard, the answer is no, it doesn't. You'll have to travel to Bellaire to get it (it's not that far), but you'll be sorry if you don't at least try, because the relative newcomer offers one of the finest examples of Italian simplicity in the city. There's mussels in white wine, paper-thin beef carpaccio with truffle dressing, and local spins like creamy crawfish risotto or a Bolognese rich with shreds of Texas-braised lamb that you'll likely dream about later.
Montrose
This fast-casual fan favorite is one of the cheapest Italian joints in town, mainly because, like we said, it's fast-casual. That means you can get hous-emade pastas, from bucatini Amatriciana and canestri alla funghi to one of the hands-down best rigatonis in the city, starting at $8 a pop for a small plate (trust us, it's plenty for one person). The cool kids also offer an nice, affordable beer and wine list, but you can still bring your own wine for a $10 corking fee. Afterward, save those dollars you saved over at Camerata, the next door wine bar where you can pick from more than 150 European wines, beers, and ciders and share a plate of imported meats and cheeses when you get hungry again... which you will, because you're living like an Italian now.
Midtown
It's pretty hard to last over 30 years in Houston's dining scene (especially in Midtown, where restaurants seem to die faster than characters on The Walking Dead). So when a place manages to survive, it earns instant street cred, though that's not the only reason this Mandola family stalwart earned a spot on the list. Mixing Old World traditions with local flavors, Damian's cuisine speaks for itself. Feast on Gulf shrimp stuffed with crabmeat, rosemary-rubbed veal chop, and lasagna smooched with veal Bolognese. During the workweek, there's no better Italian spot at which to power lunch.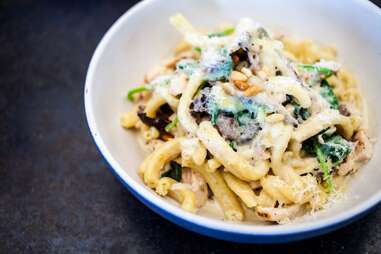 Galleria/Uptown
Don't knock BLVD Place just because it's an import from restaurant group Fox Restaurant Concepts; North takes care to incorporate all things local, from farm-fresh eggs, meats, and produce to freshly baked bread from Kraftsmen Baking. It also emphasizes all things made-from-scratch, with the menu reading like a love letter to Italy through light and airy pizzas, scamorza-studded arancini, and heavenly ribbons of house-made tagliatelle tossed in plump Bolognese. With dishes like truffled garlic bread and pistachio and asparagus pizza, the contemporary spot may be a little trendier than your old-school Italian spot, but in this case, it's plenty welcome.
River Oaks
One hood's loss is another hood's gain. This longtime Galveston darling picked up and moved to River Oaks a couple years back, and no one (inside The Loop) seems to be sad about it. Fancy River Oaks folk flock here for a range of classic and high-end Italian plates, from veal scaloppini piccata to succulent grilled duck with raspberry reduction sauce. Though it's a bit fancy, it's also comforting as hell. Warmed by a corner fireplace and with a wood-paneled, moody interior that evokes the Renaissance, the family-run stunner makes for an off-the-charts date night.
Sign up here for our daily Houston email and be the first to get all the food/drink/fun in town.
Brooke Viggiano is a Houston-based writer who loves the hell out of Italian food because she grew up in New Jersey and did you SEE her last name?? Make Sunday gravy with her @BrookeViggiano.