After a night out on the town making questionable decisions, sometimes the only way to right yourself is with a serious payload of calories and cholesterol. From po' boys to booze-soaking cheese enchiladas, here are the 11 best spots to do so (besides Whataburger, because that's clearly a given):
Montrose
Hours: Open 'til 3am
This Cajun eatery's grub is fantastic EVEN when you're sober, so just imagine how it tastes after some beverages. Get a fully dressed po' boy and an order of the good-as-hell Tex-Cajun Virgin fries. The poutine-like creation – in which a mountain of shoestring fries gets smothered in chile con queso, gravy, and roast beef – is basically what would happen if the Canadian dish went to NOLA for Mardi Gras, realized the food was way better, and never came back. Also, exciting news: they're soon going to be a 24/7 operation!
Midtown
Hours: Mon – Thurs 'til 3am; Fri – Sat 'til 4am
Expect a fully-packed house right around last call every weekend, because nothing soaks up booze like late-night Vietnamese grub. Start with an order of salt and pepper fried chicken wings or crepe-like bánh xèo before diving into the beefy bo luc lac – a stir-fried filet mignon number that's equal parts sweet, sour, spicy, and delicious.
Multiple locations
Hours: Thurs – Sat 'til 3am; Mon – Wed 'til midnight (+ Sun 'til 10pm)
See that line that's wrapping around the corner of the street? Good. Now get on it, take a few selfies to bide the time, and once you get to the front, go absolutely nuts on tacos loaded with things like carnitas, grilled fish, shredded beef, and plantains. Or you know what? Screw it – get a full rotisserie chicken with black beans, Spanish rice, and a side of chips & guac. Goodnight!
Montrose
Hours: 24/7
Because if you can get matzo ball soup, man-sized Reubens, and chocolate egg creams at 4am, YOU DO.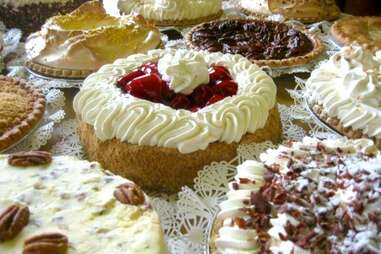 Upper Kirby
Hours: Open 24/7
Insomniacs flock to this late-night staple that slings classic diner foodstuffs EVERY hour of EVERY day. Get omelets, greasy burgers, and chicken fried steaks, and finish off with a slice of Bayou Goo – that's a pecan-crusted cream cheese, chocolate, and vanilla custard pie that is way more delicious than its name makes it out to be.
Alief
Hours: Fri & Sat 'til 3am; Weekdays 'til midnight
This Vietnamese noodle shop has bone marrow pho. BONE MARROW PHO! Nothing else needs to be said.
Montrose
Hours: Fri & Sat 'til 3am; Sun – Wed 'til 10pm; Thurs 'til 11pm
These slider pros are now in a new, bigger location – don't worry, it's just a bit further down Montrose – so you can still head here to stuff your face with as many Sriracha mayo-loaded beef, pulled pork, chicken, and chili-cheese-smothered hot dog sliders as you want. The calories totally don't count because they're so small.
Multiple locations
Hours: Sat 'til 3am
Night owls worship this pizza truck – which slings out pies topped with delicious things like soppressata, venison sausage, mac 'n cheese, and Fritos (no, not all at once – though if you really wanted them to...). The guys have slowed down the after hours while they finalize a new brick & mortar spot, but expect late-night delivery to start up again soon.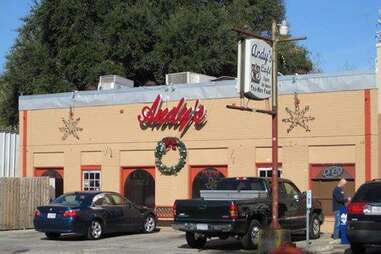 Heights
Hours: 24/7
This no-frills cafe is night owl central, because not only is it open 24/7, but it's also been dishing out some seriously tasty (and cheap) Tex Mex since 1977. Get chile-gravy-smothered cheese enchiladas, and add an endless cup of Joe if you need to pull an all-nighter because it's 5am and you have work in two hours.
Washington
Hours: Fri & Sat 'til 3am; Sun 'til 9pm, Mon – Thurs 'til midnight
When is after-partying with a cheap and delicious pork meatball bánh mì and a giant bowl of pho not a good idea? Hint: the answer is never.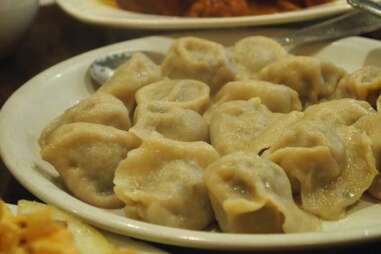 Chinatown
Hours: Fri – Sun 'til 3am; Mon – Thurs 'til 2am
If you haven't had the dumplings from this late night standby, what the hell have you been doing with your life? Get a few orders – you'll want to try them steamed, pan-fried, and in "soup" form – then tack on a couple of classic pork and beef dishes, because its late and you're clearly making great decisions.
Sign up here for our daily Houston email and be the first to get all the food/drink/fun in town.