You know where to brunch; you know where to dine solo; hell, you even have a Burger Bucket List to bring your stomach to a state of zen. But do you know where to find Houston's creamiest of the crop, the most "Screw this spreadsheet, I'm taking a lunch break!" lunches? Well, we put together a lineup of them, so now you do. Whether you want stacked deli sandwiches that give you lockjaw, or leisurely cafes where you can laze the day away, Houston's finest lunch purveyors are ready to feed you NOW (if it's lunchtime).
Recommended Video
The History of Delivery & Takeout
Heights
Agricole Hospitality's first-born child – its other operations include heavy hitters Coltivare and Eight Row Flint – is pretty hard to beat at lunchtime. Not only does the craft butcher shop & cafe make its salumis in-house, it also has deliciousness like whiskey pate, lardo, local cheeses, and lamb pastrami up for grabs. Get a buttered-up Cuban or standout roast beef on challah alongside daily soups, salads, and sides; then finish with a slice of good old-fashioned buttermilk pie, lest you want to put an end to making poor life choices.
Upper Kirby (& Rice Village & Tanglewood)
Things are no-joke-local when it comes to this trio of sandwich, soup, and salad aficionados, as you can see by the lineup of local farms and artisan shops repped on the menus. Things are also no-joke-good, as stuff like truffled egg salad or rotisserie short rib smothered with horseradish aioli will prove. Every sandwich, which can also be turned into a salad upon request, comes stacked high with your choice of two sides, ranging from Tuscan kale salad to soba noodles. Add local wines and suds to make lunch an extra-happy occasion.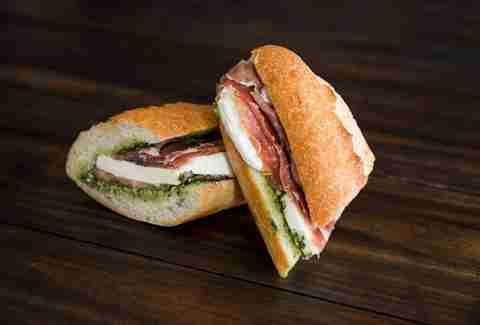 Washington
Chances are you walked into B&B's tiny butcher shop the first time you came here, then walked out confused before stumbling over to the steakhouse side of things. Well this time, stay put, because it's there that you'll find some of the best sandwiches in town. Go for RJ'S roast beef with hot peppers, or the Sicilian, a crusty hero loaded with a generous heap of fresh mozz, Roma tomato, basil olive oil, and the imported prosciutto you are no doubt adding (remember that thing we said about life choices?). If you're looking for a lengthier, more elegant affair complete with burgers and wagyu steak frites, that steakhouse you were failing to find will fit the bill nicely.
Montrose
While newer, shinier spots open up every day, this Montrose standby proves that classic, sloppy-as-all-hell burgers & sandwiches will always stand the test of time. Get beef bombs loaded with accoutrements like mac & cheese, pineapple, and wasabi, and all the stuff in a Frito pie. Or go "lighter" with tuna melts, grilled cheese, and daily lunch plates. Just don't forget to bring cash.
Downtown
With a handful of locations Downtown, this busy lunch-only kitchen serves Cajun and Southern grub cafeteria-style (or at some of the locations, to go). Not only is it wallet-friendly, but you also won't be a serial long lunch offender and have to sneak past your boss' office like a businessman ninja. The Market Square location is the choicest spot, so hit that one for duck, chicken, sausage, and seafood gumbo (depending on the day), smothered crawfish étouffée, chicken-fried chicken & mashed taters, and bread pudding soaked in whiskey sauce that you can bring back to your boss in case you do decide to take advantage of your afternoon freedom.
Montrose (& other locations)
Though we can't say enough about the life-saving abilities of a plate of queso and roast beef gravy-smothered cheese fries in the middle of the night, this Cajun staple is equally as worthy of a visit when it's light out, i.e. for lunch. Fully dressed and sloppy po-boys come in renditions like "Half and Half" (fried Gulf shrimp and oysters) and "Bullet for the King" (a loaf stuffed with chicken which is stuffed with cream cheese and jalapeño, then wrapped in bacon and topped with bacon ranch sauce), the entire lineup of which pairs perfectly with a cup of Maw-Maw's gumbo or paper-thin fried pickle chips.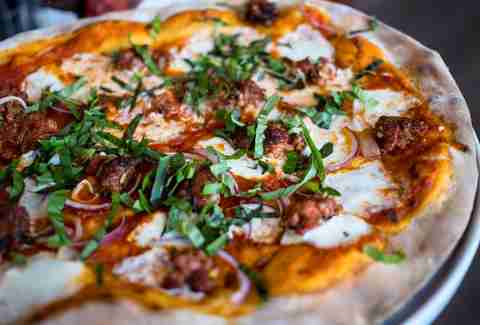 Midtown
In-house bakery crafting top-notch breads and pastries? Check. Open kitchen dishing out everything from wood-grilled burger and house-smoked salmon to a roasted local carrot pizza spiced with dukkah and packed with redneck cheddar? Check. Exceptionally good bar program going in for the kill? Check. If this cool-looking, bright, and airy triple threat isn't on your lunch radar, you need to remedy that immediately.
Montrose
Keeping Westheimer cool since the early '90s, this stalwart offers an eclectic range of cafe fare, plus one of the most pleasant patios in Montrose. Burgers, tacos, and sandwiches sit alongside bistro eats like chalkboard quiche with buttery crust, duck salad with blackberries & goat cheese, fig & prosciutto pizza, and craft beer and wine there to help make your lunch hour a little cozier. Order at the counter, grab a seat, and don't forget the cookie.
Galleria (& West University)
Sandwiches. Burgers. Knish. Whatever you're getting at this Jewish delicatessen, expect it to come in the kind of colossal portion only a Brooklyn grandmother would force on you. Triple-deckers come absolutely packed with corned beef, triple-smoked pastrami, and roast brisket, all made in-house, of course. They are best split with a friend if you want any chance of finishing the matzo ball soup and pastrami cheese fries you "accidentally" ordered on the side.
EaDo
Fact: you will find this Vietnamese eatery with a packed house during weekday lunch. But that's OK, because service goes at lightning speed, or you can call ahead and take one of Houston's freshest, most excellent bánh mì sandwiches to-go. Hungry patrons should go for the quadruple-pork meatball "Porter's Balls" or the everything-topped "Zombie," then tack on spring rolls, or one of the city's best banh bot chien, a Cantonese-style crispy fried rice flour cake that you definitely want in your lunch roster.
River Oaks
Ease into the afternoon at this '30s-era house, which lures a steady crowd thanks to its charming space and tree-lined patio, extensive menu, and inviting lunchtime libations. Get one of those (the seasonal mojito never fails to quench your thirst), then dig in to Gulf Coast beignets, pecan-crusted chicken, and chef and restaurateur Hugo Ortega's juicy, chipotle-and-Chihuahua-cheese-studded burger.
Downtown
Houston's first food hall, which you can find sittin' pretty underground right next to Prohibition, offers lunch-goers the chance to get ramen and gyoza from Samurai Noodle, crepes from Melange Creperie, BBQ Tex-Mex from El Burro & the Bull, and spot-on Mediterranean fare from Myth Kafe, all in one sitting. Since that's a lot of food, you may have to make multiple visits. We're sure the 60+ craft taps will help make those visits an easy decision.
Sign up here for our daily Houston email and be the first to get all the food/drink/fun in town.