Houston may be synonymous with Tex-Mex (throw a rock and it will likely land in a vat of queso), but our traditional Mexican food game is just as fuerte. Real-deal taco trucks are as common as potholes, tamales are a way of life, and a devouring bowl of Mexican pozole here is just as comforting as watching The Price Is Right on a sick day. The city has a lot to offer in the way of Mexican food, so we've narrowed it down to the best in class, for almost every occasion.
Best taste of Mexico City: Cuchara
Montrose
This artsy Neartown bistro is an underrated gem, offering bright and bold flavors inspired by Mexico City. Sip cocktails over chicharrones at the bar or grab a seat in the dining room (or patio) to feast on upscale comida in the form of gorgeous ceviches, fat pork belly stuffed gorditas, and mains from red snapper Veracruzana to a 34-ingredient mole negro. On weekends, brunch favorites include Hidalgo-style lamb barbacoa, spicy pozole rojo, and satisfying chilaquiles.
Best for Sunday brunch: Hugo's
Montrose
Chef Hugo Ortega is a hometown hero, epitomizing the American dream by going from dishwasher to James Beard Award winner (and co-owning a whopping three spots on this list). Ortega's roots were planted in Mexico City, and his passion for traditional Mexican flavors never fails to impress. At Hugo's, interior Mexican cuisine is showcased via dishes from crispy-skinned, achiote-rubbed suckling pig to braised duck with mole poblano. Don't miss the restaurant's infamous Sunday brunch spread, where you can fill and refill your plate with all the huevos, rellenos, tamales, ceviches, crudos, carnitas, and pan dulce that you possibly can comfortably consume.
Midtown
So, you're craving pozole but your friend wants a loaded burrito. Not a problem. This Midtown grill house has you covered with both, as well as comfort foods like tacos al pastor, chorizo quesadillas, crispy potato flautas, and sloppy beef entomatadas (think of them like enchiladas covered in tomato sauce). Beer-a-ritas, which blend a frozen margarita with your choice of beer, also happen to be quite comforting.
Best for those who love seafood: Caracol
Galleria
You want to start with the oysters at chef Hugo Ortega's bright and airy coastal Mexican kitchen --- the Gulf Coast bivalves come with salsa bruja on-the-half-shell or wood-roasted and dripping in chipotle butter (tip: you can get either style for cheap during happy hour). From there, take a tasty voyage along the waters of Mexico, stopping off for crudos and seafood cocteles, whole roasted pescado and lobster from Ortega's custom wood-burning oven, and playful desserts like the El Coco from executive pastry chef (and Hugo's brother) Ruben Ortega. Use a tiny mallet to wack open the chocolate-coconut shell and you'll be treated to coconut buttercream, coconut ganache, coconut streusel, whipped coconut, and thankfully, no seafood.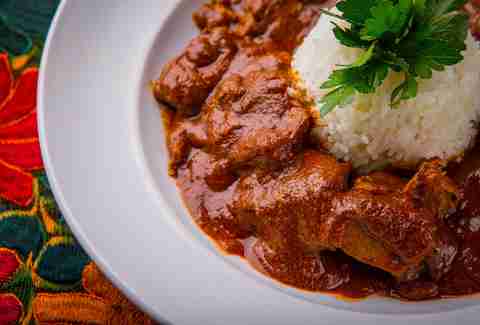 Upper Kirby
Raised in Monterrey, Mexico, chef Arnaldo Richards perfected his grandmother's authentic recipes, and then some. His namesake eatery explores the seven regions of Mexican fare, from the Spanish-influenced Gulf to the achiote-kissed South. Order margaritas made with the restaurant's exclusive barrel-aged tequilas to help wash down your enchiladas de mariscos (seafood-stuffed enchiladas), chile de arbol-spiced veal shank osso bucco, and traditional chiles en nogada (poblanos stuffed with pulled pork and topped with a walnut-based cream sauce).
Heights (& Southwest Houston)
With tres locations, wallet-friendly prices, and more-than-generous portions, Teotihuacan (or "Teo," to those who don't want to butcher the pronunciation) draws fans from around the city. Explore the flavors of Mexico via Veracruz-style fish, tomatillo-smothered enchiladas, colossal chiles rellenos, and parrilladas overflowing with grilled short ribs, quail, jumbo shrimp, beef and chicken. Tack on tres leches or fried sopapillas dusted with cinnamon and sugar for dessert.
Best for a date night: Xochi
Downtown
Set on the ground floor of the beautiful Marriott Marquis, Xochi is chef Hugo Ortega's most creative endeavor to date (its name means "to bloom" or "to catch fire"). Here, both the chef's imagination and respect for tradition shine through the richness of Oaxaca, with a variety of masa preparations, complex and mellow moles, fire-roasted and topped tortillas known as tlayudas, and surprisingly pleasing touches like chicatanas and chapulines (those are ants and grasshoppers). Pair it all with mezcals, tequilas, and Mexican craft beers.
Downtown
This longtime treasure switches up its 16-item menu based on the availability of ingredients -- and owner Irma Galvan's culinary intuition. The handmade pork roast tamale is out-of-this-world, rocking a seamless meat-to-masa ratio. Get at least one to share, then fill up on fresh spinach enchiladas, picadillo chiles relleno, fish tacos, and Irma's homemade flan. Those looking for a genuine Mexican meal before a ballgame can check out Irma's Southwest Grill, located across from Minute Maid Park (go 'stros!).
Montrose
Fact: Stuffing your face with this truck's righteous tacos whilst sipping a cold one at the neighboring West Alabama Ice House is a Houston right of passage; one that needs to be honored time and time again. You'll need at least three of the small-but-mighty numbers to even begin to fill that hunger pang, but at $1.50 to $2 a pop, that's very doable. Choose flour or corn, fill with barbacoa, pastor, and lengua, say "yes" to chopped onion and cilantro, and pack in your own intense red and green salsas.
Heights
Desayuno is served all day at this friendly neighborhood cafe. As an added bonus, it's also super-cheap, with the entire breakfast menu sitting under $6. Go for huevos con machado, in which farm-fresh eggs are scrambled with Mexican-style dry beef and served with refried beans, spicy salsa, and tortillas; or try the traditional chilaquiles, a "breakfast nacho" deal loaded with your choice of tomatillo, guajillo or ranchero sauce -- all made in-house.
Washington (& other locations)
Laredo is worth the inevitable line for its fat-laden tortillas alone. You'll need to study the menu as you wait in it and make your way up to the cafeteria-style steam tables, because once you're there, things escalate faster than Kanye's tweets. Get things like spicy potatoes, nopales, perfectly blended chorizo and eggs, crispy chicharrones, refried beans, and salsas. Or just point and smile... all of it is getting shoved into some of the softest, tastiest tortillas in town, anyway.
East End
Though Ninfa's is most notorious for its classic Tex-Mex fajitas, locals also visit for more traditional Mexican fare. "Mama" Ninfa Laurenzo kicked things off by saving her family's struggling tortilla factory in 1973, and chef Alex Padilla has done an incredible job of manning the reins. Skip the chile con queso and start with queso flameado, a stretchy cheese prepared tableside and served in grade-A handmade tortillas (you'll see those being prepped when you walk in); then dig into wood-roasted tacos de pulpo, Oaxacan-style banana leaf tamales, and slow-cooked cochinita pibil. Wash it all down with boozy frozen margaritas to keep the fiesta going.
East End (& Northside)
We Houstonians are all about that tamale life; sit at any bar long enough and you'll likely hear that beautiful "tamale, tamale" siren song, prompting you to spring some cash for a foil-wrapped pack of the good stuff. And sure, your abuela may make the best in town, but the second best in town are definitely the hand-rolled ones here at Alamo. Get the oily beauts loaded with things like jalapeño and cheese, sweet corn, or shredded pork. Dip in both red and green sauce. Eat. Rinse. Repeat.
Sign up here for our daily Houston email and be the first to get all the food/drink/fun in town.