Picking a favorite eating neighborhood in Houston is like picking a favorite child. Hard, but everybody does it and if you don't think your parents did, you clearly aren't the favorite. The city's hoods are as diverse as its food scene, with mixed-use developments bordering upscale 'burbs and revamped warehouse districts. These are the best of the best 'hoods in which to eat, ranked by their overall quality and quantity of dining options.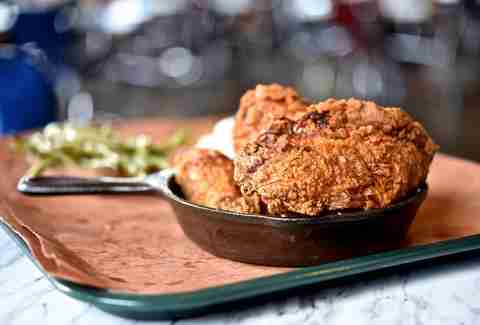 13. Pearland
Though Pearland may not have a ton of standout restaurants, what it lacks in quantity, it makes up for in quality, big time.  It plays home to Ronnie Killen's absolute powerhouse trio, which are serving up arguably the best meat-centric menus in town. There's Killen's Steakhouse, where you'll find melt-in-your-mouth USDA Prime and a must-have creamed corn; Killen's Burgers, where monster, juice-dripping patties sit alongside fried cheese curds in a nod to Killen's buddy, JJ Watt; and Killen's Barbecue, where you can't not get the dino-sized, expertly smoked beef rib that you'll dream about (and possibly smell like) for days. Tack on a German biergarten and donut heaven and things are looking up for this neighborhood.
12. Woodlands
If there was ever an acceptable suburb to move to for the dining-out scene, it'd be the Woodlands. Hubbell & Hudson Bistro was quite nice on its own, but when it added an entire other restaurant with an intimate, 25-seat chef's table and constantly refreshed eight-course tasting experience, things got serious. Things are just as serious over at Robard's, the steakhouse on a wooded resort that boasts an in-house butchery and dry-aging room; and Levure Bakery & Patisserie, your go-to stop for croque monsieur, petit fours, and pain au chocolat. Even in-the-loop spots like Américas, Local Pour, and CRISP knew it was a good idea to open up shop in the Woodlands. With an influx of new development and hotels, the ever-expanding neighborhood is becoming unstoppable.
11. EaDo/East End
The unassuming east side of town isn't all about tacos, except when it is. For morning glories, you'll want to hit up Villa Arcos. Then there's the OG Ninfa's on Navigation, showing tacos al carbon (aka fajitas) need nothing more than salt, pepper, and a slather of soy to shine. OK, and maybe some triple-the-strength margaritas, scratch-made tortillas and stretchy queso fundido, too. Moving outside the Tex-Mex/Mex-Mex world, you'll find a morning-to-night cafe, a craft beer yard with wild game weenies and sloppy Cheech & Chong burgers, a brewery with a killer food truck, and cheap as hell burgers and bánh mì.
10. Washington
It's hard to keep up with this constantly changing strip, but there are enough mainstays to earn it an official "eating neighborhood" designation. Starting with the oldest of the bunch, Stanton's City Bites: the resto has been griddling up the greasy stuff since 1961, and it has been makings its way onto best burger lists ever since. Moving along, gastropubs like Beaver's and MAX's Wine Dive are where you want to lunch, brunch, and munch, and Laredo Taqueria is where you want to line up for breakfast tacos starting at like, 6am (the line moves fast). Then there's relative newcomers Ninja Ramen, B&B Butchers, and the coming-soon reincarnation of Kitchen 713, which all prove Washington Ave ain't ready to give up just yet.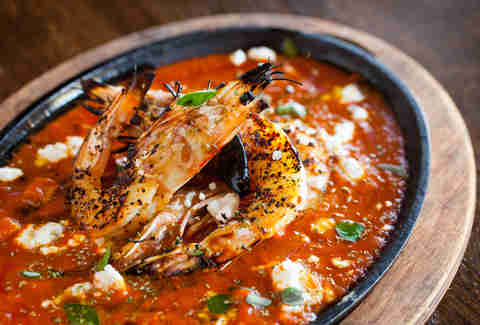 8. Greenway/Upper Kirby
This trendy mixed-use 'hood is a bonafide destination for high-end shopping, but it's the high (and low)-end eating we care about. Start things out with a morning thali at Pondicheri, the Indian street food and bakery concept that's so tasty, it opened a store in the Big Apple. When you need an afternoon pick-me-up, spicy crawfish pho at LA Crawfish, margs and enchiladas at Arnaldo Richards' Picos, fat bao at Fat Bao, and one of the hands-down best new burgers in the city will keep you satisfied. For dinner, it's razor-sharp cuts of sashimi and spicy miso ramen at Kata Robata, or an extravagant Naples-inspired feast at Houston institution Tony's.
7. Galleria/Uptown
Upscale big box steakhouses like Del Frisco's, Morton's, and The Palm line every nook and cranny of this shopping district, though there's plenty of homegrown joints showing off Houston charm, too. There's coastal Mexican grub at Caracol, French three ways at La Table, and authentic New York-style deli sandwiches that are bigger than your head at Kenny & Ziggy's, for starters. Then there's the legitimately good restaurant inside Saks, a fish market and restaurant with a "seafood sommelier," and a fresh new look from an old favorite, Café Annie. The 'hood is even about to have the first Houston location of Shake Shack, and perhaps more importantly, the first in-the-city-limits offshoot from Chef Ronnie Killen.
6. Midtown
Yes, Midtown is known for its hard-partying bar scene. You'd be surprised, however, that the restaurants lining the streets go equally as hard. You can eat around the world on the Midtown superblock near Elgin, with oysters and seafood from the deep South at Holley's, all-you-can-eat gnocchi and pies fresh from Italy at Piola, spicy tonkotsu and gyoza at JINYA Ramen, and fancy French fare at the always elegant Artisans. Down the street, go for bananas Foster and a Creole-studded everything at powerhouse Brennan's, and just a stone's throw away, you'll find all the banh mi you could ask for in Little Vietnam, plus hotspots Reef, Ibiza, and the breakfast klub. With sexy newcomers like Oporto Fooding House & Wine, Izakaya, Weights + Measures, and Midtown BBQ (because barbecue is sexy, too), it's time to start thinking of Midtown as a culinary destination.
5. River Oaks
We're including the haute new River Oaks District as part of River Oaks (because it's named the damn River Oaks District, stop fighting it). Thanks to a solid roster of restaurants, with big guns including Steak 48, Hopdoddy Burger Bar, Toulouse Cafe & Bar, Le Colonial, and the soon-to-open dim sum teahouse, Yauatcha, this already posh 'hood just got a whole lot posher. Outside the district, things are just as hot. Backstreet Cafe is where you should be brunching (preferably with a Bloody Mary in hand), and both Brasserie 19 and State of Grace are the spots to see be seen. Just make sure you wipe the oyster juice off your chin.
3. Downtown
You'd think Houston's epicenter would take the No. 1 spot. As it turns out, Houston has a whole lot of epicenters (that's urban sprawl for you). That's not to say Downtown doesn't have an excellent food scene. It does, and with the revamp of the Avenida de las Americas strip, we only expect it to get better. For now, you can satiate your cravings with everything from Fusion Taco's globally kissed tacos and MKT Bar's Lebanese queso to Indian pies and Bombay Pizza. That's a lot of fusion, though there's also straight-up deliciousness in the form of dry-aged bone-in beef at Pappas Bros. Steakhouse, Vic & Anthony's, and III Forks, double-decker burgers at Hubcap Grill, South African pub fare at The Springbok, the Texas trinity at Jackson Street BBQ, and a game-changing tasting menu at the James Beard award-winner, Oxheart over in the Warehouse District. Or, if you prefer to spend the entire day underground, go down under at Conservatory, a food hall and beer garden that hosts a crepes shop, ramen bar, BBQ stand, and a Greek cafe.
2. Heights
In the past few years, the Heights restaurant scene has gone from "yeah, it's pretty good," to "hot damn, why didn't I buy a house in the Heights five years ago?" Treadsack has been running game, with Down House and D&T Drive Inn being joined by a few new stunners, including Bernadine's, Foreign Correspondents, Morningstar, and Hunky Dory, where your pork chops and 40oz côte de bœuf come with mashed potatoes AND french fries. The 'hood also gained garden-to-table eatery Coltivare, an offshoot of Pho Binh, Southern charmer Southern Goods, VPN-certified Neapolitan pizza slinger Cane Rosso, huggable donut shop Hugs & Donuts, and Arthur Ave, a Little Italy-esque Italian concept from the team behind Helen Greek Food & Wine that will kindly make you the creamiest penne alla vodka you've ever had ever. When new restaurants are popping up, like it or not, it's usually in the Heights.
1. Montrose
While Heights is certainly gaining momentum, there are so many huge name restaurants in our No. 1 spot, it's almost not even a fair fight. It seems like every restaurateur, sommelier, and chef that wants a James Beard nod comes here to stand ground, including neighborhood favorites like interior Mexican staple Hugo's from Chef Hugo Ortega, Chef Chris Shepherd's "love letter to Houston," Underbelly (and sister beer pub, The Hay Merchant), Chef Anita Jaisinghani's inspired Indian eatery, Indika, Houston-kissed Austin import Uchi, and Pass & Provisions, the dual-concept beaut from Chefs Seth Siegel-Gardner and Terrence Gallivan. Heavyweights like Da Marco and Mockingbird Bistro continue to keep locals well fed, while younger guns like Roost, Pax Americana, and BCN Taste + Tradition keep up the area's well-deserved street cred. There are also burgers, barbecue, and tacos, because this is Houston and this is what's important to us.
Sign up here for our daily Houston email and be the first to get all the food/drink/fun in town.