Hope you aren't still trying to shed those last few winter pounds, because Houston's latest batch of bar and restaurant openings are going to be upping your calorie intake in a very necessary way. From Dallas imports that we're actually OK welcoming to town, to restaurant rebrands, and some new kids on the block, here's a look at where you'll not be working on that #summerbod.
All of the restaurants on this list are part of our ongoing quest to find this year's best new restaurants in America, and we're combing through every opening in every Thrillist city. Get involved on Instagram -- #BestRest2016 -- to let us know your picks and your favorite dishes at each of these new spots.
Recommended Video
This Pop-Up is Serving Real-Life Bob's Burgers
Midtown
Housed in the former Cook & Collins, this Mexican street food concept takes inspiration from Chicago's Big Star, a spirit-forward taco bar that doubles as a late-night honky-tonk. Chef Adam Puskorius and his team keep crowds steady by slinging out street fare with funk -- think house-smoked brisket and charro dip served in a Frito bag, or braised Texas mushrooms tostadas, while bartenders play a mix of '60s to '90s rock 'n' roll. With summer looming, there's no better time to hit the covered patio and smash some scratch-made tacos alongside a well-appointed library of bourbons, tequilas, mezcals, and craft cocktails by the pitcher.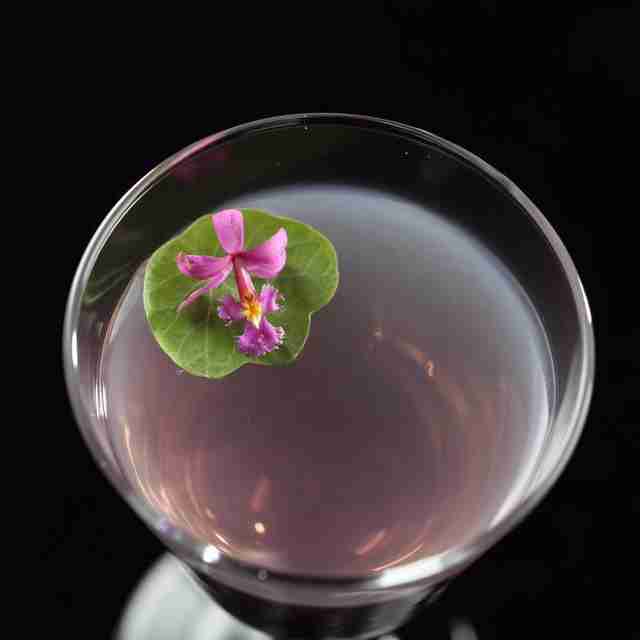 Heights
Canard is the first concept from Treadsack's bar director, Leslie Ross, so it should surprise exactly no one that it boasts an extensive lineup of incredible cocktails. The vibe is intimate, with only 50 or so seats, lush, French-smooched accents, and the tincture queen herself impressing with impossibly good concoctions, from a beautifully done Old Fashioned to seasonal drinks backed with chartreuse, vermouths, ports, bubbly, and special touches like essential oils, delicate adornments, and house-made sodas. With neighbors like Treadsack's Foreign Correspondents and Morningstar, this newly developed strip is one of the coolest new destinations in the Heights.
Sugar Land
Open since March, this more laid-back offshoot of the cult favorite Songkran Thai Kitchen features authentic, family-style street eats inspired by executive chef Junnajet "Jett" Hurapan's hometown in northeastern Thailand. Get your hands dirty with shared plates of grilled head-on shrimp and pork ribs, which you can dunk into plum, "angry," and sweet chili dipping sauce, for starters. Then move on to wok-fried noodles, chili basil chicken, and crispy duck clay pot. Wash it down with local suds, rinse, and repeat.
River Oaks
This big & beefy Austin favorite finally opened its doors in the River Oaks District on Memorial Day. Judging by the three-hour line once it did, it's safe to say Houstonians have been excited by this prospect. The burger bar offers a wide variety of burger choices made with locally sourced ingredients, plus a lineup of sides, salads, shakes, and a burger's favorite companion, craft beer. Topping enthusiasts will want to try the Terlingua -- an Angus beef bomb smothered with chile con carne, cheddar, Fritos, and sassy sauce; or the pleasure-inducing Primetime -- a grass-fed Akaushi beef patty with caramelized onions, steak sauce, truffle aioli, and brie overcoat.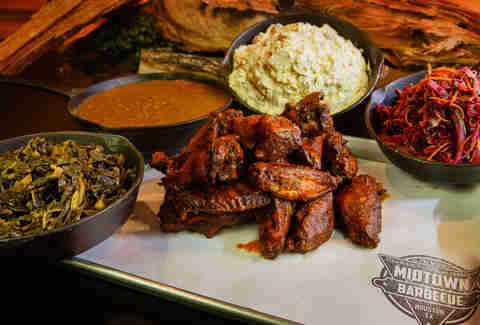 Midtown
The ill-fated OTC didn't work, nor did Bourbon on Bagby, but we have a feeling the third time's a charm for this Midtown haunt, now that it plays home to a duo of talented chefs (pitmaster Brett Jackson's work includes a stint at the legendary Louie Mueller) who sling out Hill Country-style barbecue in all its glory. But it's not all monster-pork-butt this and fatty-beef-rib-with-house-pickles that. No, this is still Houston, after all -- meaning there's also things like smoked shrimp & oysters, whole-smoked fish with chimichurri sauce, gorgeously executed ossobuco, and potatoes fried in brisket fat... because was there really ever any other way?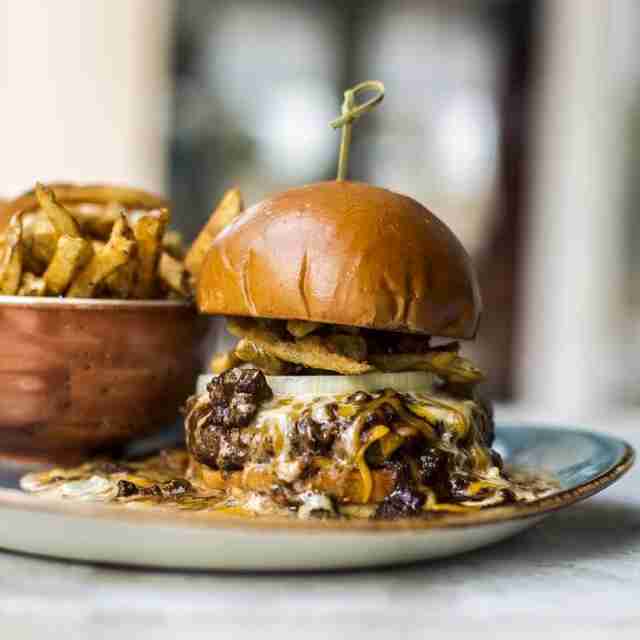 Memorial
Housed in the former Pour Society, this concept from Cherry Pie Hospitality's Lee Ellis and culinary director Jim Mills already has local fans thanks to chefy, lowbrow comfort fare that's as big and bold as Texas. If you want a side of heart palpitations with your meal, go for its colossal burgers, which come stacked high and sloppily with things like chili & queso or griddled pastrami and chicken-fried french fries. For a more dinnery affair, the smoked double-cut pork chop with root beer syrup is spot-on.
Heights
After a whole lot of anticipation from eager pizza fans (and some vandalism... not cool, whoever did that), this Dallas-born pizzeria has finally opened its first Houston outpost. The flawlessly executed, certified awesome Neapolitan pies get scorched for about 70 seconds in a colossal, bright gold, 900-degree wood-burning oven before making their way to your gut. You definitely won't want to skip the cheese, since the mozzarella is made in-house, but you also don't want to skip things like local sausage, Calabrian chiles, jalapeño pesto, and fried zeppole, so come hungry. But whatever you do, don't ask for ranch dressing.
Downtown
In the coolest hatch opening since Lost comes this underground beer garden and food hall, which is made even cooler by the fact that you don't need to blow it up with dynamite in order to enter, nor is it a station where you need to repeatedly enter 4 8 15 16 23 42 to prevent some sort of electromagnetic apocalypse (that's how Lost works, right? That show was confusing). Back to Conservatory, head down the Art Deco staircase and you'll find a modern, open food hall filled with fun things like a 60-count craft beer and wine tap wall, as well as tables and chairs at which to drink that beer and wine, plus food stands like Melange Creperie, Myth Kafe, El Burro & The Bull, and Samurai Noodle, and an awesome-looking, under-the-steps greenhouse.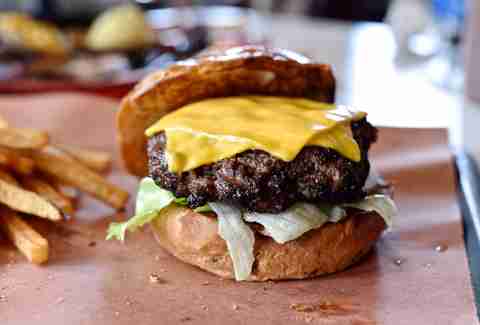 Pearland
There's no doubt chef Ronnie Killen was already "killen" it (sorry) with his steak & barbecue game, so it's no surprise he's ventured into the last of the holy trinity of Texas beef: burgers. J.J. Watt has already stopped by to visit his favorite chef friend and house some expertly griddled beef, and so should you. You should also house a side of fried cheese curds and crinkle-cut fries, obviously.
River Oaks
Treat yo'self to a fancy but unsnobby French meal at this sophisticated Dallas import from Lombardi Family Concepts. After opening "French Cowboy" Philippe Schmit at the helm, the kitchen is now being helmed by Chef Laurent Dubourg, who is bringing Houstonians a touch of the Parisian bistro experience through pernod butter-soaked escargot, spot on l'orange-style duck confit, and a croque madame that you definitely want in your mouth right now along with a gratin of truffled bacon lobster mac because we're in Houston, not Paris, so screw it!
River Oaks
Toulouse's sister eatery is a posh, brick-walled beauty that wants to feed you Northern Italiano classics. Hint: you should let them. Come with a crew so you can hit all the marks, starting with the risottos for which they are known and moving on to burrata pizzas, braised beef gnocchi, and veal Parmigiana. We guess you could throw in some greenery, too. Since it's located in the River Oaks District, Taverna is a place where you'll want to come dressed to impress, even at brunch, as the people-watching is top-notch.
Heights
If you thought Houston was missing a coffee-heavy eatery with grade-A grinds, matcha-iced donuts, and some serious pedigree, you were right! The latest venture from Greenway Coffee and Blacksmith's David Buehrer and Ecky Prabanto, the breakfast, lunch, and coffee stop pleases eager fans with a rotating menu, showing off everything from hazelnut praline and dark chocolate ganache donuts (yes!) to black rice with coconut milk and Korean steak & eggs with scallion pancakes (oh yes!). It may take a few trips to find your favorites, but every one of said trips will be worthwhile.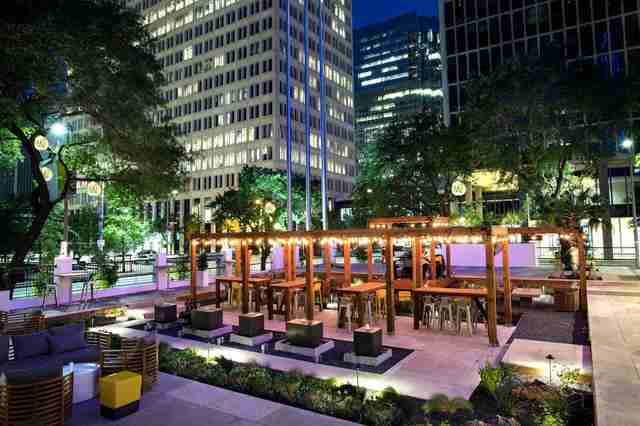 Downtown
Don't discount hotel restaurants, especially one tucked inside a historic hotel that underwent a $5 million dollar renovation. Sotherly's The Whitehall hotel (formerly the Crowne Plaza) has an eatery that boasts what they've dubbed "Mexi-South" cuisine, taking the best parts of Tex-Mex, the best parts of Southern comfort, and fusing them together to make things like slow-burning braised oxtail soup and Saint Arnold beer-battered chile rellenos. Outside, the courtyard bar Part & Parcel shows off Mexi-South-inspired street eats and a mix of elevated classics and original concoctions jazzed up with Sotherly's own private label bourbon, Edgar's Truth.
Sign up here for our daily Houston email and be the first to get all the food/drink/fun in town.