Are we all done pretending to stay true to our "healthy" New Year's resolutions yet? OK, sweet. Since you're ready to fall off track, you may as well do it with some of the most exciting new food and drink opportunities going on in Houston right now. But where would you find that kind of information? Oh wait.
Recommended Video
Make This Sushi Burrito at Home, Become a Snack Legend
Heights
Whiskey. Beer. Tacos. Sound like heaven? That's because it is. Named after the heirloom corn that was the first corn ever distilled into whiskey in the US, the modern icehouse and neighborhood lounge carries more than 100 selections of whiskey, including proprietary barrels of bourbon hand-selected by Beverage Director Morgan Weber that get showcased in a cool looking rickhouse-like structure behind the bar. Eats come from the food truck, with the menu created by AGRICOLE Hospitality's (Coltivare, Revival Market) other half, Chef Ryan Pera. Take down short pulls like the Hell's Bells, a shot of Buffalo Trace with a shot of Revival b&b pickle brine PLUS a Lone Star, alongside superior-quality, scratch-made tacos filled with things like braised beef cheek and Berkshire pork collar carnitas.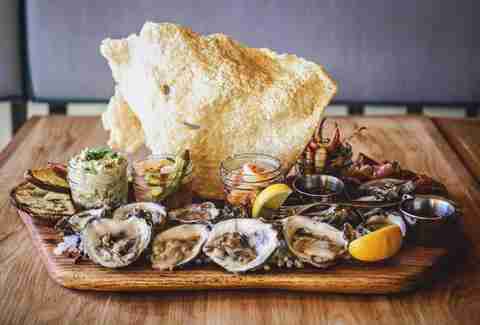 Heights
You'll want to start with the I-10 Tower at this Third Coast eatery from powerhouse restaurant group Treadsack. That's a truck load of raw oysters, blue crab claws, pickley shrimp and veg, smoked fish dip, heritage breed cured ham, and a massive slab of chicharrón for you which you can peel, suck, slurp, and crunch. With Executive Chef Graham Laborde and the kitchen taking on a "catch of the day" mentality, the concept knocks it out of the park with fresh-off-the-boat eats and good ol' Southern hospitality. Laborde is also trained in butchery, so you can't go wrong by land or sea, as you'll see when you smash their not-to-be-missed dry aged beef burger.
Montrose
Clark Cooper Concepts -- the guys behind some hot restaurants like Brasserie 19 and Ibiza -- have unveiled their latest creation, and it's breathtaking (in the real way, not in the Seinfeld way). With a matrix of mismatched vintage chandeliers and floor to ceiling open windows offering lush views of the Buffalo Bayou, being here is like chillin' in a million dollar treehouse. The eatery doubles as an event space and a California-inspired fast casual breakfast and lunch spot, so even if you're not invited to a super fancy pants party, you can still get your grub on. Do so with salmon gravlax toasts and pressed Cubanos, treat yo' self to a well deserved glass of wine and one of Houston's best cheese plates after a run on the bayou; or pick up grab and go muffins and a coffee on your way to the dog park.
Upper Kirby
In case you missed the mayhem that was their grand opening, NYC's famed street meat completed its pilgrimage to Houston last month. Since then, fans have been lining up to drench everything on the menu in THG's dreamy white sauce, because that's what you do here. Go for yourself to see why their chicken, lamb and rice platters sparked the halal revolution that swept the country. Then add some extra hot sauce, because we're in Houston and that's what you get.
Midtown
If lounging in a sea of hammocks and taking down an eclectic collection of craft beers pulled from sweet-looking hand-carved taps that are housed inside a restored century-old building is your idea of a good time, that's a very specific idea of a good time. Regardless, this eastside of Midtown brewgarden is going to be your new jam. The recent crowds and plethora of 'here's my feet swinging while I'm listening to live music' Snapchats prove that so far, Houstonians likey. Take a seat at one of the community picnic tables to play games like Clue and regular-sized Jenga while you imbibe and take down a pie and some knots from the always trusty Luigi's Pizza, which shares the yard and will bring said pie straight to your table.
Galleria
So it turns out Aristotle was right. TABLE on Post Oak was great, but the rebranded La Table -- complete with a fine dining restaurant (La Table Chateau) upstairs and brand spanking new French-inspired bakery (Macarons) and cozy breakfast and lunch spot (Marché) downstairs -- is greater. Get classic poached pear tarts and smoked duck brioche that taste just as good as they look; feel like a lady who lunches with towering caramelized cheese soufflés and tuna niçoise; or ball out (in a fancy French way, obviously) with parmesan-crusted rack of lamb and double-pound ribeye for two.
Midtown
Good fortune has shone down upon us, because one of Houston's oldest and most iconic dive bars has been brought back to life after shuttering to a public outcry last year. The new owners, which include Davenport's Duane Bradley, have kept the character of the original by only making a few well-received structural changes. Who doesn't like more open space and a stage for live lounge acts? Reacquaint yourself to an old friend through a nice lineup of American whiskeys and drink specials like the Citywide, in which you get the completely classy combination of a bottle of Lone Star and a shot of Jameson or Fireball.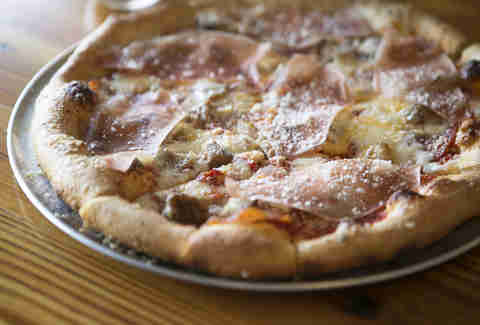 Rice Village
Fans of Liberty Kitchen & Liberty Kitchen Oysterette will be happy to know this little brother concept is ready to rage in Rice Village. Just to be clear, by rage, we mean fill you with things like 1/2lb double cheeseburgers smothered with pickles and thousand island, fiery Creole seafood and andouille gumbo, and deviled eggs topped with fried oysters.
Galveston
Lord of the burger Ricky Craig (of Hubcap Grill) and culinary ninja Joshua Martinez (of the Modular food truck and former Goro & Gun and Chicken Ranch) teamed up to bring Galveston this New Orleans-style eatery with plenty of H-town soul. With the recent soft opening showing off all kinds of awesomeness through crazy good crawfish boils, bbq scrimps and bay oyster po-boys, we expect many a messy-faced visit to this new kid on the beach.
East End
Houston's latest dive is seriously cool, but you'll have to travel East toward Magnolia Park to find out. Hint: with a rowdy and totally fun DIY music scene, fantastic library of cheap craft beers, and a big yard complete with twinkly lights, you'll want to do just that. When you get hungry, have no fear: there's a Whataburger and a 24-hour Mexican joint right next door.
Washington
This cool kid gastropub jumped at the opportunity to evolve into an ITL location after a successful stint outside the loop in Willowbrook. House in the old Outlaw Dave's, it's a much welcomed addition that just may help revive Washington Ave's social status. Owner and chef of Federal Grill Matt Brice oversees the kitchen, which pumps out haute comfort food like CFB, that's applewood smoked bacon that gets hand battered in house buttermilk batter, then chicken-fried and smothered with thick country gravy. Sure, these guys may be jumping on the craft grub & cocktail gravy train, but that gravy train tastes pretty damn good.
Sign up here for our daily Houston email and be the first to get all the food/drink/fun in town.
Brooke Viggiano is a Houston writer who thinks any gravy train is a pretty damn good one, so long as it involves actual gravy. You can find more of her revolutionary thoughts @BrookeViggiano.