Brunch is a frequent topic of discussion around here. Boozy brunching. The best brunches around. But you know what, just like the mail, the brunch never stops! New brunches are popping up all the time. Here are 10 new ways to combat that hangover via bacon and bubbly:
Montrose/Museum District
The first full-service resto on Houston's prized Menil Campus is the perfect place to pretend to be cultured on a date. Come here for modern, Euro-inspired eats like duck confit omelets or French toast drizzled in a caramel sauce so alluring you might ask IT for a date.

Midtown
While it's still working out a few kinks, this brand-new bake shop and eatery shows tons of promise. Especially when you are smashing cracked egg pizzas, cake donuts, and crunchy fried chicken into your mouth.
EaDo
Scratch-made bacon quiche, Vietnamese steak & eggs, and crepe cakes (yes, those are cakes made out of freaking CREPES) are all must-haves at this excellent East Downtown bakery & café. So are the locally-roasted coffees and an irresponsible number of croissants to-go.
CityCentre
Buffet brunch at this modern Italian, farm-to-table resto means you're stuffing your gut with local, freshly carved prime rib, fresh seafood, house-made pastas, and suckling pig. Wash it all down with a classic craft cocktail, then make room for dessert, because you're getting your damn $28 worth if it's the last thing you do.
Washington
Comfort foods rock the house at this cozy Southern American bistro. Start with homemade sangria or a spicy michelada... now, unbutton your pants -- you're gonna need the extra room for pancake-battered sausage pigs in a blanket, country ham eggs Benny, and chicken fried chicken.
River Oaks
There's a new brunch buffet in town. And -- in addition to all the usual breakfast-y suspects -- it has fried chicken, prime rib, an ice bar, and a station where you can top your gumbo with fried oysters, crawfish, and shrimp. Just show up with $35 (plus money for tax/tip) and be hungry as hell.
Washington location only
Yes, Max's Wine Dive has been filling your guts with wings & corn cakes, RVPs, and crème brûlée French toast for like... ever, but the fried chicken gods recently started serving brunch LATE NIGHT (Fri & Sat 11:30pm-1:30am). Late night brunch, everybody (slow clap).
Garden Oaks/Oak Forest
Put down the Eggos and slowly back away from the toaster. Good. Now grab a friend and go to get lychee French toast, Korean steak & eggs, banana Nutella pie, and mezcal Bloodys at this Asian-inspired GOOF eatery instead.
Upper Kirby
Here's some important life advice: when you can start with local brisket or smoked fish hash and finish with churros and Mexican hot chocolate, you do.
Galleria
You guys, there's a full-service restaurant located inside the San Felipe HEB and it's pretty freaking fantastic (especially since former Haven chef Randy Evans consulted on the menu). Head there for Sunday brunch and order from both the brunch and the regular menu because YOU CAN. Don't miss the Korean fried chicken & waffles, nor the truffle butter-laced jarred eggs.
Midtown
If you don't order seafood at brunch, you're doing it wrong. If you do, you now have one more reason to wipe last night's pizza off your chin and get your life together by 2, because this Midtown stunner just launched a Sunday brunch service. East Coast and local Gulf oysters-on-the-half shell; sorghum glazed shrimp & pickled serrano-boursin grits; and non-seafood stuffs like roasted pork debris eggs benny are all a part of the morning fun. So are smoked Bloody Marys, btw.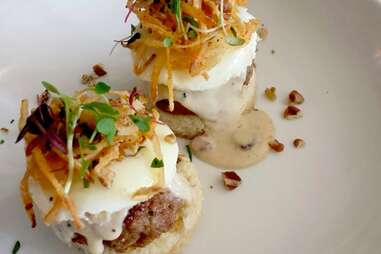 East End
Everything at this eclectic kitchen is made In-house, from the buttermilk biscuits to the jalapeño sausage (and tasso gravy in between!) Eat those, but don't miss the trio of boudin you're also starting with.
Sign up here for our daily Houston email and be the first to get all the food/drink/fun in town.