Brunch is a frequent topic of discussion around here -- best brunches, boozy brunching, questing after the most excellent new brunches, which are actually now old brunches because an even newer crop of brunches has taken their place. It's pretty hard to keep up with, so we've done it for you, bringing you 10 new ways to combat your weekend hangover the only way we know how: with bacon, bubbly, and egg-topped fries (for the extra-rough mornings).
Heights
Here's a tough one: what happens when one of the hottest new restaurants opens for brunch? Answer: you go there. Maybe that was too easy. Either way, don't miss their excellent brunch cocktails like sweat tea cotillions and house Bloodys with pickled shrimp. Then, if you're feeling particularly baller (or are still buzzed from last night and are ready to make some reckless financial decisions), start with the uber luxurious I-10 seafood platter. It makes a nice palette cleanser for the NOLA-style BBQ shrimp toast & eggs or the daringly good head cheese hot brown you're about to smash.
Heights
Partaking in bottomless cocktails the moment you wake up almost feels classy when you do it at this dual concept Heights restaurant. Scratch that. It feels fully classy. Especially when you enjoy the tinctures with things like roasted octopus ceviche tostada, crème-brûleéd French smothered in grand marnier syrup; and huevos rotos, a tapas style dish in which you use warm bread to scoop up messy broken eggs, crisp potatoes, and chorizo (because using the bread instead of your face keeps things truly classy).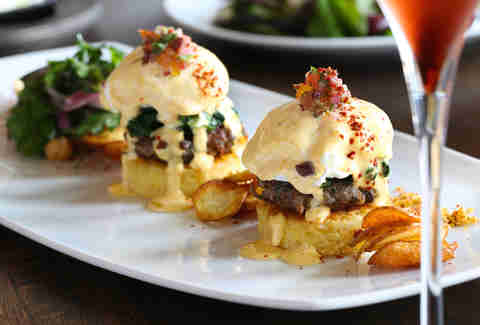 Rice Village
Hopefully you've indulged in this haute taverna's pork gyros and Greek wine by now, but if you have yet to cure a Saturday hangover with their Sunday brunch, it's like you're not even trying to have fun. Eggs Benny take a trip to the Mediterranean with feta cornbread, hand-packed sausage, and your new bestie, avgolemono hollandaise; while their take on French toast, made with Greek Easter bread and sweet wine-braised cherries, is kinda like Challah French toast on crack. Wash it down with some truly awesome morning cocktails, then take on a greens-n-cheese pie because when in Greece, right?
Heights
Your hangover helper just got taken to a whole other level thanks to fiery Thai-style Corpse Revivers and umami-bombs like kai kwam (that's a heavenly pork-stuffed fried egg), kanon jin nam ngiew (those are slurp-worthy Northern pork curry noodles), and jok bpet (a heavenly rice porridge loaded with shredded duck). Of course, there's sweet stuff, too. Split paper thin coconut crepes and French toast with pandan syrup with the table, or be greedy and keep them all to your damn self.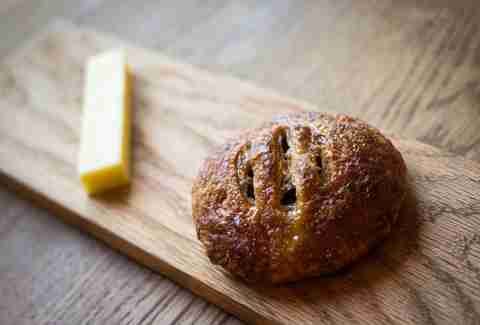 Heights
A proper English-style brunch starts with clotted cream scones and tea. A proper Houston-style, English-style brunch keeps the scones, subs the tea out for highballs and pimm's cups, and throws in things like poached eggs & corned beef hash, bangers & black pudding, and screw it, double the beef cheeseburgers with a big ol' pile of fries. America!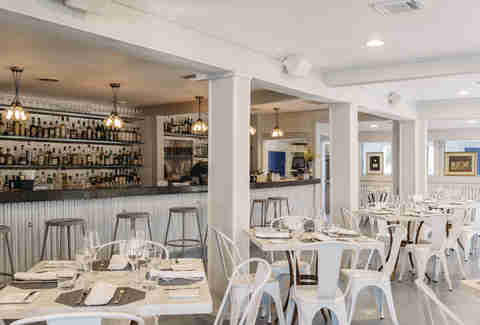 Heights
With a new executive chef rocking the kitchen, the time to get lunchy breakfast-stuffs and breakfasty lunch-stuffs at this coastal eatery is NOW. Chef Mike McElroy, whose resume includes everything from NOLA's Commander's Palace to Houston's D&T Drive Inn, shows off some serious talent through refined Provençal plates smooched with Creole 'tude. Hit the bright and airy space to dive head first into just bitter Aperol Collins, savory brie, and Muscovy duck puff pastries, and a house-made andouille and quail egg kolache that is unlike any other you've had before. Just to be clear, that's a good thing.
Memorial
Fact: Sunday brunch is instantly cooler when it involves things like corn hole, live patio music, and a short rib mac and cheese appetizer that you can't not start with. The menu runs the gamut from brunchables like migas and eggs & brats to lunchier numbers like cheddar fondue pretzel burgers and mussels & frites. All of which taste better with a morning cocktail (fact #2).
Memorial
Foie gras with biscuits & gravy, smoked chicken chilaquiles frittatas, and pour' stramis (aka open-faced pastrami sandwiches with a jalapeno-cheddar waffle bun) are allllllll on the menu at this funky American resto from chef and restaurateur Bradley Ogden. With a 40ft bar complete with 48 craft taps and a laundry list of gastropub eats, it's the kind of place at which you can happily waste your Sunday away.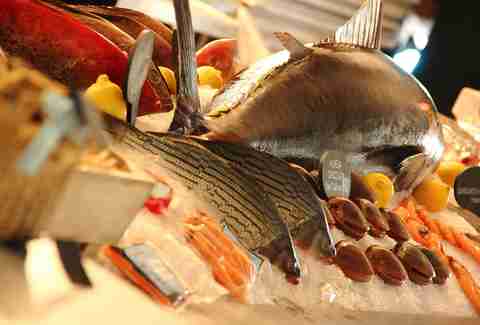 Galleria
$39 will get you an all you can eat seafood feast at this fresh-faced cult favorite. Tack on six more bones for bottomless mimosas and sangria to gulp as you take on plate after loaded plate. An what are you loading said plate with, you ask? Just hotness including but not limited to crispy fish empanadas, crazy good ceviches, absolutely loaded seafood paella, and from-the-land eats like smoked ham eggs benny and leek, bacon, and blue cheese quiche lorraine.
Downtown
Ever feel like a fried bologna croissant-waffle drizzled with queso and topped with strawberry pico jam, but just don't know where to get it? How about a grilled cheese made with brisket-stuffed fried cheese sticks sandwiched inside Texas toast with more cheese and a fried egg? Well have no fear, because this cool kid brewpub has answered all of your extremely trippy brunch dreams.
Sign up here for our daily Houston email and be the first to get all the food/drink/fun in town.
Brooke Viggiano is a Houston writer who's really craving a bologna croissaffle right about now. Share your deepest brunch desires with her @BrookeViggiano.