Potente
Potente
Houston's had a rough year. But that's not to say we haven't banded together and shown the world what it means to be #HoustonStrong AND brought home our first World Series title in the process -- shout-out to Altuve! And while we've fared through the hardships, there were plenty of phenomenal things happening in background, especially in the culinary world. More specifically, the return of an old favorite, a hot concept from a Top Chef, and one restaurant that will be changing faces every year. Here are the Houston hot spots you'll want to be eating at going into 2018.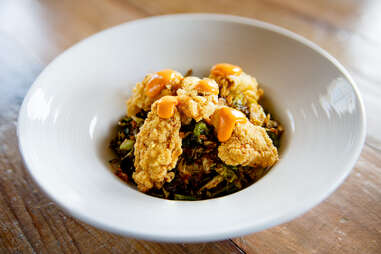 Heights
Gulf Coast fare paired with delicious cocktails and a yard to hang in
This 11th Street newcomer from chef Travis Lenig (formerly of Liberty Kitchen) plays to the tastes of the Third Coast, with both by-land and by-sea offerings in a warm and cozy setting. The space is small, so you may encounter a slight wait on busy nights; but fear not, there's a yard and cocktails to keep you occupied. When you're ready, you'll want to start with a few appetizers -- pimento cheese fritters and sambal-glazed fish collars -- before moving onto the big guns, like confit duck leg with dreamy corn pudding and caramelized scallops over flawless shrimp and crab risotto. Brunch fans will also want to revive themselves with zippy house Bloodys and slow-roasted pork and pancake stacks on weekends.
Montrose
A Top Chef alum brings reenergized Asian food to Houston
Top Chef and JBA winner Paul Qui's first Houston project arrived to quite a buzz this summer, for good reason. Though the striking roof and high-ceilinged space gives off a bare yet tranquil vibe, the food is anything but, with bold, bright flavors dreamed up by Qui and chef de cuisine Gabriel Medina (a hometown hero known for stints at Kata Robata and Soma Sushi). Travel to Southeast Asia via kamayan or "hand-to-mouth" bites like the Singapore hot chili crab and fried bao. Order yourself a few "perfect bites" -- literally bite-sized puffs, cakes, dumplings, and toasts made for one, and/or bring some friends to share tom yam noodles, grilled octopus adobo, and the star of the evening: a succulent, crispy skin lechón served with Filipino pork liver sauce.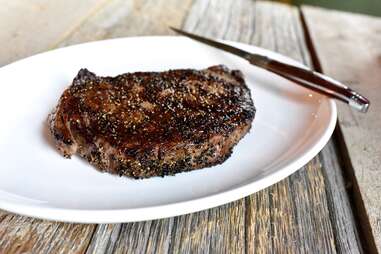 Galleria
A meats expert adds seafood to the lineup and will make you re-think that steak
Smoke and steak combine at this relaxed space from acclaimed local chef Ronnie Killen, which took over the former Bramble space near the end of 2016. Earlier this year, Killen tapped Graham Laborde (previously of Bernadine's) as operations chef for all Killen's restaurants, which added some serious seafood savvy to the barbecue and steak focused kitchen. Book your reservations in advance and gear up for a meal that will no doubt loosen your belt a few notches... but you know, in a classy way. We're talking pecan-smoked pork belly glistening in habanero-cherry sauce; Creole shrimp over grits cake; the choicest wood-fired rib-eye and NY strip; and the pièce de résistance, a silky/smoky bacon tres leches bread pudding.
Washington
A reopened soul food joint is back and better than ever
Once a tiny, bare bones restaurant housed in EaDo, Kitchen 713 closed in 2016 to find new digs (and get a liquor license). At the turn of the year, it emerged bigger, better (it got that license), and somehow, even more satisfying. It's all about pure, unadulterated soul food, here... though you'll find way more than just one the city's best takes on shrimp & grits. Chef and co-owners Ross Coleman and James Haywood take inspiration from around the globe, bringing their take on soul food to the highest level. Dig in to fiery and smoky Caribbean jerk ribs, catfish tikka masala that's at once light and rich, and a stupendous New York strip. Also, since this is the South, weekend brunch means fried chicken, mac & cheese, and biscuits, obviously.
Montrose
For five years, this restaurant will change its concept every year. Go now.
From Underbelly chef-owner and champion of all things Houston, Chris Shepherd, this concept is literally changing up its game once a year for five years. First up was One Fifth Steak, which gained fans aplenty under the careful direction of the incredibly talented chef de cuisine Nick Fine. Now, Shepherd, Fine and Co. have turned their attentions toward love languages and the cuisines that represent them. One Fifth Romance pleases with dishes that can probably make anyone fall in love -- mussels escabeche, duck heart Bolognese, truffle chicken roulade, and orange-anise croquembouche. Just don't forget to make your reservations now, as the tides will turn once again in August and September.
Chinatown
An Asiatown legend opens the neighborhood's hottest new spot
Mike Tran has quietly been taking over Asiatown, winning over locals with favorites like Mein, Tiger Den, and the newly revamped Night Market. The same attention has been paid to what just may be his coolest venture, Ohn. This time, a clubby K-Town vibe adds sex appeal, while the kitchen dishes out shareable plates that are downright addicting as hell. Sip late-night soju straight from a watermelon keg and complement it with kimchi fried rice, jeyuk bokkeum (spicy pork stir-fry), sweet and hot twice-fried Korean chicken, and corn cheese -- a cheesy riff on creamed corn that is an absolute must for the table.
Downtown
Elevated bayou food in an unexpected location
Gulf Coast chef Bryan Caswell already had seafood (Reef), barbecue (Jackson Street BBQ), and Tex-Mex (El Real) under his restaurant umbrella. And now, along with his wife, Jennifer, he has a modern concept in Downtown's Le Meridian -- one that vows to change what you think you know about bayou fare. Refined techniques and touches enhance what the kitchen describes as "elevated bayou cuisine" -- East Texas caviar service with house potato chips, creme fraiche and ghost pepper caviar; crispy duck egg with duck confit and basil oil; and even Caswell's take on bun rieu, a traditional Vietnamese crab stew that gets poured tableside. Aside from elevated small plates, the restaurant also plays to the hotel crowd with double cheeseburgers and build-your-own breakfasts.
Downtown
The only Italian steakhouse you'll need to know in Houston
With a piping hot location across from Minute Maid Park, this highly-anticipated concept from Astros owner Jim Crane hit a grand slam (!) when it nabbed chef Danny Trace (of Brennan's fame) to helm the kitchen this spring. Potente oozes sophistication, with a dark and luxe interior that evokes a modern villa, top-notch service and superb wines, and high-end Italian steakhouse fare that pays respect to local ingredients. Dine on a beautiful branzino hit with burgundy grapes and romanesco; impossibly silky burrata caprese, dressed up with things like confit cherry tomato and smoked sea salt; and cacio e pepe upped with black truffles shaved tableside.
Montrose
Southern food from a Canadian chef and a constantly changing menu
All hail Manitoba-born chef Ryan Lachaine (Underbelly, Reef), who fires off worldly dishes straight from Riel's showstopping open kitchen. Said dishes offer some familiar tastes from our French Canadian neighbors, like the artful Montreal smoked meat and rye, and sticky toffee pudding with foie gras torchon. That said, the ever-changing menu is just as likely to feature influences from Houston's culinary melting pot, from Vietnamese fried oysters and Gulf redfish karaage (with its tail intact), to a beautiful corn gnocchi dusted with cilantro, lime, and cotija fondue.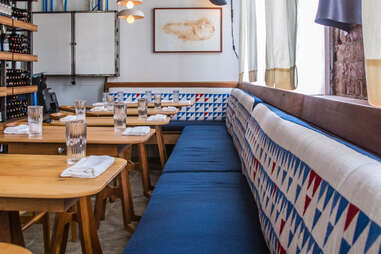 Warehouse District
Simple but spectacular plates with a menu that will change due to chef's "boredom"
In a shock felt around the city, 2017 brought the closure of our beloved Oxheart, a year after chef Justin Yu won James Beard's Best Chef Southwest for his highly revered veggie-centric tasting menu. But it wasn't always Yu's plans to be confined by tastings, so he shut down his spot inside the historic Erie City Iron Works building and re-birthed it entirely. With a new, playful look, new chef de cuisine (Jason White) and new a la carte menu, Theodore Rex sets the tone for a new kind of dining -- one that mesmerizes with simple plates of pan con tomate and farm potatoes dripped in chicken in the same way as it does with mains like collards-steamed grouper and Texas wagyu with fermented radish. Note: The menu will change often due to "availability, quality, and boredom," so come expecting the unexpected.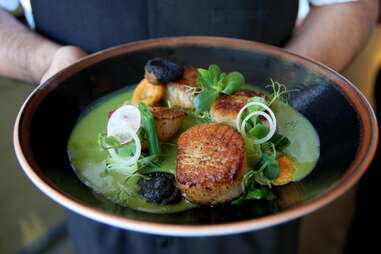 Downtown
A hometown hero is dishing out Oaxacan cuisine after winning his first James Beard award
With a James Beard Award under his belt, chef Hugo Ortega is storming out of the gates. That's thanks in part to the deserving chef's latest concept, the sleek Oaxacan paradise set on the ground level of the gorgeous Marriott Marquis (the one with the Texas-shaped lazy river). Equally as gorgeous are Xochi's impeccably composed plates -- a showstopping labyrinth of moles, from the deep and earthy to the smooth and mellow; house-made masa preparations showcasing endless varieties of corn and topped off with wood-roasted octopus, roasted pork rib, and chorizo ismeño, and impossibly good homemade chocolate desserts from Hugo's pastry chef (and brother), Ruben. Drinks come from the masterful Sean Beck, who's built a thoughtful library of agave-focused cocktails and interesting wines to pair with it all.
Galleria
Upscale dim sum that'll have you prying your friends off the couch every Sunday
It's fitting that this Michelin-starred London import is housed in the Galleria's luxury "jewel box" building. Every plate coming out of the kitchen is a gem, both in a breathtaking, aesthetic way and a more figurative "give me that now!" way. This is not your typical Chinese dim sum teahouse -- Yauatcha offers a more contemporary tasting experience, and although that comes with an uptick in price, we're guessing you'll find shelling out the extra cash totally acceptable. Bring friends and sip tea while ogling over the restaurant's delicate and artful preparations, from crispy duck rolls and scallop shui mai with tobiko caviar, to seasonal chocolates and patisserie.
Sign up here for our daily Houston email and be the first to get all the food/drink/fun in town.
Brooke Viggiano is a Houston-based writer who can't wait to see what 2018 brings, so long as it's as delicious as 2017. Cheers to the new year with her @BrookeViggiano.