The Absolute Best Pizza in Houston
Wood-fired, Detroit-style, and beyond.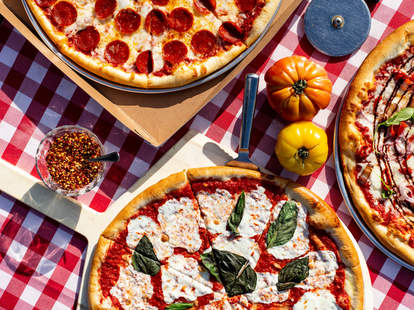 Pizza equals comfort, something many of us could use in the year 2020. The stretchy cheese, a warm blanket to wrap yourself in; its billowy crust, a pillow on which to lay your worries to rest. Plus, a pie or two can feed a whole gang or one superlatively hungover you. Thankfully, Houston sports a sturdy roster of buzzy pizza joints and longtime pie slingers offering takeout, dine-in, and delivery across the city. We're talking light and airy Neapolitan pizza, foldable New York slices and Sicilian square pies, Roman-style cuts, and jalapeño-topped numbers… because pizza or not, this is still Houston.
Woodfired pizza and phenomenal apps to boot
Imports like Caputo brand "double zero" flour and an 800-degree wood-burning oven mean every doughy Bollo pie comes out blistered and smoky. Get the pizzas topped with classics like prosciutto di Parma and creamy buffalo mozz (also imported); or go full Lone Star with everything from fresh jalapeños to crazy good Texas Wagyu beef. Before you dig into the pie, it's best to start with a mess of small plates, including but not limited to black truffle burrata, local beets, plump meatballs, and Gulf shrimp crostini.
How to order: Dine in (tables can be reserved in advance) or order online for delivery or carryout; third party delivery services including DoorDash and UberEats are also available.
Extra photo options:
Cane Rosso

| Jeff Amador
Don't knock it 'cause it's Dallas born; this pizza joint makes transcendent, certified Neapolitan-style pizza with fresh dough scorched in an intensely hot wood-burning oven. Locals love the Honey Bastard, smooched with housemade mozzarella, hot soppressata, bacon marmalade and habanero honey. The fact that any of the pies can be made spicy for an extra $2, adding on a heat-punch from calabrian chiles & Yellowbird Serrano hot sauce, is an added bonus. Just don't ask for any ranch dressing to balance that heat… there are local beers for that.
How to order: Dine in, order online for curbside pickup, or score delivery via UberEats.

One good thing to come out of the absolute dumpster fire that has been 2020 is Coltivare's change to its no-reservations policy. Meaning, yes, now you can actually make dine-in reservations to get down on the borderline euphoric eats, whether that's a rustic and chubby, local squash and smoked mozz pie paired with black pepper spaghetti and a seasonally refreshed tincture from beverage master Morgan Weber, or a classic Revival pepperoni and some made-from-scratch focaccia that you use to sop up your side piece of drunk mussels. Those who prefer to dine at home can score those pizzas and house pastas, plus cook-at-home pizzas, Date Night To-Go packages, and more.
How to order: Make rezzies online and call 713–637–4095 or 832-203-7890 for pickup from the sidedoor.
This Midtown staple boasts the most authentically Italian pizza in town. That's because the massive chain got its start in Italy before making its way to Houston. You'll find 40+ pies at this outpost, from the legitimately amazing prosciutto crudo to the heavenly ricotta & spinach. You'll also find one of the best weekday happy hours and all-you-can-eat gnocchi on the 29th of every month, both of which have absolutely nothing to do with pizza but deserve to be mentioned.
How to order: Walk in or call 713-524 8222 for reservations and pickup; delivery is available via GrubHub, DoorDash, and UberEats.
Ever hear of pepperoni cups? Ever try a Detroit-style pie? How about a Detroit-style pie next to a New York-style one and a Neapolitan pizza? Pizaro's gives you the chance to try all three pizza styles, topped with high-class toppings from Iberico ham and Bufala mozzarella to anchovies and crimini mushrooms. How could it get any better, you ask? NUTELLA FLATBREAD.
How to order: Order online for carryout or delivery.
Topped with things like housemade fior di latte, soppressata, and Calabrian chilis before being wood fired at 900+ degrees until bubbling and charred, these red- and white-based regional Italian pies are a force to be reckoned with. But here in this modern mid-rise storefront, it's truly all about the crust: soft and pillowy on the inside, crunchy and crisp on the outside. Take the pies down with add-ons like fire-roasted polpette, red wine, and gelato. As is tradition.
How to order: Dine in or out on the patio and order online for pickup or delivery.
Follow the Yankee caps to this zero frills pizzeria, where the service is just as New York-style as the lightly sauced, thin and crisp slices. Don't expect a ton of small talk, just solidly executed plain, pepperoni, and Italian sausage pies that come out fast and hot, including an on-point Sicilian square pie. You can get chicken parm subs, ricotta-stuffed calzones, and stacks on stacks on stacks of garlic knots, too.
How to order: Browse the menu and call 713-526-1182 for pickup, or snag delivery via DoorDash, GrubHub, and UberEats.
This little brother to Coltivare sits in the "young," hip neighborhood of EaDo, slinging pizza dough by the pie and slice straight from its wood-burning oven. Come here for traditional, foldable New York-style pizzas (and gluten-free options), with toppings ranging from housemade Italian sausage, charcoal chicken, and fatback bacon to Calabrian chili, pickled jalapeño, and French feta. It's also got beer, wine, frozen margs, a nextdoor cocktail bar, and late-night hours.
How to order: Open for dine-in and takeout/delivery with online ordering.
Chef Ben McPherson (formerly of Prohibition and Conservatory) helms the kitchen at this chef-driven food hall concept, one of the handful of spots in the sleek new Bravery Chef Hall. "BOH" (pronounced 'bo') is Italian slang for "I don't know," and while the kitchen embodies a playful philosophy, it seems that McPherson does know exactly what he's doing when it comes to his pizza (and pasta) technique. Roman-style pizza al taglio gets fired in the Marra Forni oven, its fermented dough coming out surprisingly crisp, light, and airy for a slice so thick. Sicilian salt and high-quality toppings like mortadella, truffle, and pistachio make this simple street food swoon-worthy.
How to order: Stop in to grab a slice or order online for curbside and delivery (bonus: you can tack on extras from Bravery Chef Hall's entirely awesome lineup of spots).

Yes, this is a pizza list, but we have to talk about "fat sandwiches" for a second. This Westside pizza joint has them -- subs packed with stuffings like cheesesteak, fries, and mozzarella sticks -- as well as East Coast-style pies and slices in the form of Vodka Pizza, Eggplant Rollatini Pizza, and White Pizza (with real deal ricotta instead of the alfredo-sauced numbers that some joints try to pawn off as white pizza here in Houston). It's a must-visit spot for any East Coaster looking for a taste of home.
How to order: Dine in or order online for takeout and delivery.
Part creative studio, part pizzeria, this artsy spot combines art, music and poetry, and rustic pies inspired by owner Vanessa Fernandez Favreau's travels. The dough is slow fermented, here, creating a pillowy, cracker-crisp crust for its open-fire 13" pies. Go for the Cinque Formaggi, with fior di latte, mozzarella, gorgonzola, goat cheese, and parmesan, then crank it up with arugula and prosciutto because you can.
How to order: Open for dine-in (with a front outdoor seating) and takeout/delivery with online ordering.
From the team behind stunners like B&B Butcher and B.B. Lemon, this younger concept sits inside the Energy Corridor's B.B. Italia Kitchen & Bar, offering New York-style pies with chewy crust and stretchy cheese for takeout and delivery only. Order the garlic-buttery shrimp scampi or the smoked bacon-topped vodka pie, and pack on some of pizza's oft unsung cousins, knots and calzones.
How to order: Call or order online for pickup and get delivery with DoorDash and Favor.
Extra photo options:
We kinda wish we thought of the dreamboat of a creation that is the Cacio e Pepe Pizza at Rosie Cannonball. That's the Montrose stunner's hot take on the "it girl" pasta of the moment, in which black pepper, super legit Italian cheeses (Rosie's sister establishment is a nextdoor wine and cheese shop), and a velvety cream sauce coat a gorgeously blistered crust. You'll want to try that pie, and the perfectly poised Speck & Chile Oil one… oh and the Sausage Pizza finished with smoked tomato, smoked mozz, and za'atar.
How to order: Open for dine-in service (with al fresco seating on the patio), and curbside pickup/delivery with online ordering.