A
few years ago, Jay Z once
dissed Houston pizza
on
Jimmy Kimmel Live!
, saying "they don't have pizza there," all because Beyoncé takes her slice with extra sauce and jalapeños. While we know Brooklyn has its own breed of pizza pride, we have to disagree with Hov: Houston's pie scene is booming... plus jalapeños on pizza are delicious. Fact. So Jay, next time you visit with Bey, we implore you to try our pizza again. We'll even give you a head start with the top pizzerias in town right now.
Recommended Video
This Cheesesteak Is Made With General Tso's Chicken
Upper Kirby
Woodfired pizza and phenomenal apps to boot
Imports like Caputo brand "double zero" flour and an 800-degree wood-burning oven mean every doughy Bollo pie comes out blistered and smoky. Get the pizzas topped with classics like prosciutto di Parma and creamy buffalo mozz (also imported); or go full Lone Star with everything from fresh jalapeños to crazy good Texas Wagyu beef. Before you dig into the pie, it's best to start with a messful of small plates, including but not limited to black truffle burrata, local beets, plump meatballs, and Gulf shrimp crostini.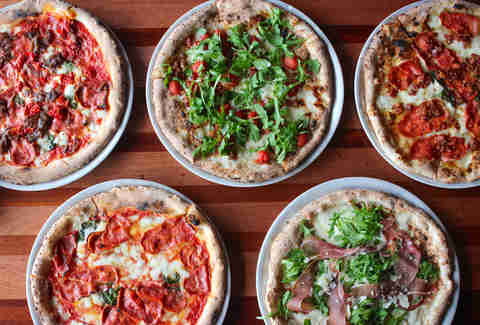 Montrose
Neapolitan-style pies in a dog-friendly location
Don't knock it 'cause it's Dallas born. With two locations, Cane Rosso feels wholly Houston after getting a reboot from local chefs Jonathan Jones (Beaver's, El Big Bad) and Matt Womack (Prohibition, Broken Barrel) earlier this year. Head to the pup-friendly Montrose locale to enjoy pies with your best bud on the patio. Those pies, by the way, are expertly crafted, certified Neapolitan-style made with fresh dough scorched in an intensely hot wood-burning oven. Locals love on the Joan Marie, kissed with pepperoni, goat cheese, and roasted jalapeño pesto. And new additions from the fiery ghost pepper bucatini to some truly bangin' brunch items make for a good time. While the Heights locations isn't dog-friendly, we can confirm it's equally as delicious.
Heights
Wood-fired pies with gluten-free crust available
There's a reason people don't mind the no reservations policy at this modern Italian joint, and it's not because they like achieving a lofty buzz before sitting down to eat (well, maybe a little of that). It's mainly because everything coming out of the wood-fired oven and urban garden is borderline euphoric, and that includes the rustic, chubby, locally-inspired pies and the seasonally refreshed tinctures from beverage master Morgan Weber. The whole lineup is top notch, so to avoid failing yet another multiple choice test, bring a crew and carbo load with a mix of the good stuff -- we're talking salumi and tomato pies next to black pepper pasta and ricotta gnocchi alongside made-from-scratch foccacia to sop up your bowls of mussels.
Upper Kirby (& Heights)
SF-style, build your own pie spot
Now with two whimsical locations, these scorched SF-style pies are perfectly chewy and puffy thanks to fresh sourdough from local bakery Angela's Oven. Counter service keeps things wallet friendly, but you'll have the impossible task of deciding between adornments like whipped ricotta, shiitake mushrooms, mortadella, and fiery andouille before you reach the front of the line. Or you know, you can just get them all.
Montrose
Neapolitan-style pies from an imported Italian oven
This Westheimer powerhouse from Chef Marco Wiles was the first to demonstrate the beauty of blistered and blackened wood-fired crusts to Houstonians. Impossibly good flavor combinations like taleggio, pear, and truffle oil or roasted clams and garlic all work to peek throughout the pies' scorched nooks and crannies. To complement the pizza's, try the al dente rigatoni studded with pig fat and heavy cream and the vast selection of small plates. The patio space is also the perfect spot to take a date, grab a glass of wine, and eat some pizza.
Midtown
New York-style slices you can eat in hammocks
Foldable New York-style slices may be a novelty in this city, but those very things are the weapons of choice at this old-school pizzeria. The Midtown hideaway has always been a cult favorite, but with the opening of the Axelrad Beer Garden, with which it shares a yard, Luigi's has become a bona fide institution. Order some moz sticks and a slice or two at the counter, then grab your number, choose a hammock in the beer garden, and sip away until the pizzeria brings your hot, fresh slices right to you.
Midtown
Authentic Italian pizzas (with 40+ to choose from)
This Midtown staple boasts the most authentically Italian pizza in town. That's because the massive chain got its start in Italy before making its way to Houston. You'll find 40+ pies at this outpost, from the legitimately amazing prosciutto crudo to the heavenly ricotta & spinach. You'll also find one of the best weekday happy hours and all-you-can-eat gnocchi on the 29th of every month, both of which have absolutely nothing to do with pizza but deserve to be mentioned.
Montrose
Detroit, NY, and Neapolitan-style pies abound here
Ever hear of pepperoni cups? Ever try a Detroit-style pie? How about a Detroit-style pie next to a New York-style one and a Neapolitan pizza? Pizaro's Montrose location offers the chance to try three pizza styles topped with high-class toppings, from Iberico ham and Bufala mozzarella to anchovies and crimini mushrooms. How could it get any better? Well, it's casual, counter-service is efficient and they offer daily specials like Tuesday and Wednesday all day happy hour.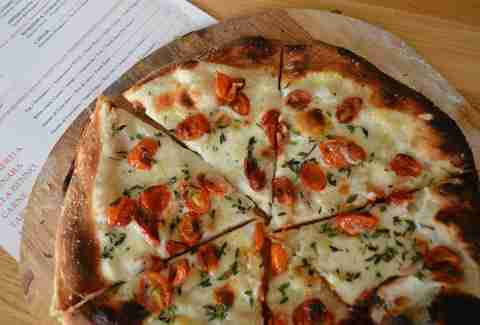 Upper Kirby
Best for crust lovers
Topped with things like housemade fior di latte, soppressata, and Calabrian chilis before being wood fired at 900+ degrees until bubbling and charred, these red- and white-based regional Italian pies are a force to be reckoned with. But here in this modern mid-rise storefront, it's truly all about the crust: soft and pillowy on the inside, crunchy and crisp on the outside. Take the pies down with add-ons like fire-roasted polpette, red wine, and gelato. As is tradition.
Montrose
New York-style pies in a no-frills location
Follow the Yankee caps to this zero frills pizzeria, where the service is just as New York-style as the lightly sauced, thin and crisp slices. Don't expect a ton of small talk, just solidly executed plain, pepperoni, and Italian sausage pies that come out fast and hot. Oh, and chicken parm subs, ricotta-stuffed calzones, and stacks on stacks on stacks of garlic knots. Just don't ask for chicken parm on your pizza. We tried that once...it didn't work.
Washington
Crazy inventive pizzas with unexpected toppings
This late-night pizza truck turned brick-and-mortar goes outside the pizza box with pies that are, well, non-conformist to say the least. Fans of the 420 (the one stacked with all the makings of a Frito pie) will be happy to know it's a special every Monday. But there are also delicious creations in the regular lineup -- like the Sgt Pepper Redux with blackberries and Houston Dairymaids goat cheese; and the sausage, bacon, egg and cheese-loaded AM/PM that gets some extra flavor from cream gravy. Split a couple of pies alongside pizza fries and some bottled Rum Swizzles and Old Fashioneds.
Montrose
Funky pies with '90s-era games and vibes
Set in an unassuming house on lower Westheimer, the 21-and-up pizza dive offers pies with cheeky names and a cool vibe that drips with '90s nostalgia -- think skeeball, air hockey and that terrifying life-sized Ronald McDonald. The venture brings together the powerhouses responsible for offbeat favorites including Moon Tower Inn, Voodoo Queen, and Eatsie Boys for a concept that is truly one of a kind. Go for large pies like the meat lovers Kosher as Christmas, the philly cheesesteak smothered Whizard Sleeve, or the Schnozberries Taste Like Schnozberies, which is stacked with a few grams of shrooms, obviously. Or order up some plain and pepperoni pizza by the slice, with an added side of ranch for your dipping pleasure.
Sign up here for our daily Houston email and be the first to get all the food/drink/fun in town.