We may not have a fancy-schmancy all-breakfast-sandwich restaurant like New Yorkers do, but that doesn't mean the Bayou City can't still take breakfast to a whole 'nother level. We're talking double-donut fried-chicken sandwiches. And that, friends, is why we love Houston... also because of these other equally tasty takes on morning sandwiches.
Note: avocado toasts are not included because those are not sandwiches, no matter how hard you try to pretend they are.
 
Donut breakfast sandwich
Hugs & Donuts
Address and Info
Heights
We're just gonna keep piggy-backing here because it seems to be working. Speaking of freshly fried & glazed donut buns, this ultra-lovable donut shop will serve you some with bacon, egg, and cheese between. We're tearing up just thinking about it, it's so beautiful.
Ham & egg croissant
Les Ba'get Vietnamese Café
Address and Info
Montrose
Cafe sua da pairs perfectly with its bestie, the Vietnamese-fashioned ham & egg croissant, at this tiny bistro and cafe. That's a colossal, butter-loaded pastry split and packed with Vietnamese ham, a duo of sunny-side-up eggs, and awesome stuff like paté, truffle aioli, jalapeño, and the other usual suspects of a great banh mi.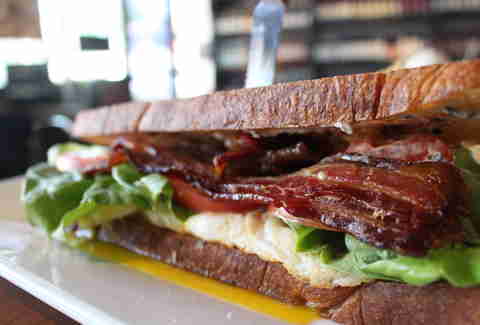 Fried egg sandwich
Max's Wine Dive
Address and Info
Washington (& Montrose)
Proving it's not all about the breakfast taco, this all-day stunner weighs in at an additional 5lbs to your gut because there's no way you're recovering after eating three gooey eggs, a giant pile of applewood smoked bacon with melted Gruyère, a smear of black truffle aioli, and the 'uge slices of buttery bread that encloses it all.
Hot chicken honey butter biscuit
Revival Market
Address and Info
Heights
Made with local honey and Memphis-style chicken absolutely smothered in sauce, when Revival Market calls this biscuit sandwich hot, they are keeping it 100. On another note, reason #547 why we love living in Houston: fried chicken is a completely acceptable breakfast item.
Double donut fried chicken sandwich
Lee's Fried Chicken & Donuts
Address and Info
Heights
Speaking of which, the only thing better than fried bird in the morning is having fried bird in the morning BETWEEN TWO FRESHLY FRIED & GLAZED DONUT BUNS. Get the sandwich whenever you want to wake yourself up and immediately take a nap.
Bacon omelette biscuit
Beaver's
Address and Info
Washington
You know when your mom calls to make sure you're eating breakfast? Say yes, but maybe don't share the exact details. Those details being a cheese omelette stacked with copious amounts of bacon and sausage with a chipotle honey and cream gravy blanket. She probably doesn't need to know all that.
Morning Glory
BB's Cajun Cafe
Address and Info
Montrose (& other locations)
Don't let anyone ever tell you that queso isn't a breakfast thing. Because when you shove it into an authentic Leidenheimer loaf with scrambled eggs, bacon, and creamy BB's sauce, it is totally a breakfast thing (and an awesome one at that).
Scratch square biscuit with butcher's sausage, egg & cheddar
Blacksmith
Address and Info
Montrose
Sure you can get this coffee all-star's scratch-made biscuits with a side of creme fraiche and marmalade, but you can ALSO get them sandwiched with house-made sausage, melted cheddar, and a yolky egg just waiting to be broken bad. In case we were unclear, we're telling you to get both.
Egg on a croissant/breakfast sandwich
Common Bond
Address and Info
Montrose
On weekdays, the fried egg on a croissant bigger than your head is a pretty morning pick-me-up. But on weekends, the not so aptly named brunch-only "breakfast sandwich" is the way to go. A perfectly yolky 63-degree egg is the Justin Timberlake to the sandwiches' remaining members of NSYNC, blending harmoniously with a slab of pork sausage, melted cheddar, aioli, and a buttery, fluffy sesame roll. Which begs the question, which one's Joey Fatone?
Breakfast torta
La Guadalupana Bakery & Café
Address and Info
Montrose
Eggs, potato, cheese, chorizo, chiles, and beans are just some of players that you can have packed inside the incredibly buttery, pressed and crusty on the outside, soft and chewy in the middle, fresh out the oven telera roll. When we say it's the bread that makes this sandwich reach nirvana-esque levels of excellence, we're not kidding.
Sign up here for our daily Houston email and be the first to get all the food/drink/fun in town.
Brooke Viggiano is a Houston writer who can accept that avocado toasts have their place in this world but knows they will never, ever replace sandwiches in her heart. Get at her @BrookeViggiano.