Where to Eat in Houston Right Now
From Gulf Coast seafood and high-end Latin fare to Sunday sauce everyday of the week, H-Town has got you covered.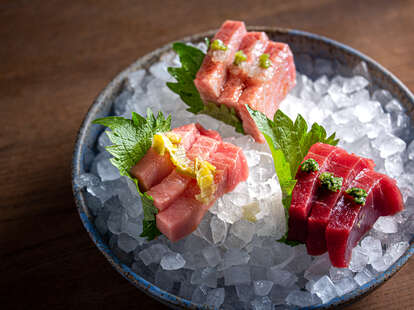 Photo by Jenn Duncan for Money Cat
Photo by Jenn Duncan for Money Cat
By now, everyone knows Houston is an awesome place to eat. We've got highly skilled James Beard award nominees and winners, hometown heroes doing riffs on Third Coast and Tejano classics, and out of town talent rollin' in to get a slice of that hot H-town action. Our latest lineup includes a coastal-focused knockout from one of the city's best chefs, a groundbreaking Latin hub from a longtime Houston vet, a fast-tracked omakase experience, and one neighborhood dining destination where you can get your Sunday sauce fix outside of just Sunday. Here are the best places to eat in Houston right now.
Houston's innovative Ion District just got even more ground-breaking with the addition of veteran chef David Cordúa's latest sensation. True to the chef's signature style, the plush all-day restaurant, bar, and lounge celebrates the rich heritage of Latin and Mediterranean cuisine in elevated form. Dishes include Stuffed Chicken Ballotine, Sweet Corn Flan, and an old school Cordúa family favorite, the Churrasco beef with chimichurri, pickled onion, and bernaise.
Fans of Aaron Bludorn will be happy to know there's another place to enjoy his skillful, transcendent cuisine. Piggybacking off the success of his first Houston restaurant, the namesake Bludorn in Montrose, the talented chef and restaurateur turns his focus to the gems of the Gulf Coast for his bright faced Rice Village spot, set in the space formerly occupied by Politan Row. Bludorn and executive chef Jerrod Zifchak (a fellow Café Boulud alum) have collaborated on a seafood heavy menu that sings. Swordfish Au Poivre with green peppercorn sauce, Linguini Vongole, and Seafood Risotto, and what feels like the restaurant's signature dish, a pot pie-style Mussel Bisque served piping hot and topped with gorgeously golden puff pastry are a few of the highlights.
After gaining fans at the since-closed Blackbird Izakaya and continuing to impress at Hidden Omakase, chef Billy Kin opened this omakase experience in the former Golden Bagels locale on White Oak, along with former Degust chef Brandon Silva. A more casual izakaya, Tesseract, is set to join the space next. With high quality ingredients flown in weekly from Japan's Toyosu Market, expect flawless preparations of fatty otoro (tuna belly), A5 Wagyu, tako (octopus), and fresh uni. Speaking of uni, if you're lucky, the night will include a bite of Kin's incredibly silky Uni Pasta, a redux of his famous Blackbird Izakaya Uni Carbonara. Bring your own booze and gear up for a good time.
Is it just us, or does this playful date night (and late night) staple just keep getting better with age? Executive chef Martin Stayer takes inspiration from his grandmother, Nobie, to put out masterful, locally kissed plates and bountiful shareables that'll keep you coming back for more. Pretty much everyone starts with an order of Dilly Bread, puffy pull-apart milk bread that you can (and should) pair with smoked trout roe, but don't let the harissa-spiced beer-battered Sweet Potato Tots fly under the radar. One dish that definitely doesn't fly under the radar? Nonno's Pasta, the tagliatelle bolognese is a staple on the ever-changing menu. Get some of that, and some of whatever's in season, whether that be Beets by Dr Pepper or the Let's Meat Hanger Steak Au Poivre. It's all ending with one of the best damn pies you've had in your life, regardless.
How to book: Reserve via Tock.
Culinary director and Michelin-starred chef Alain Verzeroli, who worked under late culinary legend Jöel Robuchon for nearly 20 years, harnesses the power of peak-season ingredients at this artful French restaurant, with Felipe Botero Sanchezas acting as the new chef de cuisine. Tucked away in the Museum of Fine Arts campus, guests can wine and dine in full view of the majestic sculpture garden. With Le Jardinier—French for "the gardener"—sporting a menu of well-balanced creations, guests with diverse palettes will have no problem scoring a dish overflowing with nutrients. Seafood lovers can bask in the buttery King Kampachi, emblazoned with squash and white sesame, while health nuts can slice into a grass-fed Tenderloin partnered with nutty ratte potatoes and gem lettuce. Pastry chef—and fellow Michelin Star recipient—Salvatore Martone's desserts, like the Venezuelen Dark Chocolate Crémeux draped in salty caramel sabayon, are equally as stunning.
The Goodnight Hospitality team's (Rosie Cannonball, Montrose Cheese & Wine) stunning Mediterranean tasting menu emporium is one of the most, if not the most, special dining experiences in Houston. Chef-partner Felipe Riccio whisks diners through a modern, travel-oriented journey in six or nine courses, which have traveled from Levant regional specialties like Snapper Crudo with chermoula to the South France's historic Occitania region's plates like fatty Cod Belly Brandade. Overseen by an all-star team spanning beverage director Mark Sayre, master sommelier and partner June Rodil, and bar manager Chad Matson, the wine and cocktail programs are also of note, making good use of the 11,000-bottle-deep cellar lurking below.
The brainchild of Chinese American brothers Robin and Terry Wong alongside pitmaster Quy Hoang, Blood Bros BBQ is a critically acclaimed Asian-inflected 'cue joint. Beyond staples like Brisket Fried Rice and the pulled pork–stuffed Pig Moe Sandwich, recent offerings have included Vietnamese Thit Nuong Pork Belly done in the style of burnt ends and Mexican-inspired Seared Octopus served with chimichurri and street corn.
Two years in and chef Aaron Bludorn's namesake New American restaurant remains a reliable stunner. It's the first solo project for the former Café Boulud chef, who is married to Victoria Pappas of the local Pappas restaurant empire. Set in the former Pass & Provisions space on Taft, it's where Bludorn and co. show off skillful European technique alongside a much-welcomed punch of Gulf Coast love. Next level dishes include a rotating Foie Gras and pastry, Lobster Pot Pie, and Short Rib Ravioli, as well as a Baked Alaska you never knew you needed.
Chef Benchawan Jabthong Painter, who grew up in Thailand and cut her chops at spots like Theodore Rex, dishes out unapologetically traditional Thai cuisine at this street food mecca in the far East End. It recently earned her a James Beard Award for "Best Chef Texas." When Painter says her food is "unapologetically Thai," she means she's not using any sugary, watered down, readymade short cuts. Everything is legit made from scratch in her kitchen, from the spicy Northeastern-style Larb and perfect Shrimp Pad Thai and fiery Green Curry with Roti Bread to sop it all up.
The duo behind Dubai's Spice Route Co. tapped rising star chef Mayank Istwal to show off the fare of his native India in an over-the-top dining experience set over 10,000 square feet of gorgeously ornate interior and terrace space with antique rugs, empire ceilings lit by chandeliers, and a "Palace of Mirrors'' room with more than 200,000 pieces of hand-cut mirror on its walls. A reflective mix of traditional and cutting edge dishes match the majestic atmosphere at this extraordinary Indian concept. Expect dramatic presentations of Pani Puri (filled with fresh ceviche, no less), gorgeous Stuffed Squash Blossoms, fiery Smoked Goat, and the Butter Chicken Experience with the classic done multiple ways; plus power lunches, social hours, and multi-course tasting menus from the chef.
How to order: Order takeout via Toast.
The mod, Euro-style bistro comes from the powerhouse trio behind Better Luck Tomorrow, which includes bar genius Bobby Heugel, culinary whiz Justin Yu, and restaurateur Steve Flippo. With a kitchen backed by Mark Clayton and team, menu offerings should certainly hit the spot with choices like Pasta a la Béarnaise, Mussels Bruschetta, and a fantastic Sunday brunch. The French Cheeseburger may be one of the best in town, featuring a perfectly fatty beef patty and a gorgeous house-baked pain de mie bun made even more impressive with an oozing cascade of Raclette cheese. All of it is paired with a great selection of retail-priced wine to boot.
How to order: Order takeout via Toast.
Israeli and Middle Eastern street food is gussied up and polished at this modern, Tel Aviv-inspired stunner from the masterful team behind Doris Metropolitan and Rice Village neighbor, Bādolina Bakery & Cafe. Starting with a mosaic of salatim (Israeli snacks) and small plates—think Lamb Hummus, Moroccan Matbucha, and Arak Mussels—is absolutely the way to go here, followed by larger selections like Lamb Spare Ribs, Grilled Branzino, and the za'atar butter basted Beef Skewers pierced by a miniature sword. Those looking for an extra special experience can book the "Yalla Yalla" six-seat chef's table, which offers a prime view of the brick oven and chef-curated selection of plates.
Brooke Viggiano is a Houston-based writer who just realized she'll be planning all date nights going forward, and she's fully OK with that. Find her being all romantic on IG @brookiefafa or on Twitter @brookeviggiano.