Big Texas cities like Houston, Austin, and Dallas usually get all of the culinary attention, but College Station, that little ol' town in the heart of Brazos Valley, also has plenty of hometown favorites. So we're breaking down the best places to eat by category, because whether you're visiting Aggieland for a game, or are a full-time dweller with a spirit can ne'er be told, you deserve the best. Gig 'em!
Recommended Video
NFL Star Kareem Jackson Tastes Houston's Underground Food Scene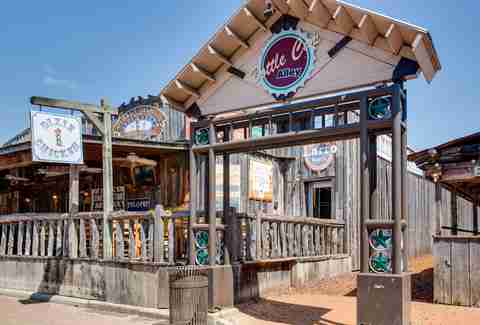 Best local institution
Dixie Chicken
Address and Info
307 University Dr
An Aggieland stalwart since 1974, this no-frills burger and beer bar is a place to which the locals flock, so much so that it even snagged itself a spot on our list of the 33 best college bars in America. Order a pitcher off the tap list and dunk your college ring in it for good luck (tradition being tradition, and all); then take down the Chicken's beloved burgers and Tijuana fries, which are pretty much just cheese fries with a side of ranch, but points for creativity.
Best late-night spot
Fuego Tortilla Grill
Address and Info
108 Poplar St
Miss breakfast and get a sudden craving for it in the middle of the night? No problem. This college kid hotspot is hot for a reason, and that's because it serves all-day breakfast and is open nearly 24/7 (it just began closing on Mondays, but that's the weakest day of the week, so all is still right in the world). Get chicken & waffles or scratch-made, hot-off-the-grill tortillas stuffed with bacon, potatoes, carne guisada, and eggs, or screw breakfast altogether and dive headfirst into monster tacos, MUST-ORDER queso, and infused margaritas.
Best modern tacos
Mad Taco
Address and Info
404 Jane St
The self-proclaimed "Ferrari of tacos" skyrockets its eats to the next level by making everything from scratch, including the house-made tamale bread that makes the base of your tacos, and the roasted and smoked jalapeño syrup that you should most definitely make a part of your margarita experience. Get the noteworthy delights stuffed with chili oil and braised pork, cornmeal-crusted mahi mahi, and jerk chicken with pineapple pico.
Best classic tacos
Garpez Authentic Mexican Food
Address and Info
2601 Harvey Rd
Don't be fooled by its appearance. This Mexican spot inside a Shell station serves up authentic Mexican tacos in their most delicious form. Go for chorizo and egg, carne guisada, and shredded & spiced barbacoa stuffed inside fat handmade tortillas, just as it should be.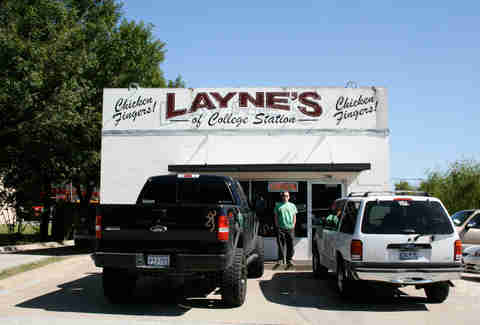 Best cheap eats
Layne's Chicken Fingers
Address and Info
106 Walton Dr (& 1301 Wellborn Rd)
This zero-frills spot has been serving Aggieland since 1994, which we're guessing is way before you arrived on the scene. Celebrate the icon by spending your hard-earned cash on Layne's crazy-good chicken fingers, secret sauce, and Texas toast combo, which somehow continues to stay budget-friendly despite the fact that you are eating a box, like, every single day of the week.
Best place to brunch
Blackwater Draw Brewing Co.
Address and Info
303 Boyett St
Make sure you get to Sunday brunch by 11am if you want any chance of a table sans wait time. If you don't, that's OK, because this Northgate brewery-restaurant hybrid will be worth the wait... especially since these guys provide craft beer suggestions (their own label or otherwise) for every item on the menu. Sip their Contract Killer, a robust coffee porter, alongside fried chicken & waffles drizzled with warm maple syrup; or go full loco with The Butcher, a breakfast plate with a trio of porkstuffs, eggs, and Texas toast.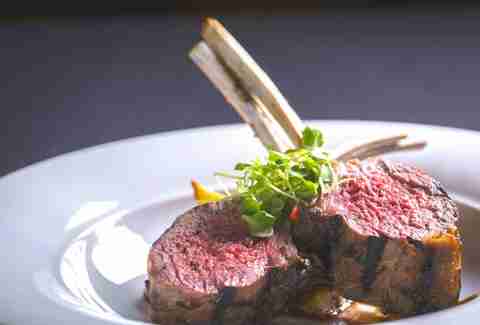 Best date night
Veritas Wine & Bistro
Address and Info
830 University Dr E
A night out at this moody, sexy bistro will totally impress whomever you're trying to impress. Just make sure you are ready to shell out a bit of cash (this ain't no Netflix & chill). You'll be OK parting with some of your dollars for a crack at the tasty new American plates, from miso-broiled sea bass and seriously beautiful, marbled wagyu to truffled mac & cheese and flawless crème brûlée.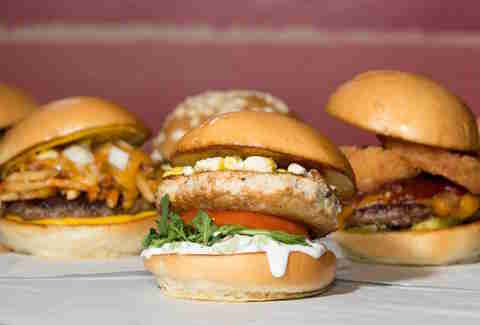 Best burger spot
Grub Burger Bar
Address and Info
980 University Dr
This Aggieland staple is so damn good, it even managed to gain fans outside the college town, with locations including Dallas, Houston, and Florida. Head here to bond (or fight) with the football-loving crowd over craft pints and burgers with monster flavor. The beef bombs are made with a freshly ground blend of chuck and brisket and served on fresh buns along with toppings like mac & cheese and pulled teriyaki pork. Finish it up with a hand-spun boozy shake, because those are never not good.
Best BBQ
Fargo's Pit BBQ
Address and Info
720 N Texas Ave
Over in Bryan, this unassuming BBQ joint earned itself a coveted place in Texas Monthly's 50 Best Barbecue Joints in the World in 2013. That's no small honor, but it was well-deserved thanks to pitmaster Alan Caldwell's magical barbecue with a side of soul. Crack through the crusty bark on the brisket to reach the exceedingly tender smoked meat hidden beneath -- you'll want it moist, not lean -- and caveman the hell out of unctuous spare ribs while you're at it.
Best place when someone else is paying
Republic Steakhouse
Address and Info
701 University Dr E
College Station's most excellent steakhouse boasts an extensive whiskey selection and library of wines, as any excellent steakhouse should. That being said, it's the perfect place to dine when someone else is footing the bill. Start with oysters (on the half shell or chicken-fried, because this is Texas) before going ham on some beef, with sea salt and cracked pepper seasoned cuts that melt in your mouth beside house-smoked mashed potatoes and maple-bacon sprouts. There's even chicken-fried filet mignon... because like we said, this is Texas.
Best place to do laundry while you eat
Harvey Washbangers
Address and Info
1802 Texas Ave South
Make mom proud as you show off your multitasking skills at this laundromat and gastropub hybrid. The menu is simple, with sloppy burgers, sandwiches, and dogs loaded with stuff like chorizo, root beer pulled pork, and Frito pie. Now that we think about it, you may want to do your laundry after you drip the Frito pie all over your shirt.
Best diner
Hullabaloo Diner
Address and Info
15045 Fm 2154 Rd
Sure, Guy Fieri has already christened the place, but we won't hold that against it. You shouldn't, either, because you'd be missing out on grade-A greasy spoon classics, from biscuits & gravy and green chili burgers to the house favorite Train Wreck Fries, smothered in blue cheese, buffalo ranch, chives, and bacon. Oh, and the pies. THE PIES.
Sign up here for our daily Houston email and be the first to get all the food/drink/fun in town.