In the past few years, Houston has gone from "that other city in Texas" to a nationally recognized culinary destination. And, like Kenny Smith in the original NBA Jam, it's continually heating up. But before getting TOO fixated on all things shiny and brand new, let's pay some respect to the places that helped set Houston's culinary scene on fire in the first place. From humble greasy spoons to game-changing global spots, these are the dozen defining Houston restaurants.
Downtown/Warehouse District
Since opening just two years ago, this spirited 31-seater in the Warehouse District has been challenging meat-centric palates one MoMA-worthy plate at a time. There's meat too, of course – think grass-fed beef sausage with pickled beets in dried offal sauce – but the four- and seven-course tasting menus focus heavily on brilliantly prepared vegetables. And shockingly, no one seems to mind one bit.
Midtown
Monster Gulf Coast oysters are the name of the game at this old-fashioned Creole and Cajun haunt. So are killer seafood gumbos, platters of steamed or fried clams, shrimp, and crab, and NOLA favorites like crawfish etouffee and catfish po' boys. These guys always bring that Third Coast soul, which becomes especially evident during the Sunday jazz and blues brunch.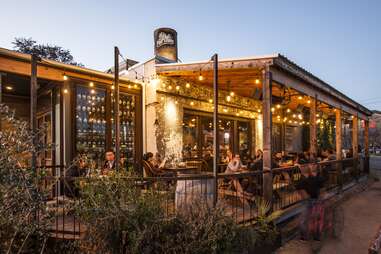 Montrose
When adjoining sister restaurants The Hay Merchant and Underbelly opened up shop near Montrose and Westheimer in 2012, we saw a glimpse into the now-thriving block's future. Craft brewpub The Hay Merchant continues to draw crowds with its badass selection of on-tap brews and funky fare (sweet & spicy pig ears, anyone?).
Next door at Underbelly, Chef Chris Shepherd tells "the story of Houston food" through an ethnic mosaic of seasonal shared plates. And since it's Shepherd, said plates feature the best farmers market produce, fresh seafood, and locally raised meats (which are butchered in-house, because of course) around.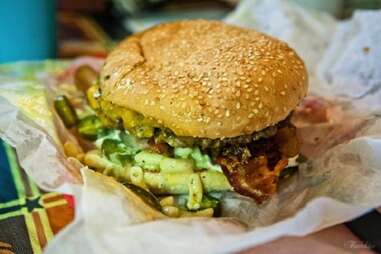 Montrose
This family-owned greasy spoon has been a Houston institution since opening as a grocery in 1939. Loyal patrons know to bring cash and grab a roll of paper towels before digging into smothered cheese enchiladas, old-fashioned tuna melts, and sloppy-as-hell frankenburgers like the mac-and-cheese-jalapeño-bacon-and-egg-loaded Grim Burger.
Alief/Outer Loop
It doesn't get more "Mutt City" than Cajun-Vietnamese fusion. Bowls of piping hot, garlic-butter-soaked crawfish waft intoxicating scents through this Chinatown eatery along with nuoc-mam-glazed chicken wings, whole-fried blue crabs, and rich, slow-simmered beef and pork meatball pho.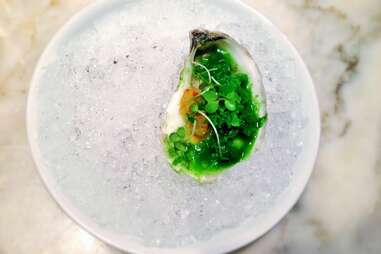 Montrose
Though this heavy-hitter is an offshoot of an Austin original, its sophisticated, upbeat spirit is uniquely Houston. The Montrose haunt's sleek feel combined with its consistently immaculate sushi and sashimi, inspired modern Japanese plates, and impeccable wine program make the always-packed restaurant hard to beat.
Montrose
Though these dual-concept, space-sharing restaurants – one refined and one spunky – haven't been around long, they feel wholly Houston. Enter a secret door to indulge in a five- or eight-course tasting menu that's both polished and edgy at the white-table-cloth-laden Pass; or nosh on equally-as-thrilling pizzas, pastas, and shared bistro plates at the urban-rustic Provisions. Some serious cocktail and wine programs push the two restaurants to the next level of insanity, as does Julia Child's Muppet voice playing on repeat in the unisex bathroom.
Pearland
With USDA prime and Kobe beef that literally melts in your damn mouth, plus slabs of smoked brisket and ribs that rival any 'cue in the country, we couldn't choose just one of these local masterpieces. After years of success with his home-grown steakhouse, Chef Ronnie Killen killed it with his line-down-the-block barbecue pop-up this past year. Thankfully, that pop-up finally manifested itself, Pinocchio-style, into a full-fledged restaurant in February. Now our only problem is deciding which one to visit next.
Washington
If the constant line out the door proves anything, it's that even in a city full of tacos, the full-flavored breakfast and lunch tacos at this orange shack on Washington shine (and the same can be said for its other two locations). Line up at the steam table for the softest handmade tortillas stuffed with chorizo, barbacoa, and chicharrones, just like your abuela used to make.
East End
This Tex-Mex hotspot may be the OG of fajitas (for real, they're credited with launching the national fajita craze), but that's not all they are good for. Devoted fans flock to the original location for as-big-as-your-head frozen margs and kickass Mexican staples like mole enchiladas, Oaxacan-style pork tamales, and jalapeño-stuffed Shrimp Diablo.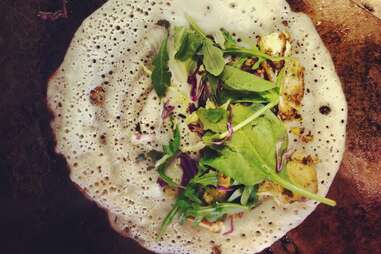 Upper Kirby
Despite what outsiders may think, it's not all Tex-Mex and BBQ in Houston. The locally influenced mix of home-style and Indian street foods make this modern Indian resto one of the city's top dining destinations. Gorge on scratch-made snacks like pickled shrimp and roasted corn chaat, a plethora of curries and thalis, or chocolate-saffron-and-cardamom-infused sweets from their addiction-inducing "bake lab".
East End
Quirky, fun, and relaxed, this offbeat craft brew and exotic hot dog joint describes Houston in a nutshell. Grab a loaded-up wild game sausage and a pint or five from the wall of taps; then partake in whatever silliness – be it a horror movie night, BOGO burger frenzy, or growler give-away – that's going in their huge backyard that day.
Sign up here for our daily Houston email and be the first to get all the food/drink/fun in town.