Living in Houston may have been reasonably affordable in the past, but the times are changing. While we're totally cool with all of the improvements the city's made over the past decade or so, we are greedy humans who prefer to keep our cash in our pockets instead of, say, in our stomachs after we've downed a $65 eight-decker sandwich (yes, that exists, and, yes, it is kinda awesome). So we've scoured the streets for Houston's best sandwiches that are also still totally cheap, to satisfy both your appetite and your 401k. Here are 11 of them, in all of their $6-or-less glory.
Classic grilled cheese
Golden Grill
Address and Info
Houston
Price: $5
This grilled cheese kitchen on wheels makes a mean classic grilled cheese sandwich for the cost of a Lincoln. Don't be fooled into thinking you can make a better one at home because you have a sick, secret trick where you make a smiley face out of the butter on both sides of the bread; Golden Grill's version is undoubtedly cheesier, crispier, and better. If you want to spend a few extra bucks, you can tack on things like bacon ($6), buffalo chicken ($7), and slow-roasted pork carnitas ($8).
Texas Size Steak Sandwich
Champ Burger
Address and Info
East End
Price: $5.19
This family-run neighborhood stalwart has been serving up some of the city's greatest burgers since 1963. As such, the prices are old-timey, too. While of course you can go for a greasy old-fashioned burger, we're talking sandwiches here, and Champ's "Original Texas Size Steak Sandwich" is one for the books. The big ol' bread can barely contain the chicken-fried steak stuffed inside. It's a sandwich best enjoyed at an umbrella-covered table with a Hershey chocolate shake.
Falafel
Zabak's
Address and Info
Galleria
Price: $5.69
Houston's best falafel gets packed into fresh house-made pita before being packed right into your mouth. The Old World-style chickpea & parsley patties are beautifully spiced with a house blend, then deep-fried to a crisp and smothered with creamy, garlic-studded tahini, a sprinkle of sumac, and a dash of hot sauce, which you then add more of, because we're in Houston, damnit.
Tex-Mex Cheese Steak
Antone's Famous Po' Boys
Address and Info
North Loop (& West Loop)
Cost: $5.49 (half)
Houston's original po-boy spot brought the crunchy, spicy, hot-pepper-loaded condiment "Chow-Chow" to the forefront. Since then, Houstonians have been chow-chowing down on Antone's overstuffed sandwiches on the daily. You can go for the Original, an Italian packed with ham, salami, provolone, and the proper dressing, but we're suckers for this Texas meets Philly hybrid. The cheesesteak plays to the local palette with a stack of bell peppers, banana peppers, and jalapeños, plus pepper jack cheese and a generous smear of chipotle mayo.
Fried Bologna
Refinery Burgers & Whiskey
Address and Info
Midtown
Cost: $5
Get totally unrefined with a seriously tasty fried bologna sandwich that's way better than anything you had growing up. The lunch meat gets pan-fried and slapped between two pieces of bread with the only accouterment that makes any sense: mayo. It's like you're in kindergarten all over again, only this time, there's beer!
Char-grilled pork banh mi
Cafe TH
Address and Info
EaDo
Price: $3.50 to $4.50
There's a reason this hole-in-the-wall in the tiny EaDo neighborhood draws a steady weekday lunch rush, and that's because the fresh bánh mì sandwiches are damn good. Go for the quadruple-pork meatball "Porter's Balls," or the everything-topped, man-sized "Zombie" if you're feeling particularly ravenous, or keep it even more wallet-friendly and stick with normal people-sized sandwiches like the incredible char-grilled pork.
Build your own banh mi
Roostar
Address and Info
Spring Branch West
Price: Starting at $4-$5.75
Crafting a sandwich at this Westside jewel is sort like crafting a sandwich at Subway, except the meat is legitimately good and the add-ons aren't questionably colored. Get your banh mi stuffed with everything from grilled pork, pork belly, and chopped rib-eye to ham and crispy tofu, then stack it with pickled veg stuff like pate, avocado, and egg.
Banh Mi Xiu Mai
Thien An
Address and Info
Midtown
Price: $3.25
Did we mention we could make this entire list about banh mi? If you want to stay in the loop, this Midtown darling offers one of the best versions of the sandwich around. Order whatever staple tickles your fancy (go for the meatballs), and if you have extra money to spend, do so on the banh xeo, a Vietnamese crepe that's just as crazy-big as it is crazy-good.
Grilled Cheese Doughnut
Pena's Donut Heaven & Grill
Address and Info
Pearland
Price: $2.50 to $3.50
Doughnuts are delicious. Grilled cheese is delicious. This sandwich is delicious. It just all makes sense. The grilled cheese doughnut comes offered with cheddar, bacon cheddar, or pepper jack, and it's so cheap, you can probably afford two. The question is, should you. The answer? Yeah, man.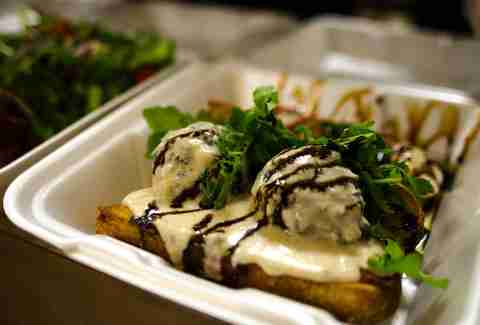 Meatball Sub
Brooklyn Meatball Company
Address and Info
Downtown
Price: $5.99 (half)
You probably didn't watch NBC's Chipotle-inspired restaurant contest, America's Next Great Restaurant (because no one did), but if you did (who are you?), you'd know that Joey Galluzzi doesn't mess around when it comes to his grandma's meatballs. Galluzzi was runner-up on the show, which ended up being a good thing for Houston, because he ultimately left New York for good and opened this Downtown meatball shop that is totally worth venturing into the tunnels for. Choose your meatball and sauce from options like classic Grandma-style with red sauce or eggplant balls with bright pesto, then thank your lucky stars that show totally sucked.
Fried seafood sandwich
Fountainview Fish Market
Address and Info
Galleria
Price: $4.99
Open since 1980, this old-school fish market and fry joint is a throwback to better days. It's still thriving thanks to an emphasis on all things fresh, with the fish being delivered daily before being hand-battered in a house-seasoned flour and fried to order. Choose from shrimp, oyster, or catfish served with a drink and side for a very fair, throwback price.
Sign up here for our daily Houston email and be the first to get all the food/drink/fun in town.