We've already established that Houston is the coolest damn city in Texas, and one of the many reasons is that it's just a stone's throw from the coast. That means our seafood options are totally on-point, from fresh-from-the-water bivalves to whole-roasted Gulf red snapper. Of course, the city's finest seafood spots look to sourcing the freshest and best catches from all seven seas, with things like Nigerian tiger prawns, Alaskan king crab, and Turkish branzino making the occasional appearance. Nothing wrong with that.
Recommended Video
Duck Flippers With Timothy DeLaGhetto and Ryan Higa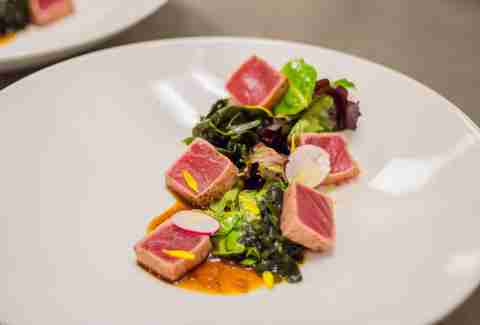 Galleria
When a restaurant has a dedicated "seafood sommelier" to help you pick your way through it menu, you know it's legit. But that's just one of the next-level aspects of this fine dining venture from sibling owners and Mexican restaurateurs Maite and Diego Ysita. There's also a 20-something prodigy chef, in-house fish market, globally-inspired flavor profile, and seriously impressive raw bar. Chef Omar Pereney's preparations are downright tasty, which include but are not limited to stuff like miso bacalao, lobster "cappuccino" with white truffle foam, and half-and-half red snapper that's butterflied and finished with part moho, part talla sauce that is pretty much one of the best two-for-one deals around.
Midtown
Chef Bryan Caswell's modern by-the-sea stunner has been bouncing around best seafood restaurants in the US lists pretty much since inception, and for good reason. Dedicated to sourcing locally and seasonally, Caswell and team put in work before the fish even makes its way to your plate. While the fish lineup may change, the flawlessly-executed preparations remain. Favorites include the jumbo crab cakes with taqueria-style vinaigrette, crispy skin snapper in tomato brown butter, and red fish on the half-shell that gets served with a giant block of fried mac and cheese, along with the 400 label wine list.
Heights
This relative newcomer from powerhouse restaurant group Treadsack took pretty much zero time to take Houston's coastal food scene by storm. Executive Chef Graham Laborde and the kitchen take on a "catch of the day" mentality, with a menu that's a self-proclaimed "love letter to the Gulf Coast." You'll want to start with the I-10 Tower, a truckload of oysters, crab claws, pickled shrimp and veg, smoked fish dip, heritage breed cured ham, and a massive slab of chicharrón on you which you can peel, suck, slurp, and crunch. After that, it's Southern takes on all things seasonal, with dishes like grilled Gulf fish & grits, fried catfish and braised greens, and pan-seared snapper with sweet potato cacio e pepe. Also a great idea? Lunch, brunch and happy hour.
Dickinson
You're leaving the loop for this one, so we'll give you a moment to get over that. Alright, now take solace in that fact that it will be worth it, because this oyster dive is so fresh, it doesn't even need to bother with trivial things like ice (or credit card machines, so bring cash). The oysters get pulled straight from the water, then get served straight up with lemon, cocktail sauce, horseradish and saltines. Perhaps better, though, is when they get a healthy brush-stroke of garlic butter and Parmesan, then take a thrill ride in a oak and peck-wood BBQ pit before coming out with a bubbling, oozing crust a la the Oysters Gilhooley.
Midtown
Seafood dishes cover the entire lay of the Southern landscape at this Midtown beaut from chef Mark Holley, who is also covering all the bases with crudo, ceviche, freshly-shucked oysters, caviar service, and a rad bourbon program. Southern charm shines through Holley's endlessly creative dishes, from crispy redfish over bourbon-smoked short rib agnolotti to Louisiana flounder "plancha." Don't miss brunch, where smoky scotch bloody Marys are the perfect companion to citrus-cured salmon & latkes and sorghum glazed shrimp with pickled serrano-boursin grits.
Galleria
Husband-and-wife team Tracy Vaught and chef Hugo Ortega already had their hands full with the success of Mexican eatery Hugo's and classic Southern spot Backstreet Cafe. Thankfully, that didn't stop them from expanding their empire to include another concept, this one focused on the cuisine of the coastal Mexico. Start with the wood-roasted Gulf oysters dripping in chipotle butter (unless you're a crazy person), then dive into littleneck clam posole rojo and the catch-of-the-day a la plancha, which gets pan-seared and drizzled with tomatillo-caper sauce. Dessert is the playful El Coco, a chocolate-cocunut shell that you crack open with a tiny wooden mallet to reveal coconut buttercream, coconut ganache, coconut streusel, and whipped coconut. There's no seafood in it, but that's probably a good thing.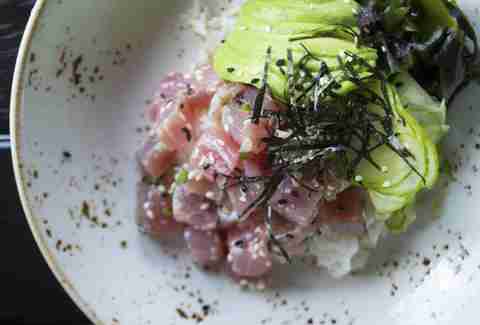 Upper Kirby
A little global inspiration never hurt anyone. This seafood kitchen from Clark Cooper Concepts (Ibiza, Brasserie 19, etc.) lives up to group's baller status with constantly refreshed chalkboard specials, daily selections of caviar, and all coast raw oysters next to some truly standout mainstays. Here, it actually makes sense having handmade saffron fettuccine with jumbo crabmeat, lemon butter and bottarga next to tempura-battered fish and chips, Moroccan-spiced redfish on-the-half-shell and tuna poke thanks to chef Brandi Key's gift of balancing flavors.
Montrose
This throwback Creole and Cajun haunt proves that sometimes, old school beats new school. Third Coast soul seeps through simple platters of oysters and steamed or fried clams, shrimp and crab, and NOLA favorites like crawfish etouffee and catfish po' boys. Then there's the seafood gumbo, where the rous is no-joke dark, meaning it's no-joke rich and no-joke complex, too. Get a cup loaded with bits of Gulf shrimp, oysters, and buttery crab, then throw in some fluffy white rice and hot sauce, and do it all at Sunday jazz & blues brunch, because you know how to live.
Westchase (& Northwest & Southwest)
What began as a humble "You Buy, We Fry" shop in the '90s has blossomed into an incurable seafood addiction for locals in the know. What is the root of the addiction, you ask? Easy. "Loud Packs" and "Crack Sauce." That's some Snap-worthy shrimp and crawfish fried rice with extra spice and more shrimp that you can and will absolutely smother in creamy garlic butter sauce. Good thing there's three stops at which you can do so.
Galveston
Sitting pretty on the Pelican Rest Marina, this chic seafood and chophouse boasts a two-story, island style terrace and indoor dining room is 100% luxury. You can hit either one to feast on sweet Gulf oysters, or screw it, fine dine and go all out with the sexy Grand Amuse. The iced seafood tower comes stacked with those oysters, plus shrimp cocktail, scallops, mussels, tuna tartare, AND lobster or king crab. In the colder months, oyster chowder warms the heart with plump bivalves, bacon and oyster cream; and slash-and-burn oak-grilled snapper with bright and tangy chimichurri hits the spot all year round.
Downtown
True to its name, the Vuelve a la Vida soup at La Fisheria will bring you to life. The popular Mexican hangover cure is plump with fresh seafood selections like oysters, octopus, mussels and shrimp, plus a whole lotta spice so you can sweat out last night's bad decisions. It's great, however, it isn't the only thing people love this fish house for. Get things like an entire lineup of seafood tacos, gorgeously-charred octopus with garlic and yucca, what just may be the city's finest ceviches, and a whole deep-fried lobster with black beans, rice and the proper accoutrement.
Galveston
Pants are required to get a taste of this Latin American fine dining game changer in Galveston's historic district. Hit it in the afternoon for mango habanero salmon and fantastic grilled fish tacos; or go for the gold with a dinner of plantain-crusted Gulf red snapper that is a big "yes", fiery shrimp diablos, and grilled Ahi tuna over dreamy cognac mustard sauce. There's steak and stuff, too, for the non fish-loving crowd, if anyone cares about them.
Sign up here for our daily Houston email and be the first to get all the food/drink/fun in town.