Make no mistake about it: Houstonians are all about that beef life. While we definitely enjoy stuffing outside skirt into tortillas and using eggs as an excuse to eat rib eye before noon, the meat here is truly best enjoyed at a steakhouse... which is convenient, considering we have a copious amount of excellent ones dotting the city. Next time you're in need of a brain-melting filet, overly/properly indulgent sides, and an atmosphere befitting an endorsement-laden linebacker, here's where to turn.
Washington
Part steakhouse, part bespoke butchery, this cool, classy establishment evokes the old-school charms of New York City. Of course, the in-house dry-aged USDA Prime and fine Gearhart Ranch wagyu served in cuts larger than your head feel 100% Texas. Do yourself a favor and start with the Carpetbaggers, fried oysters dolloped over thick-cut bacon and meltingly tender filet with blue cheese sauce smothered on top, because the kitchen loves you. Then go big with the 40z prime porterhouse for two, beautifully seared and sliced table-side.
River Oaks
Deemed one of the "20 Best Steaks in America" by Esquire, the Churrasco steak put Nicaragua-born chef/restaurateur Michael Cordúa on the culinary map. From South American taquitos to drool-worthy tres leches, there are countless reasons to eat here; but the center-cut beef tenderloin, slightly charred from the smoky grill and glistening with addicting chimichurri sauce, will keep you coming back. A rich, powerful Malbec with that, please.
Galleria
A fave of the expense-account crowd, this chic double-decker pours on polished service, stout cocktails, and buttery steaks. Bring your appetite and a wad of dough for the Tomahawk rib eye or the Wagyu long bone rib eye, a 32oz monster. You'll want to grab this bad boy Fred Flintstone-style and start gnawing away. Other hits: shaved Brussels with bacon, lemon cake, and giant stone crabs (when in season).
Montrose
Okay fine, this craft beer shrine isn't REALLY a steakhouse, but why not throw in a wild card? In the amazing-deals department, check out Steak Night, every Tuesday, from 5pm until they run out. And they always do. Fifteen bucks gets you a juicy 8oz sirloin of locally raised marbled beef anointed with cilantro pesto and a heap of seasonal roasted veggies done right. An ice-cold Real Ale Phoenixx, crafted in Texas, rounds things out nicely.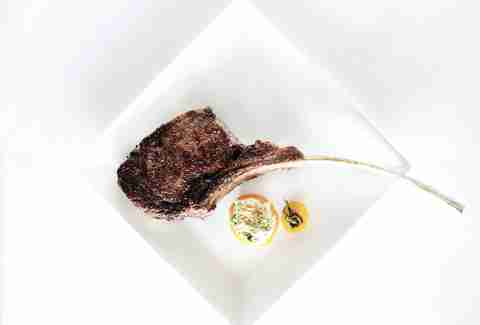 Pearland
It's worth the pilgrimage to Pearland for an impressive USDA steak dinner of wet-aged, dry-aged, or wagyu -- sans stuffiness. Killen's reminds of us a small-town roadhouse -- but this one has white tablecloths and a killer wine list. Feast your peepers on the grass-fed Akaushi wagyu long bone-in rib eye from Texas. This gorgeous specimen, a house specialty, is pristinely grilled with the right amount of char to coax some caramelization. Throw caution to the curb and order the iceberg wedge showered in bacon and Roquefort dressing, or the jumbo lump crab cake with shrimp. Also, don't forget to look out for JJ Watt, because he has a private room there, not that we stalk him or anything.
Downtown (& Other Locations)
Since founders Arnie Morton and Klaus Fritsch, alumni of the Playboy Club in Montreal, introduced Morton's to Chicago, they've served USDA prime-aged beef: the top 2% of beef available in the US in terms of juiciness, tenderness, and flavor. No wonder corporate types and athletes clamor for the huge steaks and vast menu at these manly outposts. Vernon Davis, tight end for the San Francisco 49ers, is a big fan of the 48oz porterhouse. Herb-crusted and sliced at the table, it feeds four hungry chaps. Check out the three-course power lunch ($29) deal or the happy hour bites and drink specials in 12.21 Bar.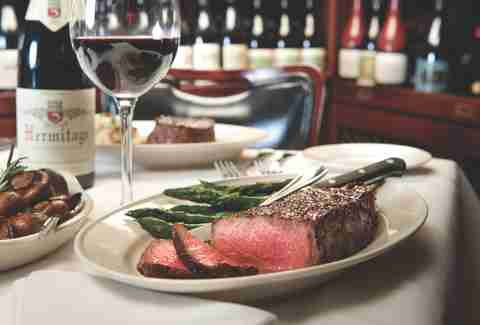 Downtown/Galleria
There's no better spot for special occassions than this Houston-bred, family-owned steakhouse. That's because the Pappas crew knows how to pamper guests via gloriously marbled, intensely flavored, in-house beef dry-aged for 28 days or more. There's also a seriously cool whiskey cart, a cherry-picked wine list, and a colossal stack of fried onion rings that you won't want to share, but should, because it seriously is gigantic.
I-10 East
This newbie by the Pappas family is more casual and family friendly than the upscale landmark. You'll be greeted at the door by the fresh meat counter, showing off the rosy goods. Expect the classic cuts, from a bone-in rib eye to a petite filet -- plus generous sides and rich starters. If it's swine you pine, choose the juicy double-cut pork chop. Heck, you can even get pot roast or fried green tomatoes at this Southern diner, the ideal spot for a rowdy bunch who wasn't invited to Mama's for Sunday supper.
Memorial
Come as you are, but arrive early to this down-home steakhouse because they don't take reservations. No pretentiousness at this casual family friendly favorite in the 'burbs -- just solid certified-Angus beef. The 16oz New York strip sirloin is the house specialty, but the massive Tomahawk rib eye is for the serious carnivore: 38oz of bovine hanging off your plate, crowned with a pool of garlic or blue cheese butter. You'll never forget your first Tomahawk.
The Woodlands
We know you think you're way cool because you live in Midtown, so you would, like, never drive up to The Woodlands. But if you don't, you'll be missing out on one of the finest steakhouses around. Named after Texan hero Howard Robard Hughes, this handsome eatery sits on the grounds of an upscale resort and golf course, which is clue number one that your dining experience is going to be first-class. Clue number two is the in-house butchery and dry-aging room, and number three is that sexy seafood tower you saw the couple next to you cracking into.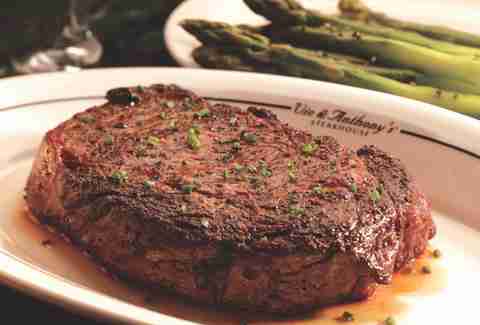 Downtown
Just a stone's throw from Minute Maid Park, this swanky steakhouse is the place for power dinners, legal eagles, celebratory sports fans, and visiting athletes. Ravenous? Order the smoked T-bone or the 16oz prime grass-fed rib eye (grass-fed tastes clean, really). The encyclopedic wine list scores big with oenophiles and sides are hedonistic: think duck fat fries, bacon & bone marrow crostini, or shrimp & crab martini with kimchi. Tip: for a more casual experience, sit at the chef's counter and watch the kitchen show.
Memorial
The West side really didn't have enough steakhouses until restaurateur Tony Vallone's first steakhouse graced Gateway Memorial City. A sprawling back-lit bar is a big draw for happy hour with large screens and plenty of elbow room to sip or sup. In the handsome glass-paved dining room, there's a show-and-tell display of raw meats brought to your table before ordering. Beautifully charred and seasoned USDA prime dry-aged strips and rib eyes rock, and the wine list sparkles with an Italian accent.
Sign up here for our daily Houston email and be the first to get all the food/drink/fun in town.
Brooke Viggiano is a Houston writer who thinks steaks should account for all three of the holy trinity of Houston meats. Let her know if you have beef with that @BrookeViggiano.