Lankford Grocery's Grim Burger, The Hay Merchant's Cease & Desist. While completely delicious and worthy of praise, we see these mighty burgers on list after list. But what about the other guys? There's so much more beef around Houston that's worthy of your love. Here are 11 under-the-radar burgers that deserve their time in the spotlight, and also your stomach.
Recommended Video
Tuna Eyeball with Timothy DeLaGhetto and Ben Sinclair
Southwest burger
Just Burgers (address and info)
Spring 
With fresh beef ground on the daily and the best housemade pretzel buns in the South, you can't go wrong with any burger at this homegrown joint. Get the Southwest burger if you're feeling avocado, the Chubbs if you're feeling egg, or the Slap Yo' Momma if you're feeling EVERYTHING.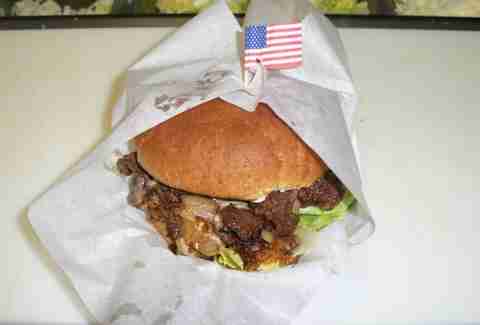 Buffalo chili cheeseburger
Bubba's Texas Burger Shack (address and info)
Gulfton
Bubba's is the "Home of the Buffalo Burger," which in turn means any of its excellent burgers can be made with buffalo meat, which in another turn means the patty has 70% less fat and 30% more protein, while remaining quite tasty... especially because you can feel better about piling things like chili, cheese, and bacon on top. 
Bayou City burger
House of Pies (address and info)
Upper Kirby
Monster half-pound patties fly off this old-school diner's griddle faster than you can demolish that slice of pie you ordered at the counter before you sat down for lunch (why do you always do that?!). The Bayou City burger shows up dripping with juice and stacked with 'shrooms, bacon, cheddar, and "Texas Sticks" – which are battered and deep-fried onion and jalapeño strings, because Texas is awesome.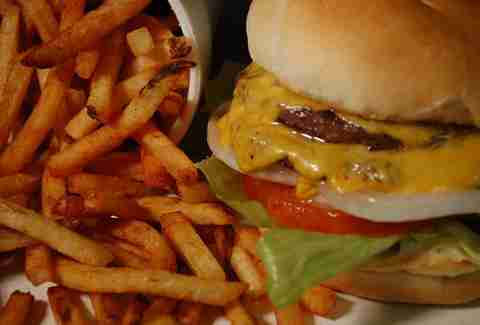 Spicy burger
Tornado Burger (address and info)
Stafford
Loosely packed with garlic, jalapeños, onions, and spices ground directly into the meat, this Spicy burger is a 10. Pro tip: go for the double, since the patties are only 3oz and you're not a human baby.
The Rancor
Petrol Station (address and info)
Oak Forest/Garden Oaks
This beer bar's five-napkin Rancor burger could have easily made our best burger list. And since we feel bad about missing it, we'll include it here. Made with half a pound of aggressively-seasoned angus, this beef-bomb is crowned with cheddar, smoked bacon, and a beautifully fried egg. All of which makes both Star Wars fans and people that don't get the rancor reference happy.
 
Deluxe chili cheeseburger
Bellaire Broiler Burger (address and info)
Bellaire
BBB may not be fancy, but the throwback burger joint hits the sweet spot with its infinitely sloppy, flame-broiled chili cheeseburger. Get it with thick, crunchy onion rings or crinkle cut fries and an old-school milkshake.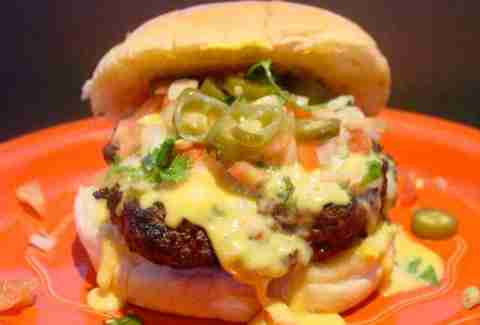 The Ole Burger
Pena's Donut Heaven & Grill (address and info)
Pearland
Not only is there chipotle mayo, pico, and jalapeño stacked on top, but there's also a borderline unsafe amount of queso coating this beefy, gloriously greasy burger. Look at it! 
The Big Baby
Big Chief's Old Fashion Hamburger (address and info)
Third Ward
These bigass Cajun-style burgers – formerly served out of Chief's Cajun Snack Shack in the Third Ward – remain just as big and babylike as ever. Assertively seasoned and loosely packed with a radius that's about two fingers larger than the bun itself, the burger's definitely worth the time it will take the kitchen to grill it up (but call ahead if you don't want to wait in the heat).
Double Meat & Double Cheese Mytiburger
Mytiburger (address and info)
Oak Forest/Garden Oaks
Fact: Nostalgia makes burgers taste better. This tiny roadside stop has been serving up classic old-style burgers since 1967. Go full-out with twice the meat and twice the cheese, or load up with a seriously messy chili burger as you think back to the good ol' days (even if the good ol' days are like, 1998).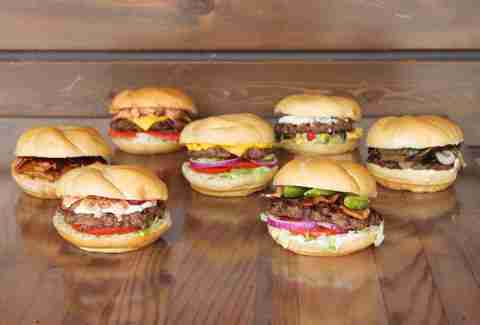 DIY burger
JerryBuilt Homegrown Burgers (address and info)
Multiple locations
Whoever this guy Jerry is, he's got serious swagger. Or at least his homegrown burgers do. Build your own all-natural, humanely raised beef burger with things like jalapeño cream cheese, sautéed Portobello, bacon, and fried eggs.
24 Hour Burger
Poppa Burger (address and info)
Northside Village
You can get these no-frills, road stand-style burgers 24 hours a day, seven days a week. That, coupled with the fact that you can get them with a bag of nacho cheese-coated Cheetos on the side, makes them burgers you owe it to yourself to try.
Sign up here for our daily Houston email and be the first to get all the food/drink/fun in town.