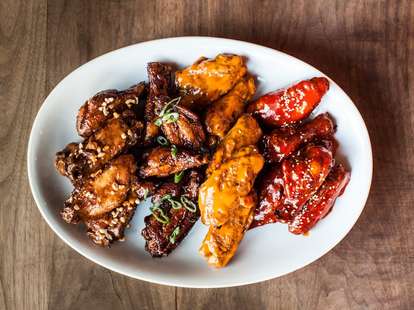 Everyone loves them some wings, but turn off "Band on the Run" for a damn minute, will you? This is important. Here are 12 Houston chicken wings that fly above the rest, in all of their juicy, crunchy, sticky, tangy, sweet, and spicy glory.

Montrose
If you'd like your PB&J in chicken-wing-form, look no further than this Montrose wunderkind. Also do so if you like your Vietnamese fish sauce and spicy Korean BBQ in chicken-wing-form, because those versions are also good as hell.
Heights
Every morsel of these blackened and charred birds get coated in a mix of lemon, oil, fresh straight-from-the-garden basil, and dark-roasted jalapeños that build heat with every tactfully greasy bite. They may be high-class, but that doesn't mean you won't be licking them off your fingers, crowded restaurant or not.
Washington
Spice-rubbed, meaty, and doused in things like "The Flaming Lips" hot sauce, these crunchy-but-not-overdone wings are the definition of craveable.
Pearland
Fish sauce and chicken wings go together like peanut butter and jelly. Make your way to this Pearland Vietnamese standby that does the classic nuoc mam-style of fowl just right. Just make sure you pack some wet naps.
Heights
Classic sports bar wings up the ante with major swagger at this Austin import, which somehow manages to be pretty good, despite the fact that it's Austin bred. Available bone-in and boneless (as any true Buffalo wangz should be), you can also get them drenched in 20 different sauces -- from sweet and sticky "Dr. Pepper," to you're-about-to-burn-the-crap-out-of-your-tongue "Fire in the Hole."

Heights
There's sambal honey, barbecue, and tangy fish sauce; but its the classic Johnny Cash, Buffalo-style hot wings that rule the roost at this Southern-style chicken shack. Also, the buttermilk biscuits. They also have some of the ruling power in said roost.
Museum District
Approximate amount of time it will take you to get these wings from the time you order: 30 minutes. Approximate amount of time it will take you to eat them: 30 seconds. These twice-fried Korean-style wings -- which you can and should get coated in sweet soy-garlic sauce, intensely hot & spicy sauce, or both -- are easily some of the crispest bird in town.
Multiple locations
Whether you go sauceless with the spicy Creole-fried, or go full monty with the Cajun mojo-style, these ridiculously good Louisiana-inspired chicken wings may just convince you to leave the Inner Loop.
Multiple locations
Find this roaming chicken truck to get a taste of what may just be the stickiest birds around. Each wickedly crisp wing gets coated in a slightly sweet, slightly hot glaze that is so good you don't even need to dip it into the spicy mayo on the side, but you should, because that's delicious, too.

Montrose
Leave it up to a NY-style Jewish deli to nail the classic Buffalo-style wing. The wings are expertly fried; coated in a hot, buttery, and tangy sauce; and served with a so-not-kosher, gloriously chunky blue cheese dressing.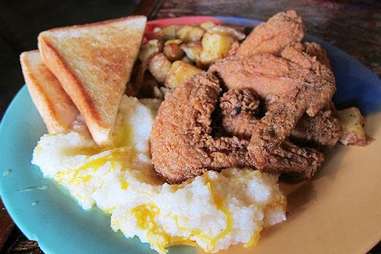 Midtown
Because when the city's most badass fried-joint makes wings and grits, you get the city's most badass fried-joint's wings and grits.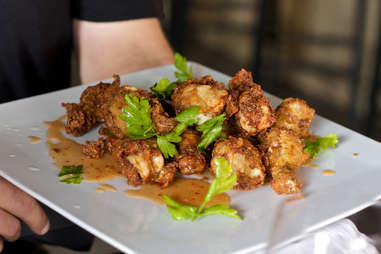 Heights/Montrose
These daily-butchered wings soak in jalapeño-infused buttermilk for 36 hours. We repeat: jalapeño buttermilk. 36 hours. Crack the thick, craggly coating to find the juiciest, most tender chicken in town, which you can get both drizzled with chipotle honey at happy hour OR served with legit maple syrup & griddled corncakes/maple-glazed doughnuts during brunch.
Sign up here for our daily Houston email and be the first to get all the food/drink/fun in town.