There's no better time to check out Downtown Houston than right now. There's been an infusion of restaurants, bars, parks, and people who are (finally) willing to live there. No longer a dining dead-zone, the 'hood reps everything from global street food and amazing burgers to expense account-required steakhouses. While it took a hit with the shuttering of James Beard Award-winning chef Justin Yu's Oxheart (which celebrated its fifth anniversary with its last service on the Ides of March), locals can look forward to the space's reboot, with a new name and new concept expected soon. Anyway, there's a mosaic of incredibly worthy restaurants that keep the scene just as fresh. And in true Houston form, the best of them blend cultures and cultivate flavor the way only H-town can.
Recommended Video
Ghost Kitchen: How This NYC Restaurant is Responding to Coronavirus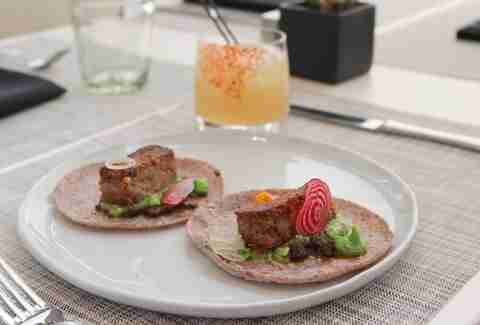 What happens when a six-time James Beard-nominated chef and his award-winning restaurateur wife open up a hot new concept in the heart of the city? People go there, duh. Meaning "to bloom" or "catch fire," Xochi isn't just the newest venture from powerhouse couple Hugo Ortega and Tracy Vaught, it may also be the most exciting. Here, Oaxacan street food gets proper treatment, from intoxicating moles and phenomenal lechon to the house-favorite tlayudas (think thin, wood-fired tortilla pizzas). Like sister concepts Hugo's and Caracol, Xochi's Sunday brunch buffet is a king's feast; a tapestry of seafood salads, braised meats, egg dishes, and desserts with house-made chocolate that you'll definitely want to remove from your plate and put in your face immediately.
Pro tip that will save you a ton in gas mileage: You don't have to leave the loop to get great barbecue; there's down-and-dirty Texas BBQ right in the heart of the city. Named after the street on which it lies, Jackson Street BBQ melds the minds of Bryan Caswell and Bill Floyd of REEF & Little Big's and Greg Gatlin of the highly revered Gatlin's BBQ. Pitmaster Brandon Allen has dreamed up a range of masterfully smoked briskets, ribs (look out for the colossal beef ribs), sausage links, and yardbird alongside sides like fried mac, dirty rice, and jalapeño cheddar biscuits.
Ricky Craig's Hubcap is a Downtown stalwart thanks to aggressively seared and seasoned burgers that both purists and topping enthusiasts can get behind. For purists, the twice-the-beef, twice-the-cheese Hubcap Decker is the way to go; while crazier concoctions tack on things like Frito pie, peanut butter and bacon, and all the workings of a Philly cheesesteak. Even our national burger critic -- who has been traveling the country on a Burger Quest for the better part of a year -- deemed Hubcap's cheeseburger the best burger inside the loop (Tookie's took first place, but are you really trying to drive to Seabrook right now?).
When the Pappas family opened up a second iteration of their quintessential Texas steakhouse, dry-aged-meat lovers rejoiced. The endlessly posh Downtown haunt pampers guests via gloriously marbled, intensely flavored beef that gets dry-aged in-house for 28 days (at the very least). Then there's seriously cool stuff like a whiskey cart featuring vintage selections -- some of which are so rare you can only find one or two bottles in all of Texas -- and a 2,500-deep wine collection. If you're going to celebrate something, anything, in Houston... do so here.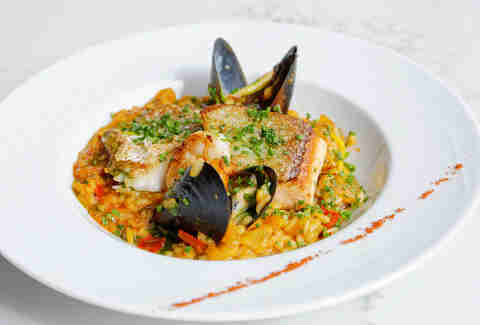 Chef Philippe Verpiand and wife Monica Bui (owners of adored Etoile Cuisine et Bar) have created another stunner, this time inspired by the classic Parisian brasseries in Verpiand's native France. House specialties include foie gras au torchon, moules and steak frites, and escargots bourgogne baked and swimming in fresh herbs and garlic butter. All of it -- plus shareable plates, tableside absinthe service, pastis, and limoncello -- makes for an elegant affair worth lingering over. But if you feel that, as Sweet Brown put it best, "ain't nobody got time for that," you can always hit the Crêperie du Parc crêpe window and transport yourself straight out of Houston in no time.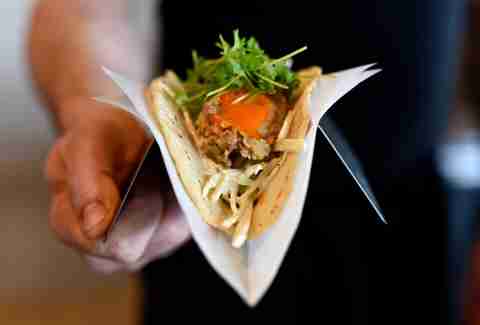 When you need a quick, cheap spot to grab a bite before a show, Fusion Taco is there for you. When you want fat tortillas loaded with lamb keema, BBQ Berkshire pork and chicken tikka masala, Fusion Taco is, once again, there for you. Hell, even if you're after a giant pile of nachos smothered in chile con queso and Angus steak or a light seared tuna salad with seriously addicting peanut dressing, Fusion Taco is STILL there for you. Except on Sundays. It's not there for you whatsoever because it's closed.
Conveniently located across the street from Minute Maid Park, this PYT is the first from Houston Astros owner Jim Crane. At Potente, Crane's personal and executive chef Michael Parker works with former REEF and KUU chef de cuisine Micah Rideout and pastry chef David Berg (the former pastry guru at Tony's) to make upscale Northern Italian plates. Though it's been open just a short while, it seems the dream team is knocking it out of the park. The dark and sexy dining space will jet you straight to a modern Italian villa as you dine on an impossibly silky burrata Caprese, dressed up with things like confit cherry tomato and smoked sea salt; and whole branzino stuffed to the brim with rainbow cauliflower, crabmeat, and sage brown butter. For a more relaxed dining experience (with breakfast, lunch, and dinner), try sister concept Osso & Kristalla. The casual trattoria is also overseen by Parker and Rideout, with house specialties including wood-fired chicken, rigatoni & meatball, and Sicilian BBQ shrimp.
Known as the "it" spot for power dinners and lunches, this swanky steakhouse is located just across the way from Minute Maid Park. It's all about the beef here (grain-fed USDA Prime Midwest beef; big, bold Texas cuts; and foreign and domestic wagyu, to be exact) but it's the restaurant's consistently impeccable service and unexpected touches -- think lotus root tuna poke, fried lobster mac, and maple-glazed quail finished in Sriracha sauce -- that take it well beyond classic steakhouse status. At lunch (which finally went full-time Monday through Friday last year) the Prime beef Vic (bacon, American, Cheddar) and Anthony (Saga blue cheese) burgers are highly recommended.
While it's not a restaurant per se, this underground food hall and beer garden is hands-down one of the best places to eat in the city. Plus, it's a prime spot to take out-of-towners. Start by spending some time at the 60-tap craft beer and wine wall (the friendly barkeeps will help you with your picks and allow you to sample), then create your own global smörgåsbord from the food court. There are mezze plates and tzatziki-smothered gyros at Myth Kafe; smoked brisket and pulled pork tacos at El Burro & The Bull; build-your-own poke bowls at Moku Bar; and Melange Creperie's Parisienne street-style crepes, filled with stuff like fig, goat cheese, and honey, and saucy Moroccan chicken thighs.
Don't underestimate this restaurant at the Four Seasons hotel. Executive Chef Maurizio Ferrarese brings his Italian background (he was born and raised in Italy's Piedmont region and started at the Four Seasons in Florence) to the forefront through Firenze-inspired plates that refresh with the seasons and impart local touches. Sunday's buffet brunch is way more extravagant than your nonna's gravy, busting out luxe eats like sous-vide eggs & caviar, butcher's block Tuscan chicken, and cioppino. By night, you'll want to dig into lasagna bolognese with Texas Akaushi beef; Gulf snapper with a sun-dried tomato & olive crust; and veal and rare-seared tuna tonnato. Bonus: The Four Seasons also plays home to Bayou & Bottle, a lobby bar, restaurant, and lounge that is worth a visit for its whiskey and bourbon program alone.
In a city where enchilada culture runs long and deep, Irma's has managed to maintain its iconic status since 1989 (and has done so without written menus). Perhaps that's because the bubbly Irma Gonzalez Galvan feels like everyone's abuela, pandering soulful Mexican eats to hungry, happy patrons. Or perhaps that's because Galvan has vowed to keep things fresh with a sweet-16 lineup of new offerings each day. Fans hit it for sloppy enchiladas mole, handmade tamales, carne guisada, and chiles rellenos. Oh, and Irma's legendary lemonade.
Once a throwback burlesque theater and restaurant two-for-one, the former Prohibition Supperclub & Bar has separated its identities, and now its restaurant (now with a separate menu and entrance) goes by a new name, The Oyster Bar at Prohibition. Local chef Jordan Economy -- formerly of Boheme Café & Wine Bar -- is leading the charge with a more Gulf Coast-focused menu and an approachable, neighborhood feel. Small plates feature fried shrimp, oysters, and crab claws with hushpuppies; New Orleans BBQ shrimp laced with PBR butter; and an andouille sausage board with all the proper accompaniments. Entrees range from smoked fried chicken (you want to order this) to steak frites. Of course, you'll also want to take advantage of the oyster bar, with Gulf and East Coast varietals on the half shell and garlic-fennel chargrilled and chimichurri-roasted numbers (which are 50 cents a piece during happy hour). Economy will also oversee Prohibition Theatre's rotating prix fixe menu, where you'll find the Moonlight Dolls in action.
Sign up here for our daily Houston email and be the first to get all the food/drink/fun in town.