Everybody loves their own neighborhood, and understandably so. But it's all fun and games until there's a crazy 'hood vs. 'hood Twitter war and somebody gets unfollowed. To help circumvent, here's a ranking of Houston's 10 hottest neighborhoods, according to the only criteria that matters: how impressively delicious their restaurant and bar game is. Feel free to defend your district's honor in the comments.

Disclaimer: This is confined to inside the Beltway, because otherwise you'd be here all day, and quite frankly, you have some drinking and eating to go do.
10. Rice Village/West U
College kids hang out here. That means there are enough drinking holes for you to hit up a different spot every day of the week for a year…or at least for a semester. Nights you probably won't remember include stops at The Ginger Man, Marquis II, and Under the Volcano, to name three. Damn good eats include dim sum spot Yum Yum Cha, lunch hotspot Local Foods, and the always popping Benjy's, to name another three.
9. Galleria/Uptown
Swanky steak and seafood spots rock this rich kids' playground. You can spend that cash money at high-end chains like Del Frisco's and Morton's, but we prefer to stick to homegrown eateries. Mexican seafood hotspot Caracol is where you'll want to get your oysters. Ciao Bello and Osteria Mazzantini boast no-joke Italian. And Kenny & Ziggy's has Jewish fare that basically murders anything your Bubbe made (sorry, Bubbe).
8. Upper Kirby
We've seen too many recent closures in this 'hood (home to the Richmond/Kirby bar hop), but it still has enough oomph to earn a place on this list. Pondicheri hasn't stopped serving one of the best Indian-fusion brunches in town. Kata Robata's sushi remains second to none. And fine-dining establishment Tony's is still the best place to spend your company's money. Even Chinatown's LA Crawfish opened up it's first ITL (in the loop) location here. Because they believe in it! And we do, too.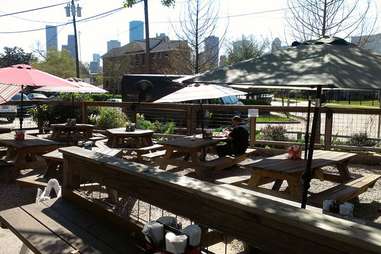 7. Washington Corridor
This is the kind of street where you want to drink, and then drink some more. Though turnover rates have been high, reliable standbys and a few coming-attractions keep things exciting. Here, big guns Beaver's and Max's Wine Dive sit alongside one of the best taco joints in town (Laredo Taqueria). Even newbies Ninja Ramen, Julep, and Bourbon & Bacon (located inside the latest location of Little J's – see turnover comment above) are making waves. Fill up at any of the above before you get lawless at alllll the bars.
6. EaDo/East End
Remember StumbleUpon? If that were still cool, you'd want to share the fact that you stumbled upon this up-and-coming area east of 59. Here you'll find some of the best breakfast tacos and bowls of pho, an excellent brewery (8th Wonder), Houston's first food park, old Chinatown, and what is pretty much considered to be the birthplace of fajitas -- Ninfa's on Navigation. Not too shabby for a 'hood that STILL doesn't even have a completed light rail.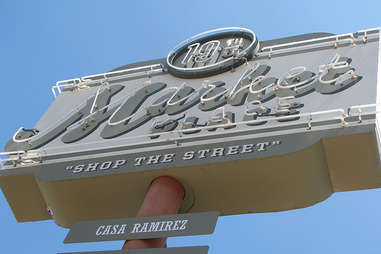 5. Heights
What once was a cute little part of town perfect for young couples/families has morphed into a cute little part of town where... "damnit!, why didn't you buy there when you had the chance?" It has upped. It has come. And it is where you want to be. New powerhouse Coltivare knows that. Every single one of the "Creeks" know that. And millions (slight exaggeration) of other bars and restaurants along White Oak and 19th street know that.
4. Midtown
Sure, people mock this 'hood for being bro-tastic (it does hold the majority of our Bad Decision Bars), but that doesn't mean it's not legit. That may be because it's one of the most walkable neighborhoods in the city. Hop from big name establishments Ibiza, Reef, and Sparrow Bar + Cookshop to resident drinking holes Community Bar, Mongoose Versus Cobra, and Little Woodrow's. There's even a Little Saigon where you can stuff your face with banh mi and pho. You should probably go do that.
3. Downtown
Did we say you wanted to get your drink on on Washington? Just kidding. You want to drink here. We'll map it out for you. Start with beers and queso at Fusion Taco, then round the corner for a craft cocktail at Hearsay. Cross the street to hit up Batanga for tapas and sangria, then continue your way down Main as you show your support for OKRA, The Pastry War, and The Honeymoon. Finally, finish the night at Notsuoh or Warren's, where you play "Let's chase beers with shots!" – a decision that totally seemed good at the time, but given that you came home with one shoe, doesn't now. You probably lost it after eating five slices at Frank's.
2. Chinatown/Bellaire Blvd
We don't care if it's incorrectly named (it's really more like Asiatown). How is a place where you can get the city's best dim sum, Bò 7 món, Peking Duck, sashimi, and Vietnamese crawfish by the freaking bucket right next door to a mega supermarket and $20 hour-long massage not just the best place ever? Or at least the second best place ever...
1. Montrose
This shouldn't be a shocker, because we're guessing this is where you spend most of your time. We don't blame you. This 'hood is a BEAST. Not only is home to one of the best beer bars in the country (The Hay Merchant), it's also got one of the best cocktail bars (Anvil Bar & Refuge). In. The. Country. There's also the nationally recognized trifecta of Uchi, Underbelly, and Pass & Provisions. Thennnnn there's the fact that you can stuff your mouth hole with burgers at Lankford, get pastries that make you want to buy bigger pants at Common Bond, and find authentic Mexican, Indian, French, and Thai, all on the same strip. We didn't even mention the dive bars. Now go take a nap, you're doing all of this today.
Sign up here for our daily Houston email and be the first to get all the food/drink/fun in town.