Summer may be in our rearview, but we're still dreaming of allllll the new food and drinks that the most brutal days in Houston brought us. Thankfully, fall -- the official season of "going to all the awesome places that opened this summer and doing so with at least 50% less back sweat" -- is here. So go check out these 13 worthwhile newbies:
Midtown
The space formerly inhabited by Sushi Raku is now occupied by a new kind of fish joint. With multiple dining rooms – including a more casual one with an oyster shucking station, this eatery dishes out seafood done the Southern way. Think "Texas-style" shrimp with chipotle mop sauce, crispy redfish with bourbon-smoked short rib agnolotti, and a muddled stew with braised pork belly and pretty much everything you could want from the sea. Finish it all with an oyster shooter and be happy.
Recommended Video
Drink This Winter Bourbon Smash and Conquer Cold Weather Forever
Montrose
There's a badass new bar in town and it's just a stone's throw away from Montrose heavy hitters (and sibling ventures) Boondocks, Royal Oak, and Pistolero's. The moody speakeasy stirs up vintage libations and brews their own ginger beer, but there's no need to put on your fancy pants -- this NKOTB is as laidback as any other bar in Montrose. Hit it up for Progressive Happy Hour, when the price of drinks match the time. That's $4 drinks at 4pm. $5 drinks at 5pm. Now keep doing math until you get to 7.
Downtown
The guys behind Boomtown Coffee teamed up with the dudes behind Lei Low, Bad News, and Grand Prize Bar (among others) to bring us this Main St hangout that's part coffee house, part cocktail bar, and part awesome. The kitchen slays with breakfast and lunch dishes like oyster BLTs and beignets, while the bar slings serious coffees and libations – all made with top flight ingredients, of course. It's like living in NOLA, but without the stank of Bourbon St.
Montrose/Museum District
RIP Thai Sticks. But we can't say that we're THAT sad to see you go... because a new kid is in town, and well, he's brought some realllllyyy good food. Small plates and high-concept cocktails are the name of the game at this progressive, modern American resto. The menu constantly changes, but expect a selection of shareables and large plates like grilled honeydew salad, Vietnamese-style gulf shrimp, and 9-spice brisket. Feast, then unbutton your jeans. You're having pain perdu and foie gras ice cream for dessert.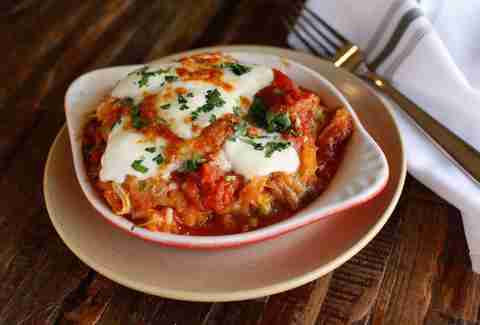 Galleria/Uptown
Healthy food that doesn't suck has made its way to Houston... and let's be honest with ourselves, we probably need it. Hit TFK for fresh/local/sustainable eats that hit all the doctor's checkpoints. For real, there's a doctor that approves of you eating all the grass-fed umami burgers, Texas red fish tacos, and gluten-free chocolate cakes you could want. Plus there are cocktails. We kinda like this doctor.
Washington
So we may have jumped the gun on this one last time, but Julep's now here for real. To quote ourselves, "If you love Anvil, you'll love Julep, the bourbon-centric cocktail bar from former Anvil GM Alba Huerta and the Clumsy Butcher team. The bar has an old-school, punky Southern charm that we haven't seen the likes of in Houston before (think big back porch and a copper-accented historic space). Come for masterfully crafted cocktails and cold seafood dishes from former Pass & Provisions Chef Adam Garcia."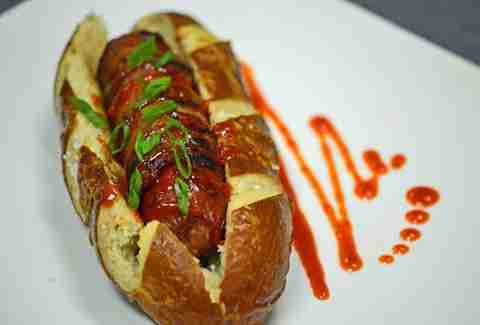 Washington
This whiskey-and-pig-centric pop-up popped up permanently inside the new location of Little J's Bar – housed in the old Blue Moose Lounge – last month. They serve things like bacon truffle mac n' cheese and bacon funnel cake (with maple-bourbon syrup), soooo we're pretty psyched.
The Medical Center
A 24/7 doughnut shop, just what the world's largest med center needs. The sweetery may be brand-spanking-new, but it's already considered one of the best in town. Come here for franken-treats like the maple-cream, bacon-topped "macon", or one that's basically a banana split on a doughnut.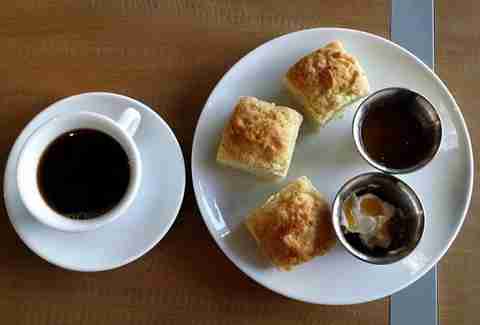 Museum District
Mid-June brought us this sleek coffee/wine/beer bar hybrid. The light, contemporary space is open 'til midnight, so get your fix of espressos, pinots, and lagers all day long. There're delicious things like charcuterie, panini, and homemade biscuits, too. So seriously, you can stay there all day.
Downtown
It's about time we had a South African restaurant in Houston. Come to this international sports bar to throw back a few brewskies and gorge on global pub fare like peri-peri wings, Guinness stew, and something called biltong -- which is pretty much South African's way better take on a Slim Jim. Also, do all of this while watching futbol (both kinds), rugby, and cricket.
Bellaire
This beefed-up mobile eatery opened up its first brick-and-mortar stop this summer. But don't worry, you'll still get Houston's baddest burgers and fries straight out a big yellow school bus (it houses the restaurant's kitchen). Only this time, there are waiters, seating, milkshakes, wines, and beers on tap. We'd say that's a win.
Heights
This funky bakery on E 11th serves some seriously good baked treats (like beer and bacon bread) along with Boomtown coffee, craft brews, and wine. Most importantly, it introduced us all to the "Debusker" – a chocolate fudge brownie with a crazy moist and chewy M&M cookie baked right on top. And for that, we thank them. Our diabetes doesn't. But we do.
Upper Kirby
Children aren't "recommended" after 7pm at this modern eatery. And we're totally cool with that; because we plan on going "Gangnam Style" on some soju – the slightly sweet, rice-based spirit that is like the Korean version of vodka – all night long. Take it down with shareable plates of Wagyu beef jerky, pork belly street dumplings, and hot-and-sweet gochujang-glazed fried chicken. Then thank the restaurant for that kid rule again.
Sign up here for our daily Houston email and be the first to get all the food/drink/fun in town.