Houston's Newest Italian Restaurant Is a Seafood Lover's Dream
Pastore, Underbelly Hospitality's latest addition, focuses on carefully sourced seafood and scratch-made pasta.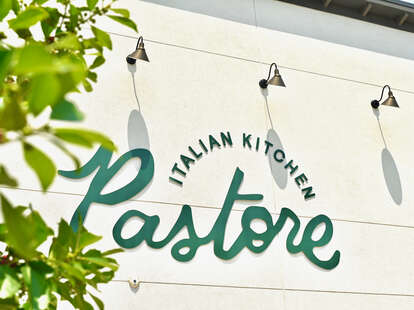 Photo by Alex Montoya, courtesy of Pastore
Photo by Alex Montoya, courtesy of Pastore
On opening night, diners oohed and aahed over dishes of lightly cured gulf snapper. Slices are nestled among fennel, Castelvetrano olives, and drizzled with lemon oil—the result, a citrusy, melt-in-your-mouth flavor that smacks of summer. Squid stuffed with farro, sundried tomato, smoked sofrito, caramelized onion, and hazelnut romesco tastes like a hearty boudin with a Mediterranean twist.
This marine-forward menu tracks for executive chef Jeff Potts, who says he's always been known as The Seafood Guy, a moniker that's followed him to Underbelly Hospitality's newest restaurant, Pastore Italian Kitchen. Together with culinary director Scott Muns, the two have created an Italian coastal cuisine menu that is seasonal, curated to a variety of palates, and highlights Potts' talents in the kitchen.
Pastore opened on June 30 on Dunlavy Street in Regent Square. And the new restaurant feels as comfortable, friendly, and warm as a big Italian family. The food is filled with herbaceous flavors, and every bite, from the house-made semolina bread to the ambrosial celery root panna cotta, dazzles.
"Most important to me as a chef is thoughtfulness in sourcing our ingredients and the way we look at seasonality," Potts says. "I'm fascinated with seafood because right now, the way we treat the ocean, fish could turn into a distant memory."
Elsewhere on the menu find ravioli in brodo. Its robust oregano flavor, discernibly fresh pasta, and kicky, Texas-sized cayenne heat packs a big punch. "This dish comes from a fond memory of my dad making ravioli with sausage and peppers," says Potts. "My version uses sweet Italian chicken sausage and an aromatic brodo, and just like with the fish, I use every part of the chicken to draw out the fullest array of flavors."
The Pastore menu is rounded out with flatbreads, mains that include roasted pork belly on a bed of gigante bean ragout and hearth-roasted whole branzino puttanesca, and pastas like swordfish amatriciana.
Cocktails crafted by award-winning mixologist Sarah Troxell are subtly complex. The Basilico Acido limoncello is light, frothy, refreshing, and tart-sweet, and comes sprinkled with aromatic ground basil. The Olio-Tini is clear gin and vermouth with drops of golden olive oil on top—an instant classic summertime martini. An impressive wine list of lesser-known varietals and producers will impress oenophiles.

Pastore is open for dinner Monday through Thursday from 5–10 pm, Friday and Saturday from 5–11 pm and Sunday from 5–9 pm. Reservations are encouraged and can be made on Resy.
Rebecca Deurlein is a Thrillist contributor.