RIP: 63 shuttered Houston bars and restaurants that we'll miss
Ample time is spent around here talking about new bar and restaurant openings, but that doesn't mean there's not a special place in our heart for those that have gone too soon. And so we bid adieu to all of the spots that kicked the bucket in 2014. RIP.
Coppa Ristorante
Washington
Coppa, we're really sad to see you go. But we're also pretty okay with it. That's because we can still get our fill of Italian eats at your sister resto in Rice Village, which has pretty much the same menu and is alive and kicking.
 
Crappito's Cucino Italiana
Highland Village
Honestly, we have no idea how a place named Crappito's even lasted 19 years. Must have been something in the gravy.
 
Dirk's Coffee
Montrose
It was a mighty fine 15 years, Dirk's. A mighty fine 15 years.
 
Blackfinn American Grille
Midtown
This was really the only Midtown restaurant that was acceptable for your parents. At the same time, it was the kind of place where you could dare your friend to drink an entire beer tower in 20 minutes if the Bears lost. Goodbye, Blackfinn.
 
Boneyard Drinkery
Lazybrook/Timbergrove
You may be wondering where your dog is supposed to drink now. We've got you covered. 
 
Chopping Block Gourmet Burgers
Washington
Looks like this burger spot was destined to be on the... chopping block.
El Gran Malo
Heights
What sucks for the people of the Heights is pretty fantastic for the people of Downtown. Adios, El Gran Malo. Hola, El Big Bad!
 
Fish & The Knife
West Houston
Raise your hand if you saw the closing/ "reimaging" of this part restaurant, part nightclub coming. Okay, you can all put your hands down now.
Alex Gregg
Goro & Gun
Downtown
Perhaps it was bad karma for naming chicken wings after dead rappers. Either way, this spot was awesome, but the owners' new concept, Moving Sidewalk (that sexy bar pictured above), is equally as cool. We do miss those Biggie wings, though.
 
Haven/Cove Bar
Upper Kirby
This seasonal kitchen from the uber-talented chef Randy Evans may be closed, but he's been consulting for JCI Grill and has been rumored to have a fried chicken joint on the horizons – so there's always that.
Hubbell & Hudson
The Woodlands
Okay, okay. So only the market part of this Woodlands landmark closed, but they had a reaaaallllyyyy good sandwich bar.
 
The League Brewpub
Downtown
That'll happen when you get evicted for playing naked Twister. 
MF Sushi
Galleria/Uptown
Widely considered one of best sushi spots in town, this restaurant reopened in May, only to close again for "renovations" in October. What kind of sick game is this, MF?
OTC Patio Bar
Midtown & Upper Kirby
The OTC guys were all like, "No whammy, no whammy, no whammy... OOoohhhh, double whammy."
 
Polovina
Washington
In a devastating blow to BYOB lovers everywhere, this Italian eatery fell prey to the massive Washington Ave exodus this fall.
 
ROAK
Upper Kirby
Not that we're particularly sad to see this one go. But seriously, what the hell is happening to Upper Kirby?
Brooke Viggiano
Saint Genevieve
Upper Kirby
RIP adult milk & cookies and pretty much the wildest brunch ever. 
Sorrel Urban Bistro
Upper Kirby
At least Ziggy Gruber will be taking over the space. 

The State Bar & Lounge
Downtown
Yeah, it kinda smelled, but this mahogany lounge on the second floor of the Rice Lofts was part of history, man.
 
Tacqueria La Macro
Dowtown
Though this was a big setback for the breakfast taco scene, our game is still pretty tight. Plus, we're holding out hope for a relocation.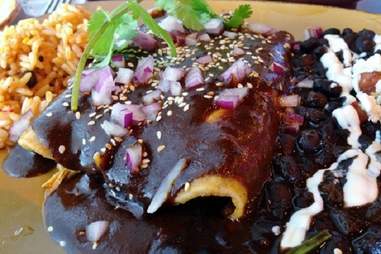 Brooke Viggiano
TQLA
Washington
This Mexican spot had tequila ON TAP. And for that, they will never be forgotten.
And here're some other places we'll miss...

1252 Tapas Bar
Ace Chinese Restaurant
Addix
Barringer Bar & Lounge
Blue Moose Lodge
Boom Boom Room
Boulevard Coffee
Brian O'Neill's
Brio Tuscan Grill
Capriotti's Sandwich Shop
CHA Champagne & Wine Bar
City Oven
Crawfish 4 You
Crescent City Beignets
Daily River Cafe
Downing Street Pub
Eighteenth Cocktail Bar
Gabby's BBQ
Georgia's Market Downtown
Gigi's Asian Bistro & Dumpling Bar
El Gallo Rojo
El Tiempo
Jarro Cafe
Hendrick's Pub
Hinze's Bar-B-Que
Hollywood Vietnamese & Chinese
Listos Restaurant
Macondo Latin Bistro
Mo Mong
Mozelle's Cajun Seafood Market
Mugsy's
Sale-Sucre
Sandy Witch Sandwich Company
Shark Bar
Strack Farms Restaurant
Tandoory Taco
The Tasting Room
Thai Sticks
Trenza
The Usual
Van Loc
Viva Itacate
Sign up here for our daily Houston email and be the first to get all the food/drink/fun in town.