While you've been busy figuring out whether or not it's flip-flop weather (it's hot, but it's raining! What to do, what to do?!), these 18 NKOTB have been busy heating up Houston's food and drink scene. They win. But you can too -- all you need to do is put on some shoes and go check them out.
Downtown
42 taps, featuring all varietals of -- you guessed it -- barley, line the wall of Downtown's newest craft beer spot. But you'll find way more than just beer here. Shimmy up to the massive, industrial-style bar to grab a pint of the good stuff along with things like Kobe beef burgers, beer-can chicken, and thai noodle salads.
River Oaks
Goodbye, 60 Degrees Mastercrafted. Hello, Hardwood Grill! With a mission of bringing good food and good service, the resto's menu is both approachable and unapologetically meat-heavy. High-quality Akaushi beef comes in many forms, for instance, in a jumbo meatball appetizer; pulled over pappardelle pasta; or as a massive, Béarnaise-coated porterhouse cut. And that's just three of them.

Downtown
This BBQ spot may have just fired up, but it has already garnered a loyal following. That may have something to do with its pedigree -- the smokehouse is the latest venture from Caswell & Co. (as in chef Bryan Caswell of standbys Reef & Little Big's) and Greg Gatlin (from the highly revered Gatlin's Barbecue). Head here for a range of masterfully smoked brisket, ribs, sausage, and yardbird with swoon-worthy sides like fried mac and dirty rice.
Galleria/Uptown
Tex-Mex gets elevated at this newest venture from Lasco Enterprise (Max's Wine Dive, The Tasting Room). A sophisticated dining space makes way for elegant and vibrant flavors in the form of cotija-topped broiled Gulf oysters, chorizo-stuffed Texas quail, and wood-fired prime filet with cilantro butter. Diehard Tex-Mex fans need not worry -- you'll find classics like fajitas, queso, and nachos, too.
Rice Village
Tucked away in the bungalow that formerly housed Bistro de Amis, this cozy neighborhood resto dishes out Coastal Southern Italian foodstuffs that are as addicting as they are purtty. Start with saffron-kissed arancini or smoked salmon affumicato before moving onto the regionally inspired big guns -- think squid-ink lobster pasta, fresh zuppa di mare, and crispy, bone-in veal chop.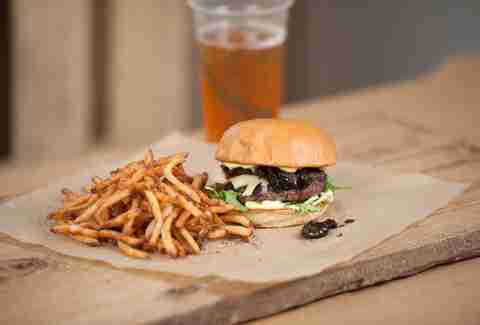 Memorial
With a focus on local, all-natural and sustainable ingredients and from-scratch condiments, this newbie burger joint is all kinds of fresh. Get there for craft taps and "in the Buff" meatstuffs like the aioli-, onion-, and raclette-loaded Truffle burger. There's also Buffdogs, green & noodle salads, and sides like edamame, house fries, and Texas chili.

Upper Kirby
This fresh-out-the-oven (get it???) pizza joint from the owner of the more casual Pepperoni's chain features Italian small plates and entrees along with pies cooked from an authentic VPN-certified wood-fired oven. Feast on white truffle butter lobster ravioli, a local kale & garbanzo salad, and bubbling, smoky pies topped with things like soppressata, local micro greens, and mozzarella di bufala.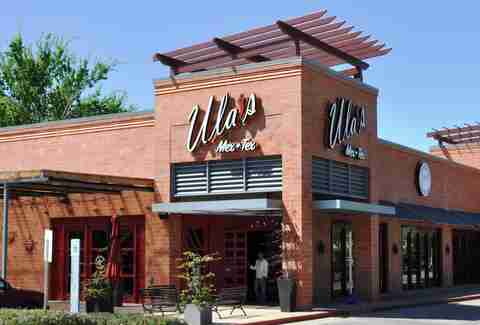 Washington
Lovers of wallet-friendly -- but still good-as-hell -- fajitas rejoice! Missouri-city based Tex-Mex god Ula's has opened its Washington Ave outpost in the former Coppa spot. The cantina offers everything from tableside queso del mar and the aforementioned sizzling fajitas to California-style burritos and steak ranchero... all crafted with a focus on fresh flavors and even fresher ingredients.

Washington
With nine outrageous "burger steaks" freshly ground with chuck, brisket, and short rib, burger-holics should most definitely add this fast-casual haunt to their burger bucket list. The substantial patties come loaded with everything from baked mac & cheese to house pickles and bacon chunks. But you may want to make a few trips so you can try the other offerings, including a Texas-sized CFS and peanut butter shake.
Midtown
Modern Texas barbecue -- think braised and smoked veal shank, BBQ brisket avocado, and brontosaurus beef short ribs -- has a home in the party-centric Midtown thanks to the group behind Hearsay Gastro Lounge and Mr. Peeples. Complete with an in-house pitmaster, a full food and bev menu, and 30 flatscreens, this sports bar-smokehouse hybrid puts an upscale spin on things like game-watching, dancing to live bands, and brunch.

Downtown
This fresh-faced dual bar -- consisting of a laid-back bar on the first floor and an intimate, swanky lounge on the top -- replaced the old Clutch City Squire in March. Partygoers can pick their poison -- hit The Commoner to imbibe in local brews and boozy libations over a game of darts, or head upstairs to The Boulevardier for a posh night of bottle service and fancified cocktails.
Heights
Thanks to a successful Kickstarter campaign, the owners of popular food truck H-town StrEATs were finally able to open their brick-and-mortar donut and kolache shop. Gorge yourself on freshly baked gourmet goodness, including but not limited to things like lemon-curd filled lemon meringue pie donuts and Gatlin's BBQ brisket kolaches.
Heights
It may not be new, but this neighborhood butchery and market recently added banquette seating for 50 and a must-hit dinner service to its resume (in addition to full-service breakfast and lunch). True to form, the hot new menu spotlights first-class, locally-sourced goods and house-made charcuterie -- meaning you can stuff your face with things like hot smoked bacon and pan de mie and roasted chicken with thyme and caramelized lemon. Note: t'll be BYOB until it receives its private club licensing, expected in early summer.

Montrose
The wait is OVER. Inner-loopers can finally get their fill of authentic, Szechuan-style Chinese thanks to the second location of this Chinatown cult classic. Prepare yourself (and your mouth) for tongue-scorching, intense flavors in the form of water-boiled beef and pot-roasted fish, all swimming with chiles and Sichuan peppercorns. Our advice: bring friends and get adventurous.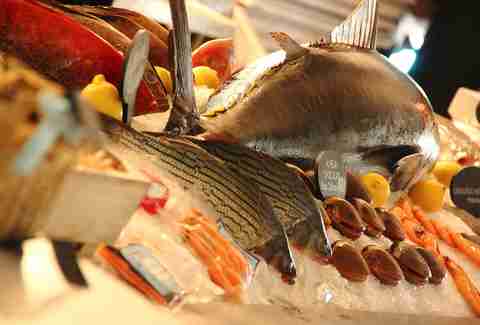 Galleria
After opening two successful restaurants in Mexico, sibling owners Maite and Diego set their sights on opening this fine-dinging seafood venture in Houston. In addition to plenty of badass seafood preparations -- including an herb-packed, salt-baked branzino that's broken down tableside -- the fresh seafood market and restaurant concept also features an impressive raw bar and a "seafood sommelier" to assist you in picking out a fresh fish to your tastes.

Midtown
An outcast among neighboring party spots like The Dogwood and Midtown drinkery, this hidden, tasteful bar has just five classics and five house cocktails on its rotating menu. But with powerhouse beverage guy Chris Frankel behind the operations and the bar (at least for now), those 10 cocktails are sure to be mighty fine. Take the staircase inside sibling resto Cook & Collins to get to the second-story, where you'll find refreshingly bold libations and an easy-going crowd. And be sure look out for the 51-drink "Unlock the States," which debuts Memorial Day weekend.
Montrose
Houston's best pizza joint is finally slinging its hot-and-blistered Neapolitan-style pies inside the Loop. The Montrose location has the same casual charm of the first (counter ordering, BYOB service), but this time it has an 80-seat dining room, host seating, and two colossal wood-fired ovens. Go for the caramelized onion- and pepper-loaded Sweet Pea or the addicting Arugula, dressed simply with garlic oil, shaved Parmesan, and the prosciutto you just added.

Heights
The guys behind Grand Prize Bar and Moving Sidewalk teamed up with powerhouse restaurant group Treadsack (of stars like Down House, D&T Drive Inn, Kipper Club) to debut this vintage joint in the Heights. Perfectly poised concoctions crafted by mastermind Leslie Ross include a stellar frozen marg and Tom Collins among eight other classics (all 10 are $8 a pop). And just an FYI: there're also house picklebacks.
Sign up here for our daily Houston email and be the first to get all the food/drink/fun in town.
Other Stuff You'll Like In Openings Cheat Sheet