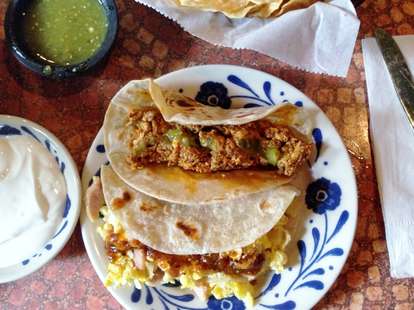 Brooke Viggiano
Brooke Viggiano
In Houston, when it comes to the most important meal of the day, the breakfast taco is king. That's because we know there's no better way to get a fresh start than loading up on eggs, chorizo, lard, and hot sauce (what? chorizo has tons of protein!). In light of that, we've rounded up the 13 most delicious morning tacos in town.
Multiple locations
Warning: study the menu as you make your way up to the cafeteria-style steam tables. Because once you're there – in the words of Britney, "You better work bitch." It all goes so fast, so we'll help: get spicy potatoes, chorizo & eggs, chicharrones, and refried beans. Or just point and smile. All of it is getting shoved into some of the softest, lardiest, handmade tortillas in town, anyway.

East End
Light and fluffy corn tortillas are this taqueria's weapon of choice. Get them loaded with heaps of chorizo-packed huevos that are just dripping with bright-orange meat juice. And don't forget to pile on the house salsa verde.
Montrose
There's really nothing more beautiful than a freshly prepared, fat and fluffy tortilla stuffed to the brim with eggs, ham, shredded cheese, sour cream, two kinds of salsa, whipped beans, and spicy potatoes. Especially when all of it tastes like butter. You can get one to go at the front-of-house taco bar, but we suggest sitting down for this one, possibly with your belt already unbuckled.

Spring Branch
This Long Point standby knocks out some of the biggest and baddest breakfast tacos in town. And they do it all from a truck. Find it to get yourself a couple of chubby flour and corn tortillas stacked with scrambled eggs, alllll the meats, nopalitos (that's cactus, you guys), fresh cilantro, onions, and hot-ass salsa. Oh, and an agua fresca. You're gonna need that, too.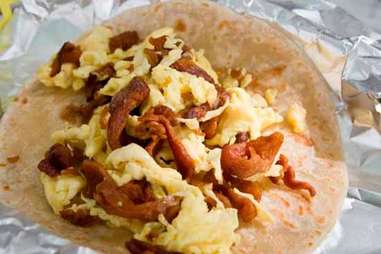 East End
Here's what you need to know about this almost 40-year-old taco house on Navigation. First, they make their bomb-as-hell tortillas to-order. Second, there's a taco called "the Super" that has eggs, potatoes, beans, cheese, and chorizo and/or bacon jammed inside. Third, you can get that greasy number all day long (and by all day long, we mean from 6am to 2pm on Tuesday through Saturday, and from 8am to 1pm on Sunday) for just a few bucks.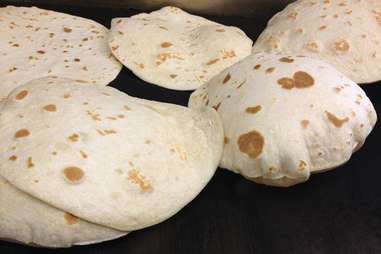 Heights
True or false: you want to stuff these handmade flour pillows – possibly the thickest, fluffiest ones in the city – with a crap-ton of sausage (there are 3 kinds), huevos, pico de gallo, cilantro, and guacamole. Allow us to assist. The answer is "true".

Montrose
You can get fat, carne-loaded breakfast tacos with a side of tres leches all day long at this hole-in-the-wall bakery. Soooooo, it's pretty much heaven.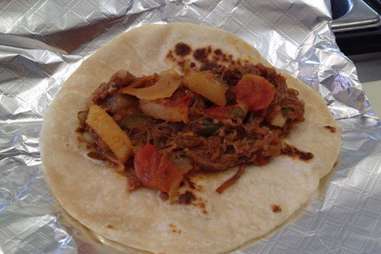 EaDo
First, watch the ladies behind the griddle make fluffy flour and corn tortillas right before your eyes. Then, watch them stuff said tortillas with breakfast-y things like bacon & eggs, jalapeños & eggs, potatoes & eggs, or – because you can have meat whenever you damnwell please – carnitas, lengua, chicharrones, and deshebrada (that sexy, shredded brisket pictured above). Now, eat the crap out of them.

Heights
Gentrification may be rampant in the Heights, but this taqueria remains as authentic as ever. That means you can get some awesome house salsas and big-ass, made-to-order tacos for under $2, which is good, because its cash only and all you have is a 5.
Multiple locations
Problem: you woke up super-hungover at 2pm and cannot exist for another minute without a breakfast taco. Solution: this dope taco cantina, where they serve potato, egg, and jalapeño-filled grease bombs ALL DAY LONG.

Montrose
This truck's tacos (served 'til 11:30am on the daily) may be tiny, but with eggs and plenty of spicy chorizo, they pack one hell of a punch. Don't worry though; you can still easily take down three of them without feeling bad about yourself. Pro tip: make sure you drench them in both the red AND the green salsa.
Heights
It may not be as authentically Mexican as some other choices, but fresh yard eggs, numbingly good house salsa, and tender, locally-raised beef put this meat market's tacos over the top. Follow them to see when you should be making your way to the Heights.

That taqueria in the gas station next to your house
Near you
Let's face it: in a city known for Mexican eats, any breakfast taco you get is probably going to be pretty solid. Especially when it's in walking distance. Case in point: Sunrise Taquito.
Sign up here for our daily Houston email and be the first to get all the food/drink/fun in town.