Raise your hand if you gained a metric ton eating at all the amazing new restaurants that opened this year! No? Okay, well maybe you have a faster metabolism. Regardless, there was a lot of competition in 2014 – mostly because Houston is straight up killin' it lately – but here are the 11 brightest new kids on the block, none of which are Joey.
Recommended Video
Buffalo Chicken Beer Cheese Fondue Fries Are Like an Edible Sports Bar
Heights
At the start of the year, Revival Market's Chefs Ryan Pera and Morgan Weber brought us this seasonally-inspired eatery that puts a fresh spin on traditional Italian foodstuffs – think small plates and charcuterie, whole-roasted fish, pastas, and wood-fired pies. But even fresher is the fact that the kitchen picks every bit of fruit, veg, and greenery straight from its 3,000sqft garden. They don't take reservations, so you'll need to elbow your way to the bar and sip on a few of Weber's classically inspired tinctures while you wait for your table (or if it's too packed, head down the street and wait for a text). It will give you more time to decide which pizza and pasta you'll be devouring tonight; and whether you're starting with the charred octopus & melon, the pickled butternut squash salad, or the crisp, basil-chile wings. Best suggestion? Bring friends so you can try it all.
Pearland
After much anticipation, Chef Ronnie Killen finally opened the doors to his namesake restaurant in late February. Those doors, by the way, have had lines outside ever since. Slabs of charred, salt-and-pepper-rubbed brisket, fiery sausages, and unctuous, smoke-kissed ribs – both beef AND pork – get pumped out at over 2,000lbs per day. But Killen, who has both Le Cordon Bleu training and a booming steakhouse under his belt, knows his success lies in putting equal amounts of care into each and every meaty bite. Seems like its working, because at less than a year old, the pitboss has already helped put Houston BBQ on the map. Feel free to go brisket and rib heavy, but make sure to get some mac 'n cheese and cobbler, too.
Memorial
With Nobu-trained Chef Adison Lee manning the kitchen, this vibrant and modern Japanese establishment is a worthy opponent to big guns like Uchi and Kata Robata. A sturdy roster of hot and cold dishes and inventive takes on sushi, most of which are locally and seasonally inspired (word is they even have a designated forager), has helped to make that happen. Get dramatically plated uni-crusted king crab over oyster mushrooms with uni custard and key lime; and kimchi tuna and lobster with bits of asian pear, kimchi, and lotus chips peeking throughout; alongside Lee's impressively delicate sushi.
Montrose
The best part about pastry chef Roy Shvartzapel's bright and airy, butter-filled bakery and café is that it actually lives up to the hype. But be warned – while you may have been drooling over your buddy's Instagrams of chocolate croissants the size of footballs and the seriously sexy sticky buns, it's not just a place for sweets. You'll want to be eating breakfast, brunch, and lunch here, too. Otherwise, you'd be missing out on heavenly things like the carnitas torta, stuffed to the brim with braised pork, guac, crema, and jalapeños. Or the bacon & cream cheese tartine, which has so much meltingly delicious whipped bacon slathered on it that you'll pretty much be happy dying tomorrow (keep eating all of that bacon and you just might).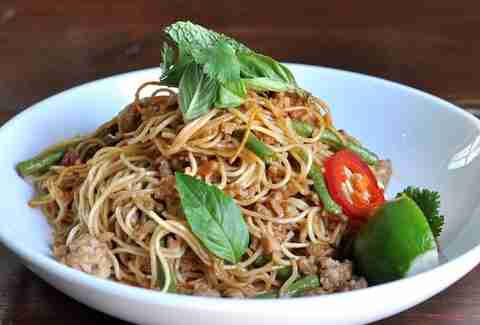 Garden Oaks/Oak Forest
In his second concept (the first being Montrose's seasonal whiz kid Roost), Chef Kevin Naderi turns his focus to Pan-Asian fare that is totally crave-able. Enter the space and be greeted by a giant yellow Buddha, which, coincidentally, sets the tone for both the bright, punch-packing meal that you are about to encounter, and the zen-like state you'll feel after eating alllll the foods. Share plates of chubby five-spice ribs, crisped & curried cauliflower, and spicy Thai muu noodles that you'll plan on slurping right up, first date or not. For the full out-of-body experience, tack on a few of Aaron Lara's crafty, spirit-forward cocktails.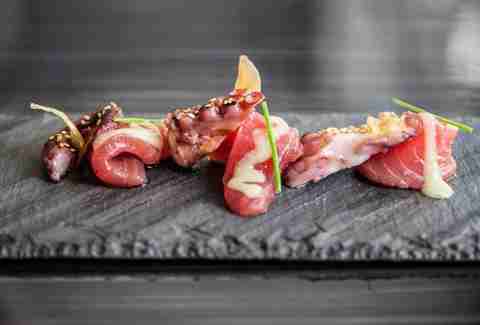 Midtown
Modern ocean eats meet the flavors of the South (and okay, even a little of the Far East) at veteran Chef Mark Holley's namesake restaurant. With multiple dining areas – including one complete with an oyster shucking station – the eatery brings back the upscale vibe of Holley's former stint, Pesce, but with a lot more H-town charm. That charm shines through Holley's endlessly creative dishes like the crispy redfish over bourbon-smoked short rib agnolotti and pickled peach. Or the cast-iron Akaushi ribeye with Creole Bearnaise and duck fat potatoes. And since he's covering all the bases, there's crudo, ceviche, raw oysters, caviar service, and a bourbon program, too.
Montrose
Chef Adam Dorris, known for running the kitchens at hot spots Stella Sola and Revival Market, and for wowing with his popular Ghetto Dinner pop-ups, sits at the helm of this modern American kitchen. So it's no surprise that his progressive, locally-inspired fare – think nine-spice brisket with potatoes and black garlic; gulf snapper with carrot top pistou; and roasted bone marrow topped with arugula and a braised bacon & pink peppercorn vinaigrette – has the sexy dining room packed nightly. Bring friends so you can taste alllll of the foods. And be sure to drink up -- you don't want to miss out on the impressive cocktail program from GM Chris Fleischman (Roost and Lillo & Ella) and co-owner Shepherd Ross (Glass Wall, Brooklyn Athletic Club).
Upper Kirby
A blisteringly crisp, slow-roasted pork shank – 2lbs of it to be exact – sits alongside kimchee, pickled cucumber & cauliflower, ssamjang (that's hot-as-hell chili paste), and watercress. It's just waiting for you to tear into it. Here's how you do so. Step 1: Shred the meltingly tender meat and stuff it inside bibb lettuce. Step 2: Stack in the aforementioned accoutrements along with some steamed rice. Step 3: Dunk the whole damn thing into a rich and savory pot gravy. Step 4: You can probably figure out the rest. This, along with going completely "Gangnam Style" (remember that?!) on some soju (the slightly sweet, rice-based spirit that is like the Korean version of vodka), is just one of the many things you'll do at here. Welcome to Dosi.
Museum District
This striking contemporary American eatery brought some much needed heat to the Museum District's food scene when it opened in the award winning Parc Binz complex this fall. Here, James Beard-nominated Chef Justin Basye (formerly of Stella Sola) focuses on contemporary foodstuffs with Southern and Italian influences – think cheddar biscuits with salumi caramel, house-made bucatini & clams, and entrees like a double-cut ribeye for two or Atlantic scallops with pork belly & cream corn. Pastry Chef Chris Leung runs the high-concept sweets, which feature some of his innovative ice cream from neighboring Cloud 10 Creamery.
Montrose
When a fine-dining restaurant with an elBulli-trained chef opens the first Spanish fine-dining restaurant in Houston, people notice. And for good reason. Taking in the artwork of BCN's (short for Barcelona) intimate 54-seat (plus another 10 at the bar) space is just the start of your epic dining experience. Get a few small plates -- we'd go for boquerones; clams con sofrito de tomate; and some jamón ibérico de Bellota, a cured ham that is hard to score elsewhere in town. Of course, you'll need to save room for the lobster bouillabaisse, 16oz bone-in ribeye and frites, and rum raisin Catalan brûlée, too.
Montrose
With the buzz almost deafening, this modern eatery – the first full-service resto on Houston's prized Menil Campus – finally opened its doors this fall. And if the packed weekend crowd says anything, it's that this place was worth the wait. Expect Euro-inspired American fare from Chef Greg Martin and a killer cask wine and beer program from Bev Director Sean Beck in a striking dining room that you should probably take a date to. Get the charcuterie plate, filled with deliciousness like duck rillette, jamón ibérico, and chicken ballotine, along with standouts like the big and beefy cocoa nib and black peppercorn-crusted filet. Was that a little meat heavy? Sorry, there are pizzas, pastas, and salads, too.
Sign up here for our daily Houston email and be the first to get all the food/drink/fun in town.