You already know about the best tacos spots in Houston. And you've likely hit up killer trucks and shops like Tacos Tierra Caliente, Brothers, and Laredo Taqueria (or at least we really hope you have). But there are a number of tiny-yet-fantastic taquerias and trucks that likely aren't on your current taco rotation, and that's a crime in and of itself. These 11, to be exact...
Chorizo & egg taco
Sunrise Taquito (address and info)
Memorial/Rice Military
Though this sister restaurant to Taquito Joe's and offshoot of Villa Arcos has garnered some loyal fans, you may have missed this legitimately great taqueria anyway. Why? Because you probably thought it was a gas station. Look past the Shell sign and you'll find some of the city's finest breakfast tacos, locked and loaded with chorizo & eggs, potato & eggs, or (if you really know what you're doing) chorizo, potato & eggs with beans and cheese.
Trompo
Karanchos (address and info)
Channelview
Gone is the tiny taco stand this once was. Today you'll find a full-service eatery with waitstaff, a patio, and TVs to boot. Don't worry. The street-style tacos are still as authentic as ever. Get yours loaded with fantastically delicious trompo, but know you'll need about five of them to quench your appetite.
Carne deshebrada (braised beef in red sauce)
TacoKeto (address and info)
East End
The fiery rust-colored sauce that coats each tortilla may be a house secret, but the tiny red taqueria on wheels shouldn't be. Hit it to get a packet filled with a duo of seriously addicting two-biters accompanied by a whole roasted jalapeño, grilled potatoes and onions, and wedge of lime.
Lengua
El Gallo de Jalisco (address and info)
Heights
Don't forget your cash. You'll need multiple two-dollar bills to get your fill of nice-sized, made-to-order tacos packed with carne guisada, cactus and egg, lengua, and house salsa verde. Or you could bring a few ones, a five, or a 10-dollar bill. All of those would work, too.

Mollejas
Taqueria Tacambaro (address and info)
Heights
Don't fill up on samples at Canino Produce. You'll want to save room for this taco trailer in the back of the farmers' market, where you can stuff yourself silly with fat, greasy gorditas and cheap, freshly made tacos loaded with hard-to-score things like birria (goat stew) and mollejas (sweetbread).
The breakfast taco
Dona Maria (address and info)
East End
This family-owned haunt on Navigation cranks out homemade eats just as good as your abuela made. Light and fluffy corn tortillas make the perfect bed for bright orange, oily-in-the-best-way chorizo & huevos. And don't forget to pack on some house-made salsa verde.

Super Bacon
Villa Arcos (address and info)
East End
This almost 40-year-old taco house on Navigation may be known for dope-as-hell breakfast tacos, but the lunch-ier chicken and beef options are no joke, either. Don't worry, everything comes on the same addicting, cooked-to-order flour tortillas.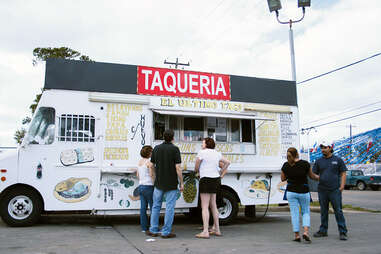 Machacado
El Ultimo Taco Truck (address and info)
Spring Branch
This Long Point standby may not be fancy, but it's an absolute must-hit for taco aficionados. Load up on chubby flour and corn tortillas stacked with everything from barbacoa and machacado (shredded beef & eggs) to tripe and nopalitos (cactus). Then pour on some salsa verde and wash it all down with aguas frescas.

Trompo taco
El Taconazo Taco Truck (address and info)
Northside Village
Don't let the no-frills look of this Northside taco truck fool you. A double stack of thick corn tortillas filled with things like lengua and tender barbacoa will have you dreaming of your last Mexican getaway (unless your last Mexican getaway was your college spring break, in which case you're diet more likely consisted of tequila shots with tequila chasers). While you can't go wrong, the trompo tacos -- stuffed with spiced and marinated pork cooked on a rotating spit -- are a must-eat.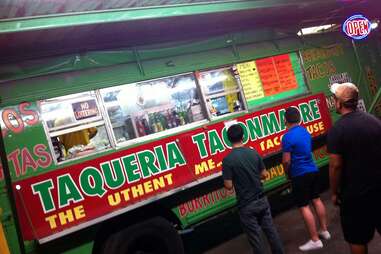 Al pastor or chicharrónes
Taqueria Taconmadre (address and info)
South Houston
$1 breakfast tacos aren't the only things that make this bright green taqueria-and-taco-truck hybrid special (though those really, really help the cause). It's the fact that you can get fat, beautifully greasy tacos 24/7 that really makes this spot next level. The tender al pastor and crisp chicharrónes, both loaded with fiery salsa, chopped onion, and lime, are particularly excellent after a night out at the bars.

Tacos de mixtos
100% Taquito (address and info)
West University
What started out as a school project has blossomed into a 100% fantastic taco shop. Though every order comes with three small tacos of your choice of house-made corn or flour tortillas, big appetites may need to add on sides like chicharrón con guac or salsa. Get the tacos de mixtos to get a sampler of carne asada, al pastor, AND tinga (spicy chipotle brisket).
Sign up here for our daily Houston email and be the first to get all the food/drink/fun in town.