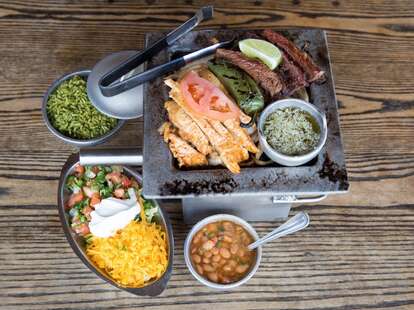 El Tiempo Cantina

| El Tiempo Cantina
El Tiempo Cantina

| El Tiempo Cantina
It's too often that Tex-Mex gets snubbed by the culinary elite, but here in Houston, we know there's nothing better than pairing way too many chips & queso with a frosty margarita, ideally one that's bigger than your head. Tex-Mex is easily Houston's most iconic cuisine, and as such, there are roughly a billion restaurants in town where you can listen to the sweet symphony of the fajita sizzle. So, we've narrowed it down to the best in show.
Montrose
Fans of The Pit Room were highly enthused when the smokehouse opened this modern Tex-Mex joint a few years back. Blending Texas traditions with Mexican fare, it's the kind of place you start with Seven Layer Dip and Chile con Queso topped with Texas Red Chili, move on to Chipotle BBQ Berkshire Pork Ribs and Smoked Brisket Enchiladas, and finish with a big ol' slice of Tres Leches. It's exactly the kinda place we like.
How to book: or order pickup/delivery online.
Galleria
The Tex-Mex comes with a side of epic dance party at this funky restaurant that's part in-house club. After you dig into old-school Texican plates at the iconic restaurant—including the decades-old Nachos Villa Sana (with beans, chile con queso, taco meat, jalapeños, and more) and the World Famous Felix Queso—head on over to "Club no Minors" to dance the meal off with live music and neon Blue Margaritas.
How to book: Stop by for first come, first served seating or order takeout via Toast.
Multiple locations
This multigenerational mini-chain is certainly not an unsung hero, but allow us to praise it for just a bit. The legacy restaurant comes from the Laurenzo family, the children of Ninfa's icon Maria Ninfa Rodriguez Laurenzo, so you know it's legit. Stuff your guts with all things hot and cheesy, starting with Beef Chile con Queso with gorgeously greasy flour tortilla chips and moving on to Spicy Shrimp Enchiladas, Carnitas, and sizzling Parrilladas stacked with Filet Fajitas and Lobster Tail.
How to book: Stop by for first come, first served seating or order online.
Montrose (& other locations)
This homegrown mini-chain started as a humble cafe back in 1989. Ten years later, the restaurant made its way into the Guinness World Records for crafting the biggest fajita taco ever made. Today, La Tapatia has grown to six locations, all of which knock it out the park with no-joke stiff margaritas and greased up classics, from giant stuffed jalapeños packed with beef and cheese and wrapped in bacon to all kinds of fully smothered enchiladas.
How to book: Stop by for first come, first served seating or call your nearest location for reservations.
Southwest Houston
Open since 1978 and now boasting two locations, Tex-Mex comes in its most deliciously classic form, here. Start with mouth-numbing Habanero Margaritas. Dig into crispy beef tacos, sloppy cheese enchiladas, and queso-smothered chimichangas. Wash. Rinse. Repeat.
How to book: Stop by for first come, first served seating.
Multiple locations
Los Tios claims to be home to Houston's first frozen margarita (what, are you going to argue?). If you aren't using those margaritas to wash a combo plate that includes a Puffy Queso and at least one kind of Enchilada, you're doing it wrong.
How to book: Stop by for first come, first served seating.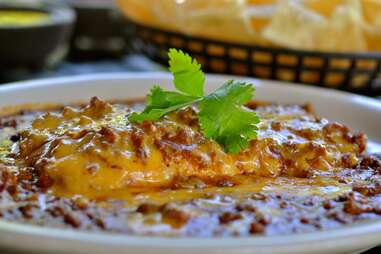 Multiple locations
1941. That's when the Molina family began dishing out Tex-Mex to the masses (then, it was known as Old Monterrey Restaurant). Today, the solid standby has three locations and an army of loyal fans, probably thanks to ace signatures like cheap margs, a spicy beef queso known as Jose's Dip, and an entire menu of classics that truly sing when you smother any of it in Jose's (truly incredible) Dip.
How to book: Stop by for first come, first served seating or order online.
Multiple locations
Affectionately known as Teo because it's kinda hard to get the full name down, this is exactly where you want to go for homestyle Tex-Mex done right. That is especially true when you have a mouth full of red gravy smothered Teotihuacan Burritos. Go for those, or the fan favorite Parrillada Plates loaded with ingredients like chargrilled quail, beef short rib, jumbo shrimp, fajitas, and cheese-stuffed poblanos.
How to book: Stop by for first come, first served seating.
East End (& Uptown)
Maria Ninfa Rodriguez Laurenzo–a.k.a. Mama Ninfa–put Tex-Mex on the map, not just in Houston, but nationwide, when she first stuffed some chargrilled beef slices into fluffy flour tortillas from her family's struggling tortilla factory. Tacos al Carbon were born, and yada yada yada, she launched the national fajita craze. Go taste the OG fajitas, plus Shrimp Nachos, Tacodillas, and the badass Fajita Burger.
How to book: Reserve via OpenTable or order takeout and delivery via Aloha.
Third Ward
While this throwback has been satiating Houstonians Tex-Mex cravings for over 60 years, it often doesn't get the respect it has earned. Forget the PYTs and see why this local stalwart has stood the test of time, which you can do through silky, dreamy Chile con Queso and chile-gravy-coated Enchiladas Ala Taylor, a house favorite. The dining room is adorned with old family polaroids and colorful Christmas lights, a slightly tacky yet comforting touch that is old-school in the best possible way.
How to book: Stop by for first come, first served seating.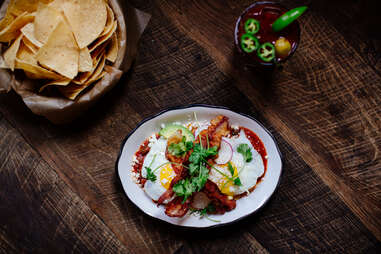 Heights
Feeling Tex-Mex for brunch? Then this Tex-Mex haunt from chef and restaurateur Ford Fry is your jam (also for Tex-Mex dinner and lunch, but we're talking hair of the dog here). Feel like a Texas outlaw with zippy Cheladas and Vampire Weekends (a rum-kissed, house-made horchata), and cure your hangover with chili gravy smothered Tamales & Eggs, wood-fired Skirt Steak & Eggs with all the fixin's, and triple-stack Hot Cakes dripping in whipped butter and buttermilk syrup.
How to book: Join the Waitlist.