Houston tends to fly a bit under the radar when it comes to Texas' BBQ hotbeds. With all due respect to places like Austin and Lockhart, that's a damn shame! Though the well-deserved praise has started to trickle in, our BBQ game still doesn't get the love that it should. Here are 13 reasons that needs to change:

1. Because... just look at those beef ribs we made!
And by "we," we totally mean Ronnie Killen of Killen's Barbecue. But the point still stands.
Now in its third year, this meat-heavy fest is gaining attention from pitmasters near and far. This year's lineup already includes the Brisket House, Brooks' Place, and the highly touted Louie Mueller Barbecue, among 20 or so others.
3. Everyone wants to go to the BBQ cook-off that kicks off the Rodeo
And it seems to get bigger and better every year. 240 teams showed up to last month's World's Championship Bar-B-Que Contest, bringing happy Houstonians absurd amounts of on-point brisket, ribs, and chicken.
4. This sandwich
The off-the-menu, sloppy-as-hell "Kitchen Sink" sandwich from Gatlin's has a multitude of smoked meats, jalapeños, and giblet-laden dirty rice stuffed inside. More people should know about it.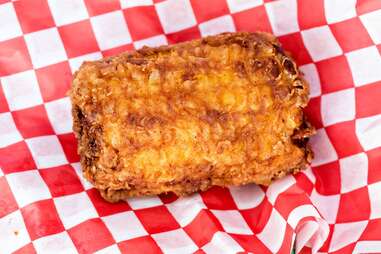 5. Because the sides are just as important
Especially when said sides include fried corn on the cob.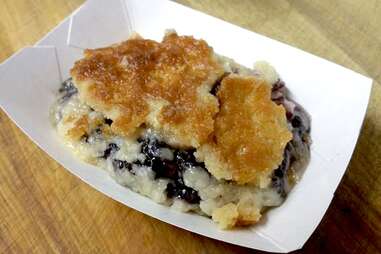 6. As are the desserts
If you can't make some room for the cobbler at CorkScrew BBQ, then you don't deserve it anyway!
7. Because we're constantly evolving
Both old-school and fledgling pitmasters work hard to tweak techniques and step up their game as Houston BBQ continues to rise.
8. And we have room for the new guys
It's not just big names and vintage joints that are gaining attention. Pop-ups like Blood Bros. BBQ and R&D Barbecue prove that even lesser known 'cue enthusiasts can make waves. Drool-worthy, meaty waves.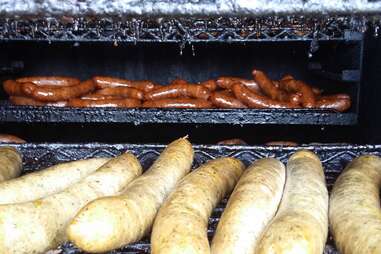 9. Three words: Smoked. Cajun. Boudin.
East Texas BBQ means we're smoking things like Cajun-spiced boudin. And that just makes the world a better place.
10. We don't have to wait three hours in line to get three-hour-wait-worthy 'cue
Sure, you'll likely encounter a wait at some spots, but it's nothing like those other cities' nightmare lines. Plus, plentiful beers and Houston's general friendliness help pass the time.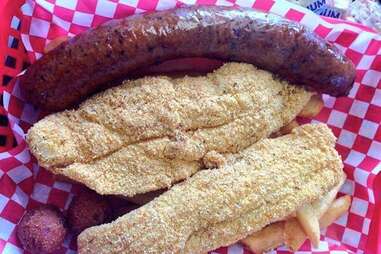 11. Ever heard of juicy links?
An African-American staple, these fatty all-beef links packed with garlic, paprika, and other spices have remained an integral part of Houston's barbecue scene since they were popularized in the Fifth Ward in the '40s. Cut them open and you'll see where the name comes from.
12. This city is a melting pot. A delicious melting pot.
Meaning our 'cue is globally influenced. Think things like smoked pork tamales, pork belly bruschetta, Creole-spiced turkey, and bacon wrapped in sausage wrapped in bacon -- which, okay, is not exactly globally influenced, but you're still glad it exists, right?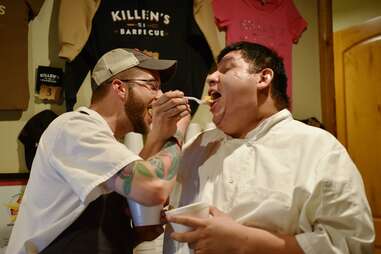 13. The local industry love and support goes unrivaled
It's not a fight to the finish here. Houston's chefs, bars, and restaurants have each other's backs, leading to some truly excellent collaborations, gnarly pop-ups, and an all-around good vibe.
Sign up here for our daily Houston email and be the first to get all the food/drink/fun in town.