Comfort food is there to make you feel good (and then not so good, until you loosen your belt at least two notches), and Houston, being the immensely lovable city that it is, has a TON of it. So we've scoured every delicious nook and cranny to bring you the 11 most comfort-filled dishes in town:
Fried chicken
Max's Wine Dive
Address and Info
Washington/Montrose
Roughly 36 hours in a buttermilk & jalapeño bath makes this three piece chicken plate way beyond moist, while a healthy dunk in well-seasoned flour makes it crisper than Dwight Howard's free throw (okay, maybe that's pretty easy to do). Eating it kind of feels like home. That is, if your home is also filled with a pile of sautéed collard greens, buttered up mashed potatoes, and a huge piece of Texas toast.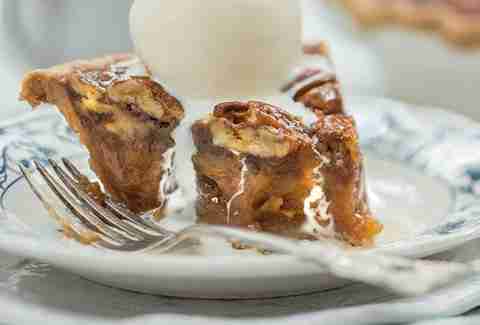 Brazos Bottom pecan pie
Goode's Armadillo Palace
Address and Info
Upper Kirby
Remember how you thought your great aunt Gertrude made the best apple pie in the world? Maybe she does. But do you really feel like waiting until Christmas to get some? Thanks to Grandma Goode, you don't have to. Handcrafted and packed with Texas pecans, this ooey gooey darling is all kinds of excellent.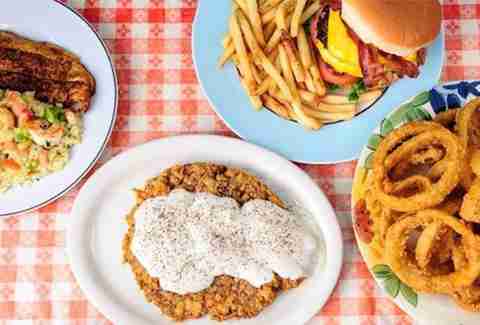 Chicken fried steak
Mel's Country Café
Address and Info
Tomball
Hit Mel's for down home country cookin' at its greasiest, sloppiest, and finest. The menu runs the gamut of comfort eats, from roast beef and potatoes to Cajun. And their larger-than-the-plate, CFS smothered in thick white gravy tastes just like the one your nanny made. Only this time you can get it with a side of TATER TOTS.
Mac & cheese
Beaver's
Address and Info
Washington
Remember when you felt homesick at college so you popped an Easy Mac in the micro then forgot about it and almost blew up your dorm room? Well the only thing that's going to be blowing up with Beaver's mac & cheese is your mind. The super cheesy skillets get topped with heart-stoppingly delicious things like crawfish etouffee, meatballs, and what is basically a Frito pie.
Bone marrow pho
Pho Binh By Night
Address and Info
Alief
In a city with a Vietnamese community so on point, bone marrow pho totally counts as good ol' American comfort good. Adding the silky, jiggling bone marrow to the already rich and fatty beef broth is like wrapping up in a blanket and Netflix and chilling yourself to sleep on a particularly hungover Sunday. Basically, it's the only way to survive.
Cake stand pork chops
Hunky Dory
Address and Info
Heights
This British-American tavern -- from the Treadsack restaurant group and helmed by the chef behind the much beloved Feast -- has only been around a short while. Yet in just a short time, they've managed to hook us all on their modern comfort cuisine. Take their crispy pork chops, for example, which get stacked in groups of four on a cake stand before being dolloped with schmaltz. They are also served with both mashed potatoes AND fries. We don't know if it's pure evil or genius.
Smoked salmon hushpuppies
Roost
Address and Info
Montrose
If a Brooklyn hipster married a Southern belle, these sweet and smoky salmon-infused hushpuppies with charred lemon and jalapeño tartar sauce is what we'd imagine their babies would taste like. Not to say that we'd actually taste their babies, but you get the point, right? Right?!?
S'mores sundae donut
Hugs & Donuts
Address and Info
Heights
You never have to choose between S'mores and a donut again! So long as this brick-and-mortar shoppe from the guys behind food truck H-town StrEATs hasn't run out of this Franken-donut, which features scorched marshmallow topping and creamy chocolate pudding center.
Sunday meatloaf
Frank's Americana Revival
Address and Info
River Oaks
This ain't your mama's ketchup-loaded meatloaf (and come to think of it, how did she ever convince you to eat that crap?). The Americana kitchen gives the old school loaf a new 'do with a mix of veal, pork, and beef, and a crazy good bacon-y tomato jam. See you next Sunday.
Hungry Man
Biskit Junkie
Address and Info
Garden Oaks/Oak Forest
Just in case regular old gravy-smothered, fat-laden biscuits weren't satisfying enough for you, Biskit Junkie came along to fill the void in the form of this monster breakfast sandwich -- in which fried chicken and American cheese get a big, fluffy biscuit bed and thick sawmill gravy blanket. Oh, and you can also get it with a skillet of Jus Mac's mac & cheese, if you're looking to go to bed FOREVER!!!
Pumpkin bread pudding
Killen's Steakhouse
Address and Info
Pearland
It's safe to say Chef Ronnie Killen knows his way around beef. But you'd be sorry if you don't save room for the kitchen's super moist and decadent bread pudding. The sweet stuff reaches galactic levels of excellence when mixed with seasonal flavors, like the pumpkin spice number topped with tres leches, cayenne-spiced pecans, and old-fashioned caramel sauce. Game over.
Sign up here for our daily Houston email and be the first to get all the food/drink/fun in town.
Brooke Viggiano is a Houston writer, and smoked salmon hushpuppies speak to her on a worryingly deep level. Follow the conversation at @BrookeViggiano.