Courtesy of Dragana Harris
Houston Even though we're dipping into the cooler seasons, you can still enjoy your favorite ice creams -- just as long as there's booze in them. These treats are laced with bourbon, local craft beer, wine, liqueur, and spiced rum, so they'll warm you up while you transition away from summer.

Galleria What you're getting: Texas Carbomb Nine bucks gets you a generous and boozy milkshake at this counter service-casual café. The Texas Carbomb is made with 8th Wonder Rocket Fuel, Lone Star 1835 Texas bourbon, Michael's Irish cream, milk, and Amy's Mexican vanilla. If you're after something sweeter, go for the Texas Peach Cobbler, whirled with peaches, peach liqueur, spiced rum ice cream, and house-made streusel. More Stuff You Will Like
The Woodlands What you're getting: A stout beer malt with cocoa nibs Fielding's boasts six different adult milkshakes (along with great burgers and giant onion rings). The stout beer malt with cocoa nibs is a good place to start. Something stronger? Try the B52, a heady mix of Cointreau, Baileys, and Kahlúa with vanilla ice cream. Or spice it up with a Mexican chocolate with chipotle pepper and Godiva liqueur. If one of these doesn't strike your fancy, then you're just not thirsty. Continue Reading
Upper Kirby What you're getting: The Sweet Cream w/ Shiner Bock Amy Simmons of Austin-born Amy's Ice Creams has spread innovative frozen-dessert love across the Lone Star State (as well as being the first professional female boxer in Texas. Seriously!). Her booze-fortified selections are not only punchy but served until midnight. Some call the Sweet Cream with Shiner Bock life-changing. Fruitier picks include the Amaretto Peach and the Berry Colada.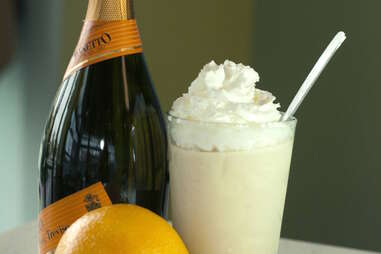 Washington Corridor What you're getting: The mimosa milkshake Looking for the breakfast of champions? Pull up a barstool for a mimosa milkshake. This fizzy, eye-opening potion is made with vanilla ice cream blended with orange juice, sparkling wine, and then topped with real whipped cream and orange wedges. Alternatively, choose the pinot noir shake with chocolate ice cream. Brunch, in a straw.
Upper Kirby What you're getting: Maker's Chocolate Covered Cherries In this pint-sized sweet shop, rich frozen custard is dispensed in a giant chocolate-dipped waffle cone, but this "sundae" isn't as innocent as it looks. It's made with Maker's Mark chocolate-covered cherries, cherry bourbon sauce, and crowned in whipped cream.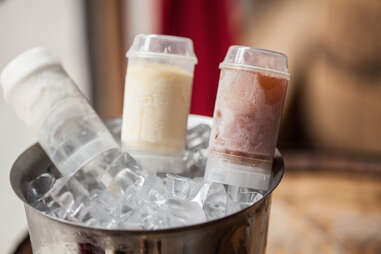 Downtown What you're getting: A Poptail Part cocktail, part popsicle, all delicious. Co-owner Mike Raymond's spirited frozen creations are made by pureeing cocktail mixes with frozen fruit, and then adding liquor. The whiskey bar changes flavors every year, with current choices including Buffalo Trace bourbon creamsicle and salted caramel bacon.
Washington Corridor What you're getting: Nitro stout float When is the last time you had a root beer float? Well, make new memories with this glorious thing: a pint of Amy's vanilla bean ice cream, beer, and milk stout nitro. Which beer, you ask? Well, BRC prides itself by currently offering 28 different craft beers on tap and up to 25 bottles to boot.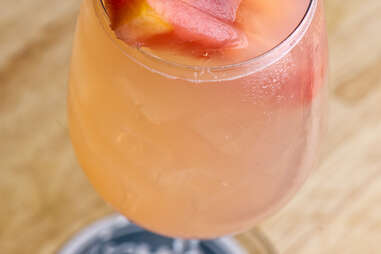 Upper Kirby What you're getting: The Sangria Pop The Sangria Pop is a chunky peach popsicle submerged in fizzy white sangria -- a mix of pinot grigio, white peach purée, peach schnapps, and fresh berries. Hungry? Order the triple treat: the signature Grille prime cheeseburger and fries with the Adult Milkshake (Italian Nocello walnut liqueur, Crème de Cacao chocolate liqueur, and vanilla ice cream).
The Heights What you're getting: Milk Chocolate Stout The two standouts at this retro ice cream shop are the Milk Chocolate Stout (made with Convict Hill Oatmeal stout beer), and the Waterloo Strawberry Buttermilk, w/ strawberry jam ice cream and Waterloo Texas gin. Whatever you go for, order it in a house-baked brown butter sugar waffle cone.
Montrose What you're getting: The Dude Milkshake "No Minors," aka The Dude, is this slider shrine's homage to The Big Lebowski, and it pretty much nails it. Smooth, milky, strong, and sweet, this milkshake is, essentially, a White Russian that almost doubles as a meal. Sign up here for our daily Houston email and be the first to get all the food/drink/fun in town.Robin Barr Sussman is a Houston writer who loves it when two of her hobbies come together like this. Follow her on Twitter at @SussOut.