You should have absolutely zero problems finding cheap stuff to eat in Houston -- thanks to two Chinatowns and an infinite amount of taco trucks. It's a cost-efficient standard that flows beyond quick-serve spots, and on to sit-down restaurants. That's where these 13 rad, less-than-a-Hamilton, fully-seated meals come in.
The Big Chile
Montrose
Price: $9.99
Sure, for another couple bucks, you can have enchiladas, and for one more, enchiladas topped with eggs. But that's not what this list is all about. Besides, the smoky chicken-stuffed poblano, dubbed "The Big Chile," will make you forget about those enchiladas, and it probably won't require a two-hour nap immediately after. Key word probably.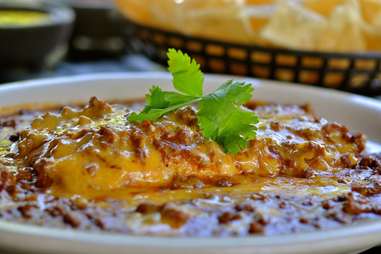 Cheese enchiladas
Woodlake & other locations
Price: $9.95
If you feel like shoving your face into a giant vat of queso con carne for dinner without judgment from your dining companion, get cheese enchiladas. The Tex-Mex dish comes with a thick chile gravy comforter and cheese duvet, putting you into an instant state of bliss that'll last long after you pay the surprisingly low bill.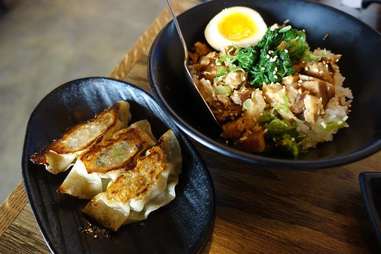 Chashu bowl 
Midtown/Clear Lake
Price: $4.99 small, $7.99 regular
Sure, you could go to the ramen bar for ramen, but you could also go for a bowl of pork- or chicken-studded rice that's as delicious as it is cheap. We should note the ramens are equally as excellent, albeit a couple of bucks over $10 when you start adding in stuff like triple the eggs.
Pav bhaji
Upper Kirby
Price: $8
This modern Indian street food eatery goes full service after 5pm, so take a seat and order yourself something meatless to keep things extra wallet-friendly. There's a nice roster of dosa, but go for the Pav Bhaji. Spread the cauliflower, spicy masala, and potato concoction onto toasted pumpkin buns and delight in an upgraded version of your mom's famous sloppy Joes.
Marinara pie
Montrose
Price: $9
This Neapolitan-style staple's properly scorched and bubbling pies take about 90 seconds to cook. While you may want to match that time in consumption, we promise you don't want to... unless you like burning the roof of your mouth entirely off. Then, by all means.
Banh mi bo kho
Midtown
Price: $8.50 regular, $10 large
This Vietnamese beef stew is so damn good, you'll find yourself craving it even in Houston's hottest months (except maybe August, because that'd be insane). Bonus points: the crusty French bread you use to sop up every last bit of the deep, rich, anise-scented broth will keep coming if you ask nicely.
Half-pound burger
Midtown & other locations
Price: $9.99
Finish this beastly beef bomb and you may not be able to stand up afterward. Given the fact that you now have burger and French fry grease all over your pants, you probably shouldn't be seen below the waist, anyway.
Name your noodles 
Northside Village
Price: $8.45-$9.95
Now in a new, slightly bigger location, the cult favorite is pumping out the same real deal Thai staples with vigor. Chicken kee mao with flat noodles, shrimp pad thai with rice noodles, crispy pork mama pad with fried curly noodles... you name it, they have it... and it's good. Even better, the kindness to your wallet doesn't stop with the carby stuff -- you can burn your mouth off with intense curries or house whole-roasted fish, too.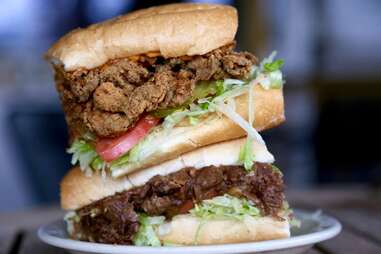 Midnight Masterpiece
Montrose & other locations
Price: $9.50
Though this sloppy roast beef po-boy may be best eaten at midnight alongside the most colossal pile of fries smothered in queso and debris gravy, you can also eat the true masterpiece not at midnight. Like say, at a tasteful, sit-down supper.
The Sancho
Garden Oaks/Oak Forest
Price: $10
The only thing that's better than sitting at a picnic table being served beers with your dog is adding another dog to the mix... a half-pound Angus dog, smothered in chipotle aioli, and topped with cojita, pico, and crispy fried poblano strings, and served with a mountain of fries, to be exact.
Bethlehem-style half chicken
Woodlake/Briar Meadow
Price: $7.50-$7.99
Yardbird gets a Palestinian kiss at this bare-bones cafe. You can get it fried, where each piece of seriously juicy meat comes with an impossibly crisp, sumac-dusted crust.. or Musakhan-style, where the bird is marinated, spiced, and served grilled over house-made bread drenched in oil and chicken juice. You know what? Maybe come with a $20 next time.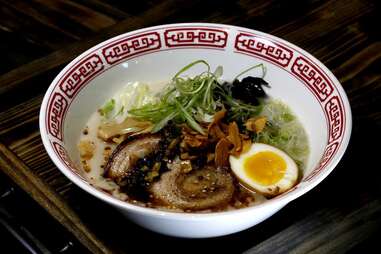 Tonkotsu ramen
Sharpstown
Price: $8-$9
From the crazy good spicy miso to the silky tonkotsu, every ramen in the lineup is $9 and under. But that's only one reason you'll find the place packed every weekend. Beautiful, fat-rimmed chasu (roasted pork belly), flawlessly executed Hakata-style (thin) noodles, and some of the best, most flavorful bone broth in the city are a few more.
Tortellini al burro
Upper Kirby
Price: $7
This casual Italian spot goes full service at night, plus it offers most of its freshly made pastas in half portions, keeping things in budget and tasty. Get the tortellini, little clouds stuffed with a mixture of chicken, pork, mortadella, and cheeses that come swimming in butter and more cheese, as they should.
Sign up here for our daily Houston email and be the first to get all the food/drink/fun in town.
Brooke Viggiano is all for table service because she really hates stuff like having to get her own hot sauce or grab more napkins while she's covered in burger grease. Or maybe she's just super lazy. Either way, hit her up @BrookeViggiano to discuss.