If you've ever been lucky enough to call Texas home (if even for a weekend), you know that the Lone Star State is pretty serious about its food. Flawlessly rendered, stupid-good brisket; Jurassic-sized barbecue beef ribs; all things queso and hot sauce. Hell, even our ketchup is spicy!
Given the current crisis, folks who've moved away from the Lone Star state are undoubtedly missing the comfort of Texas food right about now. The good news is, homesick Texans can still get the flavors of home by ordering these iconic local eats, shipped straight to their door. Here's exactly what to order to get a taste of Texas, no matter where you are: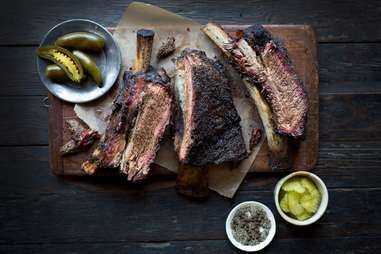 Taylor, Texas
Barbecue is sacred in Texas, and this glorious temple of smoked meat is about as holy as it gets. The family legacy first opened its doors in 1949, offering high quality 'q you can get shipped straight to your door. It's constantly making best lists thanks to its colossal "dino" beef ribs and aggressively seasoned salt and pepper brisket. Your best bet? Order both.
How to get it: Order via Goldbelly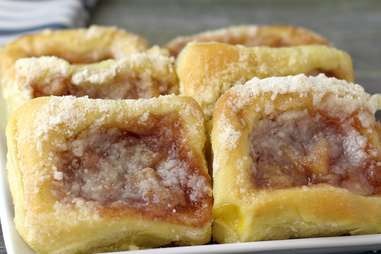 La Grange, Texas
We're guessing most people don't think of Czech culture when they first think of Texas, but the Lone Star has its very own "Czech belt" in a stretch of Central and East Texas. That's where Bohemian and Moravian Czechs settled in the 1840, and it's where they introduced us Texans to the iconic kolache: a round, dimpled pastry made of yeasted dough and dotted with things like preserved fruit, sweetened cheese, or poppy seed filling. Its savory cousin -- the sausage-stuffed klobasnek -- is pretty good too, and you can get both shipped nationally from legendary Czech bakery Weikel's over in La Grange.
How to get it: Order on Weikel's website
Round Top, Texas
The Texas Trash at this Round Top institution is a franken-pie made with ooey, gooey caramel, chocolate chips, coconut, graham crackers, and pretzels. Part candy bar, part legitimate dessert, you can get it as a stand-alone treat -- or, you could try out Royer's pie subscription programs, in which you can get a pie shipped to your door every month for 3, 6, or 12 months.
How to get it: Via Goldbelly
Lockhart, Texas
The Kreuz and Schmidt families know a thing or two about BBQ, as they've been hittin' the pits at this Lockhart legend since 1900 and 1948, respectively. Luckily for you, the legend now FedExes its meats in special insulated boxes packed with dry ice all over the country. You'll want to pick up some of its intensely smokey sausage links, in the original variety or made "Texas spicy" with jalapeño, garlic, and cheese. Another winner? The smoked prime rib.
How to get it: Order on the website
Lewisville, Texas
Yes, you can get a whole deep-fried Cajun turkey from this Denton County company -- but we can't think of anything more satisfying to a homesick Texan than queso loaded with crawfish. Order it by the two-pound, ready-to-boil pack that'll feed 8-10 of your friends, or one super-hungry you. Just kidding, please don't eat two pounds of queso by yourself. At least not in one sitting.
How to get it: Order on the website
Houston, Texas
You won't just find incredible tamales in the "survival kits" from this Houston-based tamale company. There are also things like homestyle Texas chili, chile con queso, jalapeño pepper jelly, and Mexican "hacienda" rice. Back to those tamales, though: you can get these street-style packets of masa loaded with your choice of beef, chicken, pork, spinach, and black bean filling.
How to get it: Order on the website
Lexington, Texas
With flawless bark, true Texas smoke ring, and beyond moist meat, Snow's smoked brisket is oft hailed as one of the top contenders in the entire country. Order one and you'll be treated to a hefty beast weighing in at 4 to 5 pounds, and tack on some house-spiced BBQ ribs if you truly love yourself. Just make sure to follow the heating instructions carefully, as bbw costs a pretty penny and you don't want to screw these babies up.
How to order: Order online via its website
Houston, Texas
The jury's out on pecan pie's exact origins, but we know for sure that Texas does the sweet treat major justice. Goode Company's Brazos Bottom Pecan Pie is made with pecans harvested right in the Brazos River Valley. It'll come big, gooey, and looking classy as hell in a Texas pine box, and you can add on Texas pralines, too.
How to order: Order at the Goode Company online shop
Brenham, Texas
If you don't want to shell out the big bucks for Truth's 18-hour pit smoked brisket (which will run you $230 for a 5-pounder), you can still get a hit of home from the roadside bbq stop's bangin' sauces. There's the sweet and tangy "OG" bbq sauce; the "Big Heat," a hot sauce hit with red chilies and vinegar; and the "Stay Gold," a punchy honey mustard riff with chipotle peppers and garlic. All three are available in the General Store, along with that brisket, of course.
How to order: Order from the Truth General Store on its website
Brenham, Texas
Not even a listeria scare can scare Texans off of their favorite ice cream. The "Best Little Creamery" in Texas started in the butter business in 1907 before pivoting said business to ice cream a few years later. Today, its old-fashioned batches have gained fans near and far, with varieties ranging from Dutch Chocolate and Banana Pudding to Pecan Pralines n' Cream. For a mere $135, you'll get four half gallons or four 12-pack cups (most of the cost goes toward shipping, but sometimes, you gotta pay to play).
How to order: Order on its website to ship anywhere in the country
Palestine, Texas
The historic Eilenberger's Bakery has been cakin' and bakin' over in Palestine, Texas since 1898. That's pretty impressive, and even more impressive is how Texas' oldest operating bakery has managed to keep up with the times. You'll find the same old-school German fruit cake that put the bakery on the map, now available for shipping nation-wide. The recipe is a family secret, but we can confirm it's got real-deal Texas Pecans, cherries, pineapple, golden raisins, and BUTTER. There's also Chocolate Covered Praline Pecan Pie...
How to order: Via Goldbelly ($15 flat rate nationwide)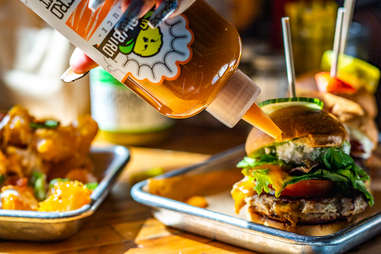 San Marcos, Texas
Hot sauce is considered a nectar of the gods here in Texas, where we pour it on things like breakfast tacos, burgers, BBQ, and even our drinks. Whether you're dining in Austin, Dallas, Houston, or its headquarters of San Marcos, you'll likely find a brightly colored bottle of Yellowbird on your table. The spunky hot sauces come in a variety of flavors and heat levels, from the mild-medium Blue Agave Sriracha, Serrano, and Jalapeño to the hot Habanero and severely hot Ghost Pepper (because you're not really getting a taste of Texas unless you burn the crap out of your tongue).
How to order: Order via the website, or find it on Amazon, Thrive Market, and more
Texas
It's a widely known fact that you can't actually consider yourself a Texan if you don't irrationally defend the Big W over any other burger chain in the country. While you can't get the burger itself shipped, you can get a taste of this Lone Star darling via its Fancy and Spicy Ketchup, Honey BBQ Sauce, and Jalapeño Ranch by the bottle, plus some pancake mix and a classy "I'm so Spicy" Whataburger YETI that will undoubtedly win you cool points at a party. There are custom-made cowboy boots as well, if you're looking for the ultimate flex.
How to get it: On the Whataburger website (get free shipping on orders $50 or more)
Sign up here for our daily Houston email and be the first to get all the food/drink/fun in town.