Houston may not be known as the most gorgeous city on the map, but our restaurant scene is plenty seductive -- which is why it's so well-appointed for a romantic night out. Our city's most alluring restaurants go well beyond your typical white tablecloth spots (though we've included a few of those for good measure). We're talkin' wine bars where you can flirt over piles of fries, steakhouses that swagger so you don't have to, and cozy bistros with astonishing wine selections. Here's exactly where you want to do date night in Houston.
Recommended Video
This Restaurant Reinvented the McGriddle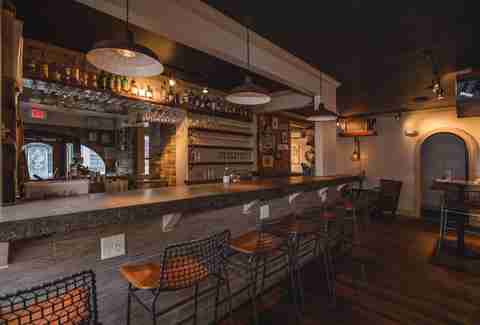 Montrose
Date-night favorite tucked in a quaint, repurposed house
With a revolving supper menu and plates you'll want to go dutch on, this intimate neighborhood staple is where locals go to do date night right. Tear into pull-apart milk bread with smoked trout roe, swipe right on roast chicken and truffle jus, and go all Lady and the Tramp on some tagliatelle bolognese. Nobie's doesn't take reservations, but you can always loosen up with one of bar director Sarah Troxwell's libations at the bar if there's a wait.
Downtown
Sophisticated Italian steakhouse with a dark, sexy interior
This Downtown stunner oozes sophistication, with a dark and luxe space that evokes a modern Italian villa. Set the mood with a superb bottle of wine, and keep the excitement going with fancy pants Italian steakhouse fare -- think aleppo-crusted tonno, housemade cacio e pepe hit with black truffles shaved tableside, and a prime porterhouse for two. Finish the night with Limoncello cocktails and Amaretto crème brûlée.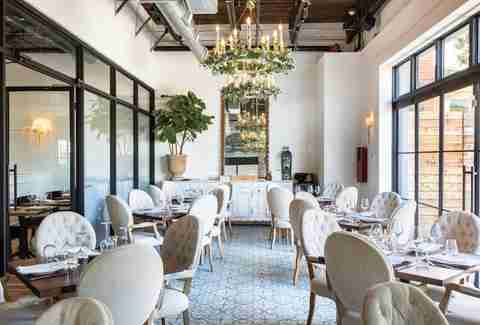 Heights
Charming French bistro set in an old abandoned warehouse
It may sit in what was once a neglected warehouse, but after a little polish, this new-ish Heights haunt now has charm for days. Details like exposed brick, plush seating, and tealight candles in Old World-style glassware set the stage for you to flirt over plates of jasmine-tea smoked yellowtail, five spice foie gras, and curly fry flights, which will obviously up the romance factor by infinity.
Montrose
Spanish fine dining spot that brings the intrigue
An exceptional wine list, anchovies straight from the Cantabrian Sea, and desserts like the aged rum raisin Catalán brûlée are just a few of the reasons to bring your date to this Barcelona-inspired fine dining spot. Intoxicatingly good dishes like grilled Spanish octopus, foie-stuffed quail, and suckling Ibérico pig are a few more. You'll find it all tucked away in a quaint 1920s home gone contemporary in Montrose.
Shady Acres
Houston institution with rustic, log cabin vibes
If you're looking for a space with character, this lodge-style restaurant in a century-old log cabin on rolling grounds along the White Oak Bayou is your jam. The longtime Houston institution has some serious romance game, provided your date's not averse to antler-based decor, as well as some actual game on the menu -- as in venison, elk, and wild boar chop. Cozy up next to the fireplace and settle in for a delightful night.
Heights
Intimate hand-roll bar for an unexpected date night
There are only 22 seats at this hot new hand-roll sushi bar; snag a pair, and you and your date can go in on temaki tubes in the form of toro, yellowtail, scallop, and shrimp katsu, offered a la carte or in sets of three, four, and five. Japanese highballs and house spiced milk punch only sweeten the deal further.
River Oaks
High-end Israeli steakhouse with tons of swagger
This Israeli steakhouse dry ages its beef in a chandelier-lit meat locker, while the menu itself takes inspiration from the Middle East with dishes like cheese-stuffed beetroot and demi glace sweetbreads. You'll find luscious, top-quality cuts of meat like prime bone-in ribeye and Japanese A5 Wagyu, and there are even little piles of seasoning on the plate so you can unleash your inner Salt Bae.
Montrose
Lush hideaway with wine, fries, and pizza made for sharing
Is there anything more sensual than sharing a bottle of wine and a mountain of fries? Perhaps only when that bottle of wine is consumed on a lush, string-lit patio; and that mountain of fries comes absolutely stacked with things like smoked pork shoulder and yellow curry mayo. Did we mention there's pizza, too? Because there is.
River Oaks District
Over-the-top take on Madrid's nightlife experience
Sexiness and weirdness often go hand-in-hand, and this avant-garde concept is about as weird as it gets. You'll feel like you're going down the rabbit hole as you slice open a tomato only to realize it's not a tomato at all, but a gelatinous veil for parmesan mousse and pesto over pumpernickel crumble. The showy chandeliers and wacky decor are straight out of a Picasso painting, and there's a top-notch collection of gin to bring the whimsical experience to the next level.
Heights
A taste of California wine country, in Texas
Save a ton on airfare by skipping the flight to Napa and taking down wine flights at this buzzy Heights tasting room instead. The space screams Cali with its farmhouse style and superlative library of boutique wines. Pair your grapey tastings with drunken PEI mussels, chicken liver mousse toasts, and pumpkin butter pasta.
Montrose
Neapolitan-style pizzas in a cozy, two-story converted home
This sultry, Neapolitan-style pizzeria may not be around forever, so now is the time to settle into a dark nook (or score a seat on the patio) and share a bottle of wine in one of the city's most romantic settings. You'll also be sharing impossibly good, blistered and blackened wood-fired pies, crispy caper shrimp and bagna cauda fennel, and al dente pastas amplified by things like pig fat and heavy cream (is there anything sexier?).
Memorial Park
For a killer steak with a killer view
Cozied into lush grounds along the banks of the Buffalo Bayou, this wooded retreat has set the stage for many a romantic evening (and even some weddings). Maybe it's the cascading waterfall or dramatic, two-story dining room; or maybe it's the fire-roasted oysters, crispy duck leg confit, and steaks dripping in truffle butter and Cognac sauce, but there's something seductive about this place. Triple bonus points if you start your date with bayouside drinks and live blues at the outdoor Blue Bar.
Downtown
Soulful Italian kitchen in Downtown's C. Baldwin Hotel
Alluring touches (including a gorgeous solarium, Hollywood style booths, and a 9-foot floral backdrop that flanks the hostess stand) set the tone for a sweet, nostalgic evening at Rosalie. The name for this throwback concept comes from chef Chris Cosentino's great-grandmother, Rosalie, a first-generation Italian immigrant who inspired his entire career. Go for shareables like the bistecca Fiorentina and whole Gulf shrimp fra diavolo, and save room for tiramisu.
Sign up here for our daily Houston email and be the first to get all the food/drink/fun in town.