If you think all it takes to be a real Houstonian is proclaiming your immortal love for Whataburger, you're crazy-wrong... mostly because Whataburger wasn't even started here (it's from Corpus Christi, get it straight), but also because there are so many other essential foodstuffs that will attune you to H-town. Your local food pyramid should look a lot like the following.
Recommended Video
Charleston: The Ultimate Local's Guide
Queso
Ask any Houstonian what they're favorite anytizer is, and they'll scream something about "queso!" -- probably while unknowingly having queso all over their chin. You're not a local 'til you get down with the trend. Otherwise, you'll be that guy ordering the $18 tableside prepared guac that everyone else is working around to get to that aforementioned giant vat of queso (that guac is going on your tab, by the way). The cheesy, gooey piece of heaven is such a Houston rite of passage, it has its very own best in Houston list... as it should.
Crawfish
Most outsiders don't understand why pinching, peeling, and sucking what looks like a Honey, I Shrunk the Kids-sized lobster is worth all the effort. Well, we're here to tell you that most outsiders are fools. Double up on your crawfish prowess by getting them two ways: in the traditional Cajun boil form, and in the neo-traditional form that pretty much defines Mutt City culture, with Vietnamese garlic butter and spice, tossed with crabs legs for good measure, and with a side of banh mi to soak it all up.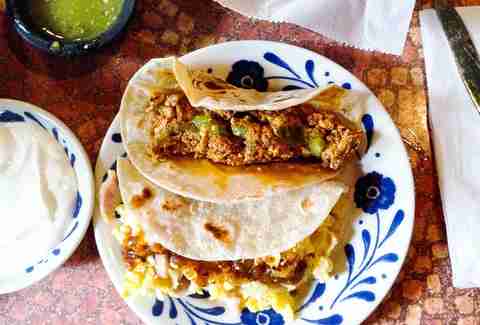 Tacos
Breakfast tacos. Tacos al pastor. Tacos with handmade tortillas crafted by abuelas and stuffed with lengua, chicharrón, and barbacoa so good you want to cry. It doesn't matter how you take them down, all that matters is that you do take tacos down... and that you never, ever put sour cream on your breakfast tacos (seriously, who do you think you are?). To be honest, we wouldn't consider anyone a true Houstonian until they consider the iconic food an integral part of their food pyramid, with the staple making an appearance every few days at least.
Kolache
Most out-of-towners come here knowing nothing of #kolachelife. But if there were to be a boxing match for the title of Heavyweight Champion of Houston Breakfast, it'd be a solid fight between this pastry and the breakfast taco. Thankfully, there's not an upcoming match, because we really can't decide who we'd put our money on. The sweet, filled, and stuffed pastries were brought to Texas by Czech immigrants during the mid- to late 19th century. As addicting as they are, it didn't take long for them to make a name for themselves in Texan culture. Today, you'll find them everywhere, but you'll want to step away from the Kolache Factory and make sure you try some more authentic varieties, like at The Original Kolache Shoppe, for instance.
A meal in Chinatown
If you've been settling for whatever questionable Chinese, Thai, and Pakistani restaurants that will deliver to your apartment at 10pm on a Friday night, you've been doing Houston wrong. (Side note: you should be out, not getting delivery at 10pm on a weekend, because at the very least, you may find some Pokémon out there.) What you need to be doing is making your way to Chinatown, which should really be called something else because it has way more than just Peking duck and dim sum (though don't worry, there's that, too). Until you work a weekly pilgrimage to Asiatown into your routine, you're not a Houstonian IRL.
Smoked brisket
Live in the Hou long enough and you'll start to loathe the godlike barbecue status of our neighboring cities. Well, loathe no more, because local pitmasters who have perfected their smoked meat game are finally starting to get the respect they deserve. We can probably thank meltingly tender, fat-rendered, salt-and-pepper crusted smoked brisket for that. Get the absolute staple at any of the best barbecue joints in town, or at one of the most underrated smokehouses in the entire state. Make sure you don't ruin it with sauce... and don't miss the brisket's chubby cousin, the almighty beef rib, either.
Tequila (and, of course, mezcal)
Only OT VIII-level Houstonians know the difference between mezcal and tequila. The intricacies are best learned over a tasting sesh at The Pastry War, but we'll give you a head start. Both are made from the agave plant, and tequila is technically a type of mezcal. The differences come along in the production method and type of agave used. Tequila can be made only from agave tequilana (blue agave), and can only produced in the state of Jalisco and other small regions. Mezcal can be produced from over 30 varieties of agave and in most Mexican states. As such, it has a lot more variety of flavor and smokiness, which comes from a different production technique. Like we said, you should really just go to Pastry War.
Outside skirt steak fajitas
You can get mediocre steak fajitas at any Tex-Mex chain around the nation, but true Houstonians know the only way to do fajitas right is to make them with outside skirt, just the way Mama Ninfa taught us. Get 'em sizzling on a hot comal, with fat, fluffy, freshly made tortillas and all the proper trimmings. Then tack on a giant grilled jalapeño, because this is Houston, and we just can't help our damn selves, can we?
Vietnamese iced coffee at Cafe Sua Da
Combine one of the largest Vietnamese populations in America with hot-as-hell weather, and it's no surprise that this Vietnamese iced coffee has become an absolute staple. Locals go nuts for the dark-roasted beans hit with a thickly sweet splash of condensed milk, all of it served on ice, of course. Find it at any of the banh mi shops and hipsteriffic cafes that dot the city, or get it by the bottle from local iced coffee purveyors, Caphin.
Tamale
Hearing the tamale guy yelling "tamale, tamale, tamale" while you're five beers deep at the bar is kind of like hearing the ice cream truck before dinner as a child. You want in on that action, and you want it now. Pull out a fiver and treat yo'self to husks stuffed with masa, shredded chicken and beef, chilies, and the irresponsible amount of hot sauce you just poured all over it. The best part? Your mom's not even here to stop you from spoiling your appetite.
Po-boys
We can thank our neighbors to the East for ushering in the best parts of their Creole/Cajun culture, and one of those parts just happens to be the po-boy. Though they still don't believe great po-boys can be made outside of New Orleans, H-town ride-or-diers know that's a bunch of BS. As such, Houstonians eat the poor man's sandwiches for breakfast, second breakfast, lunch, dinner, and in the middle of the night, because they are ABSOLUTELY STARVING after the bars close. We even love banh mi, which are basically just po-boys stuffed with chargrilled meats, pate, and pickled things.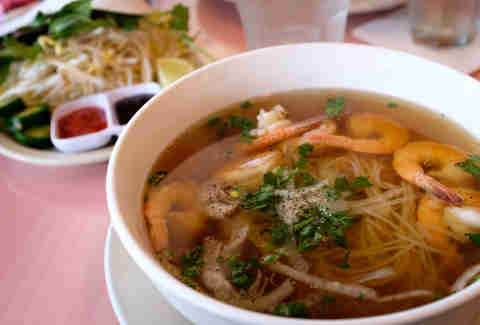 Pho
Despite the fact that it's a bajillion degrees for the majority of the year, locals can't get enough of the piping-hot bliss that is beef noodle soup. Those in the know add silky, soft bone marrow to the already decadent broth to take things to the next level of amazingness. But if you want quadruple true Houstonian bonus points, skip the beef and get your pho stacked with crawfish.
Enchiladas
Most Houstonians know a good cheese enchilada sloppily coated in deep-red chile con carne and topped with a duo of sunny-side-up eggs is the only way to cure a hangover. In the words of the late Biggie Smalls, "if you don't know, now you know."
Chargrilled Gulf oysters
The East and West Coasts can have their pint-sized bivalves. Die-hard Houstonians live for the gargantuan oysters fresh from the Third Coast. We also know that, though the slippery stuff is good enough right from on-the-half-shell, things get really real when they get wood-roasted and dolloped with things like chipotle or Parmesan butter, a la Caracol or Gilhooley's.
Shipley Do-Nuts
Shipley fried its first batch of donuts right here in Houston in 1936, so it surprises exactly no one that legit locals have mad love for the chain. The donuts may be fancy, but they are gloriously gluttonous. Hit the original location on Ella to get glazed donuts that taste just the way the higher powers -- or more accurately, Lawrence Shipley, Sr -- meant them to taste.
Sign up here for our daily Houston email and be the first to get all the food/drink/fun in town.