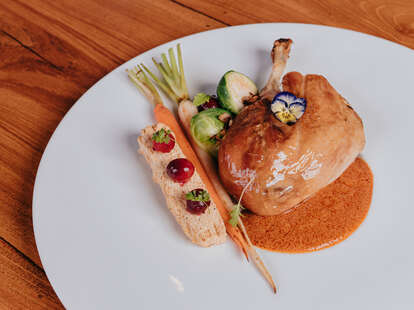 Musaafer

| Raydon Creative
Musaafer

| Raydon Creative
Maybe you like spending all day worrying about a dry turkey or whether or not any of your guests have a tree nut allergy. The world, however, is thankfully well past the days when you are expected to do everything yourself around the holidays. This year, preparing your Thanksgiving dinner can be as easy as clicking a button to book a table on Resy, or clicking another button on Toast to order some candied yams that you will most definitely try to pass off as your own at the Friendsgiving table. All of this to say, don't cook, just click, because these Houston restaurants have this year's Turkey Day covered.
Indianola's got a prix fixe menu experience that you probably want to experience this Turkey Day. That includes elevated takes on holiday classics—think hors d'oeuvres like Andouille Sausage Puffs and Wood Roasted Oysters, Roast Kabocha Squash and Toasted Pecan Brussels Sprouts sides, and the piece de resistance, a Cajun Heritage Turkey with citrus cranberry sauce and herb gravy, plus pecan pie and German chocolate cake. Second helpings are welcome, as is Thanksgiving tradition.
Cost: $65 per adult, $25 for kids 12 and under (free for children under three).
How to book: Reservations are available from 10:30 am to 4:30 pm.
Living in Houston means you can score your entire Thanksgiving meal from a BBQ joint. Enter J-Bar-M, which has crafted an epic Thanksgiving To-Go menu. Score stuff like family-size portions of brisket, turkey, and Jalapeno Cheddar Sausage (all to feed five to eight people), plus holiday accouterments from Green Bean Casserole and Creamed Corn to Cranberry Jelly and Brown Gravy.
Cost: Meats are $25 - $34/pound, sausage is $10/link, sides are $25, and sauces are $4 - $8.
How to book: Orders should be placed no later than Monday, November 21 by emailing info@jbarmbbq.com.
Got someone to impress? How about taking them to a Michelin-star chef-led Thanksgiving meal at Museum of Fine Arts' beaut, Le Jardinier. The ridiculously luxe menu includes an amuse bouche, three courses, sides for the table, and the restaurant's signature art piece desserts, with showstoppers like the Foie Gras Royale with pumpkin emulsion and red port; Citrus Cured Ora King Salmon with beets and yuzu; Yukon Potato Gnocchi; and Heritage Turkey Ballotine with Confit.
Cost: $165 a person
How to book: Reserve from noon to 7 pm.
Chef Beto Gutierrez is making your Thanksgiving weekend plans super easy, offering a holiday spread from November 17 through Thanksgiving Day, November 24. If you know anything about Max's, it's that it's known for its bird, so fried chicken is obviously front and center. The meal features a dozen pieces of the crunchy, jalapeno marinated, deep-fried deliciousness, plus gravy for dippin' and drizzlin' and extras including Southern Style Biscuits, and Cranberry Jalapeno Jam; two family sides of Mashed Sweet Potatoes, Classic Mashed, Braised Collard Greens, Jalapeno Cheese Grits, and Truffle MAX n Cheese; and four desserts from its regular dessert menu or choices like Sweet Potato Cheesecake with caramel and Pumpkin Spiced Pecan Bread Pudding a la Mode. It's a wine dive, so you'll also want to add a $20 a bottle of wine.
Cost: The Thanksgiving feast runs $155.
How to book: Call 713-880-8737 to order.
Go the Spice Route this Thanksgiving with a dine-in turkey special at this gorgeously designed Indian haute spot. The Tandoori Spiced Turkey Plate features the tasty bird alongside spiced cherries, cranberry chutney, mushroom bacon brussel sprouts, truffle fries, baby carrots, and makhini sauce. Guests can add on a Maple Kheer Kadam shortcake for dessert, too.
Cost: The plate is $40 with the shareable dessert for $20; those who prefer takeout can place orders for a family-sized Tandoori Turkey Tray for $200 (feeds six)
How to book: Place preorders by calling 713-242-8087 by November 22.
Houston is a melting pot of cultures, which means you can easily amp up the classic Turkey Day spread with a Malaysian-influenced one instead. Enter Phat Eatery, which is taking pre-orders now through November 20 for pickup Thanksgiving Day. Your feast will include awesome stuff like Honey-Glazed Turkey Breast and Gravy (classic), Wagyu Beef Rendang Wellington (not classic), Roti Curry Chicken Enchiladas (definitely not classic), and Ginger Japanese Sake Cranberry Sauce (you get the deal), among other festive eats.
Cost: The Thanksgiving to-go package feeds six or more for $268; a la carte Thanksgiving and regular menu items also available.
How to book: Preorder online by Sunday, November 20.
Want real deal Italian with some turkey on the side? Roma will be open Thanksgiving Day with the option of a Classic Thanksgiving Plate by chef Kevin Bryant, featuring house-roasted turkey with dressing and brown gravy, green bean casserole, yams, mashed potatoes, a house salad, butternut squash soup, and a dessert of choice. You can add on Roma favorites like the Polpette di Manzo, because who is to stop you from pregaming with some meatballs?
Cost: The Thanksgiving Plate runs $59 per person with a la carte options available.
The coffee shop, dispensary, and cocktail bar is making this year's Thanksgiving Day way better with its hemp-infused pie offerings. Choose from Pumpkin Pie, Pecan Pie, and Wild Pie (a gooey, brown-sugar custard pie with crackly top), each infused with 100-mg of Hemp Derived Delta-9 THC.
Cost: $40 per pie
How to book: Place orders online by Friday, November 18 for pickup November 21 - 23 (ID required for pickup).
At Turner's, Thanksgiving isn't just about a swoon-worthy sea of entrees, but a dining experience filled with foot-tapping entertainment and luxe, white glove service. On Thanksgiving Day, the posh destination will only offer up two seatings at 1 pm and 5 pm, so we advise you to keep those alarm clocks set. After a complimentary sip of their finest Champagne or a Kir Royale, guests can freshen their palette with Artichoke & Spinach Velouté before loading up on a Brined & Roasted Heritage Turkey Breast Dinner or Roasted Loin of Venison with rutabaga purée and green peppercorn demi. Even better, pile up on traditional sides and dig into their impressive selection of artisan cheeses before ending the meal with some pastries. And, get this: You'll be serenaded with a live pianist throughout the entire meal. Will they be taking requests? Only one way to find out.
Cost: Dine-in reservations run $250 per person.
Snagging a seat at this legendary outpost is like winning the lottery in Southern hospitality. Every inch of the space is carefully stenciled with cultural odes to South Texas and Louisiana, especially when it comes to their roster of comforts like fragrant gumbos and caramel-crowned pecan pie. Those dining in can kick the meal off with a Lagniappe before moving onto sweet choices like Snapping Turtle Soup, Creole Turkey with Holy Trinity Dressing, and Brennan's famous tableside Flambe Bananas Foster. Guests can also spruce up their Thanksgiving tables with a lil' Brennan magic by ordering from its Thanksgiving To-Go menu.
Cost: Dine-in menus run $84 per adult and $30 per child; take-out prices vary.
How to book: Call 713-522-9711 to reserve or place a pick-up order online.
Everyone knows the real draw of an at-home Thanksgiving dinner is the late-night, leftover turkey and stuffing sandwich—at least, Rainbow Lodge knows that. That's why the gorgeous historic lodge offers to-go Snack Packs brimmed with enough turkey, gravy, and dressing to satiate you as soon as your pants fit again in, say, three hours. As for the pregame (a.k.a. your actual Thanksgiving Day meal), the Lodge's multi-course options are enough to give you the good ol' itis, stacked with dishes like Smoked Duck Gumbo, Rainbow Trout with Pecan Brown Butter and Lump Crab, Southern Style Turkey Roast with the fixin's, and Candied Pumpkin Cheesecake.
Cost: $75 per person for three courses (with extras available) and $45 for kids; Late-Night Snack Packs are $6 a pop.
This New York-style chophouse is decking its halls for the holidays with a prix-fixe Thanksgiving menu—complete with an amuse bouche, three full courses, and family-style sides—in addition to its regular lineup of steakhouse classics. You'll also get complimentary hot apple cider and pumpkin cookies on the way in and out. Those who want to stay in can preorder ready-to-roast or pre-cooked entrées, sides and desserts, plus a prix-fixe plated dinner (mixed greens, butternut squash soup, roasted turkey with giblet gravy, cornbread & sausage stuffing, mash, cranberry sauce, Brussels sprouts, and slices of both pumpkin and apple pie).
Cost: Menus run $90 per person ($35 for kids age 11 and under) or a la carte.
How to book: Call 713-862-1814 for pick-up.
For a Mexican-style Turkey Day bonanza, Montrose institution Hugo's is here to lend a helping mano. The Thanksgiving Holiday Take Away menu is packed with options, from the Couples and Family Feasts rocking items like Pineapple and Habanero Spiral Ham, Charred Brussels Sprouts, and Tamal Azteca Tortilla Casserole to Pumpkin Cheesecake and Tres Leches for dessert.
Cost: Packages run $100 (feeds two) to $295 (feeds eight); a la carte prices vary.
How to book: Pre-order online or call 713-524-7744.