It's been a rough few weeks for everyone, including those in the Houston restaurant industry who have been hit hard by social distancing protocols (and even false rumors regarding the Coronavirus). And as of Tuesday of this week, all Harris County bars and restaurants have been ordered to shut down for 15 days in order to maintain those social distancing standards.
The silver lining is that they are still able to remain open for takeout, and several local eateries have started offering special to-go menus, discounts, curbside pickup, gift cards and more. The hospitality industry folks are a strong bunch, and since they're always there for us, it's time we return the favor by paying extra attention to our favorites to help them keep their heads above the water during these trying times.
Here's how you can help: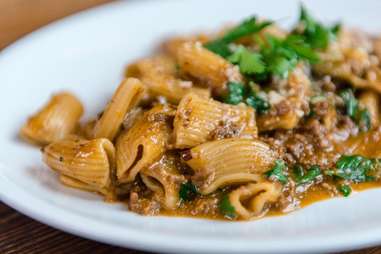 Order from them directly for pickup and delivery
Some of Houston's hottest restaurants and local kitchens are now making their eats available to-go, offering curbside pickup and discounts, introducing delivery options, and using cashless transactions to keep the social interactions at a minimum.
That includes places like Georgia James, Coltivare, Theodore Rex, UB Preserv, Squable, Riel, Uchi, and MAD, all of which are on our list of the best places to eat in Houston at this very moment. It also includes fan-favorite neighborhood joints like Ninfa's on Navigation, The Burger Joint, Vibrant, Truth BBQ, Rosie Cannonball, Blackbird Izakaya, Savoir, Peli Peli, a'Bouzy, Hando, House of Pies, Phat Eatery, Oddball Eats, Bernie's Burger Bus, Dish Society, B&B Butchers & Restaurant, Turkey Leg Hut, Vinny's, Yong, FM Kitchen & Bar, Kenny & Ziggy's, Emmaline, Papalo Taqueria, Sticky's Chicken, Jonathan's the Rub, State Fare, Traveler's Table, Molina's Cantina, Eight Row Flint, and Revival Market.
Of course, that list is by no means complete. Your best bet? Follow your local go-tos social media accounts for updates, menus, and options.
"What we are going through as a restaurant and a restaurant Community are definitely uncharted waters and there is no way to prepare for something like this," Justin Turner, owner of Bernie's Burger Bus, posted to his Facebook on March 17. "I ask all my friends and family on all social media platforms to please reach out to all your friends and let them know that whenever they are looking for a delicious meal we are here to serve you Houston. It's more than a meal right now, it's helping your fellow Houstonians continue to put food on there plates and shelter for their families."
Or use app-based delivery services
If your go-to restaurant isn't offering special inhouse delivery and you really don't want to leave the house, you can still show your support via app-based delivery services like Uber Eats, DoorDash, Favor, Seamless, and Grubhub.
Uber Eats has already announced it will be waiving delivery fees for all independently owned restaurants waiving in the US and Canada, plus implementing offerings like contactless deliveries to minimize contact between drivers and customers. DoorDash has also changed its default delivery method to a no-contact option, and food can be left at the door instead of hand-delivered.
Purchase gift cards
You may not be able to dine out at your favorite restaurant right now, but to ensure you can in the future, you can purchase a gift card for later use. A ton of restaurants offer gift cards for purchase online or by phone (and some are even throwing in a free gift card when you buy food now).
One of the city's finest, Squable, was hit with a double whammy after being burglarized earlier this week. Co-owner Bobby Heugel took to his Instagram stories to share the news and provide a link to gift card options. Squable, along with his other establishments Better Luck Tomorrow and Penny Quarter, all made the switch to-go models even before it was mandated.
"Everyone in this industry gives so much, and frankly, we need our communities to support restaurants and bars now more than ever," Heugel said in an Instagram post on March 16.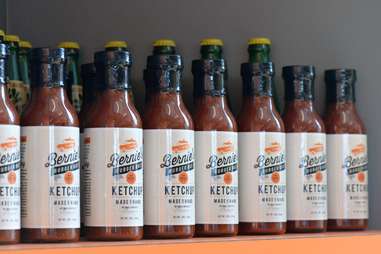 Buy merch online
Merch isn't just for punk rock concerts; many local restaurants offer things like house-made condiments, sweets, cookbooks, T-shirts, hats, koozies, and more. Now's the perfect time to show your support with a purchase.
In Brennan's online shop, you can find gift boxes of pralines and books written by family members and staff. Truth BBQ's general store offers things like BBQ sauce and camo trucker hats. Goode Company's epic Brazos Bottom Pecan Pie is available in its shop, along with jalapeno cheese bread and brisket rub.
Buy booze to-go
All bars that don't also operate as restaurants are closed, but breweries are open to sell their wares. 8th Wonder's brewery and distillery are selling spirits (and merch) to-go with online ordering and scheduled pickups. Saint Arnold has opened a drive-thru in the covered area of its Art Car Gallery, offering classic and new 12oz cans and tall boys. Eureka Heights has online ordering/pickups, as well as a drive-thru option.
Montrose Cheese & Wine is open for retail and curbside pick-up; and Rosie Cannonball is putting together some very compelling booze packages, including an Irish Coffee pack and Whiskey Highball setup, available for delivery.
From 8th Wonder's Instagram account on March 17: "During these crazy times we know everyone needs a drink and frankly all of our local businesses are going to need as much support as can be given safely!"
Donate
Chef Chris Shepherd's Southern Smoke Foundation began as a fundraiser for the MS Society, but after Hurricane Harvey in 2017, it shifted its focus to also provide support and assistance for those in the food and beverage community. Its emergency relief fund is already being dispersed in this crisis, and with its big spring fundraiser canceled, now is a perfect time to donate to the cause.
In Shepherd's own words, "Houston's robust culinary community soldiers on, and we hope that you will continue to patronize local bars and restaurants. Please consider donating to the Southern Smoke Foundation to help us take care of our own and keep our restaurants alive. Please share the Southern Smoke Emergency Relief Fund application with any restaurant workers who need it, and visit your favorite restaurant. We'll get through this together."
Share your experiences
While restaurateurs have a love-hate relationship with online review platforms like Yelp and Google, they aren't likely to have a problem with your showing them some love right now. The buzz generated from positive reviews can help them boost business, now and when the time comes to open their doors back up.
Loved the takeout burger you just housed? Spread the good word and share the experience on your social media accounts -- and don't forget to tag!
Stay informed
As Troy and Gabriella said, "we're all in this together." Check out your favorite restaurants websites and social media accounts to stay updated on the latest menu offerings, hours, pickup and delivery options, and more.
Sign up here for our daily Houston email and be the first to get all the food/drink/fun in town.
Brooke Viggiano is a Houston-based writer who is sorry she got that song stuck in your head, but is NOT SORRY about trying to spread the word about Houston restaurants. Keep your social distance from her @brookiefafa on IG and @brookeviggiano on Twitter.