Last year, Jay Z dissed Houston pizza on Jimmy Kimmel Live!, saying "they don't have pizza there," all because Beyoncé takes her slice with extra sauce and jalapeños. While we know Brooklyn has its own breed of pizza pride, we have to disagree with Young Hov: Houston's pie scene is booming... plus jalapeños on pizza are delicious. Jiggaman, next time you visit with Bey, we beg you to try our pizza again. We'll even give you a head start with the top pizzerias in town.
Upper Kirby
Imported "double zero" flour and a VPN-certified wood-burning oven mean every Bollo pie comes out blistered and smoky as all hell. Get them topped with everything from creamy buffalo mozz and prosciutto di Parma to fresh jalapeños and crazy-good Texas Wagyu beef.
Heights
This Dallas-born pizzeria is opening any day now, with a second location planned for Montrose. Having eaten at its Big D counterpart, we can confirm Houston is in for some Big D-eliciousness (sorry, it was right there). Get expertly crafted, certified awesome Neapolitan pies made with fresh dough scorched in an intensely hot a wood-burning oven, and get them topped with things like local sausage, Calabrian chiles, and house-made mozzarella.
Heights
There's a reason people don't mind the no-reservations policy at this modern Italiano joint, and it's not because they like achieving a sturdy buzz before sitting down to eat (although maybe it's a little bit of that, too). It's mainly because everything coming out of the wood-fired oven and urban garden is borderline euphoric, and that includes the rustic, chubby, locally inspired pies. The whole lineup is top notch, so come with friends and order a mix to avoid failing yet another multiple choice test.
Upper Kirby
These scorched San Fran-style pies are perfectly chewy and puffy thanks to fresh sourdough from local bakery Angela's Oven. Counter service keeps things wallet friendly, but you'll have the impossible task of deciding between impressively good adornments like whipped ricotta, shiitake 'shrooms, and fiery andouille before you reach the front of the line. Maybe get them all?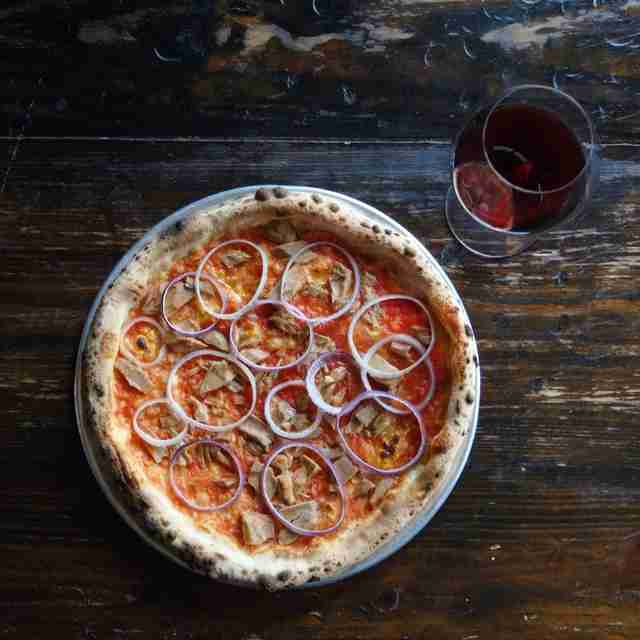 Montrose
This Westheimer powerhouse from Chef Marco Wiles was the first to demonstrate the beauty of blistered and blackened wood-fired crusts to Houstonians. Impossibly good flavor combinations like taleggio, pear, and truffle oil or roasted clams and garlic, all of which peek throughout the pies' scorched nooks and crannies, proved to be too good to resist. As do bowls of al dente rigatoni studded with pig fat and heavy cream, so head here for a dreamy pizza-pasta combo that's way better than that franken-garbage the one national chain is trying to pawn on people.
Midtown
Foldable New York-style slices may be a novelty in this city, but those very things are the weapons of choice at this old-school pizzeria. The Midtown hideaway has always been a cult favorite, but with the opening of the totally rad Axelrad Beer Garden, with which it shares a yard, Luigi's has become a bona fide institution.
Sugar Land
While not everyone has been sold on the Chicago imports coming into town, this homegrown pizzeria has won over crowds with their buttery, flaky, and fully gluttonous deep dish and slightly less gluttonous thin-crust pies from the start. The owner was gifted the recipes from his favorite (now defunct) Chi-town spot, Mama Rigetta, so though the spot is homegrown, the Chicago-style pies are as authentic as you can get.
Midtown
This Midtown staple boasts the most authentically Italian pizza in town. That's because the massive chain got its start in Italy before making its way to H-town. You'll find 40+ pies at this outpost, from the legitimately amazing prosciutto crudo number to the heavenly ricotta & spinach. You'll also find ALL-YOU-CAN-EAT gnocchi on the 29th of every month, which has absolutely nothing to do with pizza but deserves to be mentioned, nonetheless.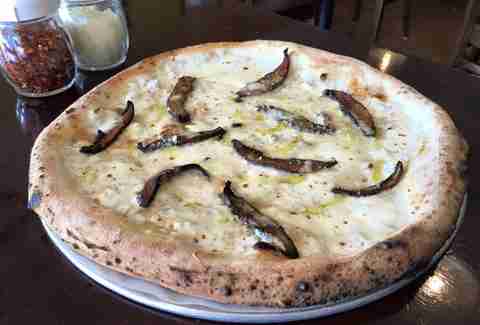 Montrose (& Memorial)
Having two locations means you have double the chance to get your Neapolitan-style eating on. Both of the casual counter-service haunts draw a steady crowd thanks to high-class toppings and blissfully charred wood-fired crusts (which only take about 90 seconds to crisp in the massive 900+ degree ovens). They are also BYOB, which never hurt anyone.
Upper Kirby
Topped with things like house-made fior di latte, soppressata, and Calabrian chilis before being wood fired at 900+ degrees until bubbling and charred, these red- and white-based regional Italian pies are a force to be reckoned with. Take them down with things like fire-roasted polpette, red wine, and gelato. As is tradition.
Montrose
Follow the Yankee caps to this no-frills pizzeria, where the service is just as New York as the lightly sauced, thin, and crisp slices. Don't expect a lot of small talk, just solidly executed plain, pepperoni, and Italian sausage pies that come out fast and hot.
Sign up here for our daily Houston email and be the first to get all the food/drink/fun in town.
Brooke Viggiano is a Houston writer who used to sling pies after the bars closed in college. She didn't work at the pizza place and is still not sure why they let her behind the counter. Follow her for more riveting tales @BrookeViggiano.