In a city as colossal and diverse as Houston, it's no surprise we have some pretty impressive restaurants (some of the best in the nation, actually!). But the spotlight giveth, and the spotlight taketh away, and there are a whole lot of great restaurants that don't get a ton of spotlight. Well, consider us their hype man -- whether they're buried in a strip-mall or stand in the shadow of their more popular big brother, here are 13 severely under-hyped & often overlooked restos that you need to put on your radar. 
Recommended Video
Send Foodz: New York City Wine & Food Festival
Midtown
The offshoot of Greenway's Oporto Wine Café made a teeny tiny splash when it opened in January, but with spectacular food and service in a handsome setting, it really deserved make a tidal wave. The Portuguese-inspired food and wine bar dishes out small plates speckled with Indian and Italian influences, thanks to husband-and-wife team Rick and Shiva Divirgilio's heritages. And every piece of deliciousness comes straight out of the open kitchen. It's dinner and a show.
Memorial
If you've lived in Houston long enough, you know to not discount something just because it's outside the loop. Case in point? This suburban gem, which -- unless you're in the know -- could just be the best restaurant you're not eating at. Helmed by a NY native with East Coast attitude to match his culinary chops, this Italian steakhouse dishes out seafood fra diavalo alongside Houston staples like fried chicken and grits and bigger-than-your-head bone-in ribeyes.
Sharpstown
If you've never been on one of Chef Chris Shepherd's culinary tours (where he shares his secrets to some of the best ethnic eats in the city), you may have missed this British curry house set in a strip center. That means you're missing out on East African pub eats like cassava root "fries" and mind-numbingly good (and mouth-numbingly hot) curries. Dare we even mention the whole roasted goat leg that you have to order at least 2 days in advance? Too late.
Midtown
Clark Cooper Concepts -- the restaurant group known for Brasserie 19 and Coppa Osteria, to name two -- is definitely a power player in the Houston food scene. But somehow, their coastal Spanish concept oft flies under the radar, missing out on too many "best" lists and not receiving nearly enough props. Maybe thoughts of crab-stuffed whole fish, mouthwatering truffle gnocchi, and ridiculously good (and well priced!) wines will remind everyone to give it the respect it deserves.
Montrose
With big brothers Da Marco and Dolce Vita getting all the glory, it's too easy to forget about the youngest sibling in Wiles Restaurant Group. Here are a few reasons why you shouldn't. First and foremost, eating Italian charcuterie and beautifully prepared small plates pastas, seafood, and fritti is fun. Secondly, pairing said plates with spectacular Italian wines is even more fun. And finally, ROAST SUCKLING PIG SUNDAYS.
West U/Woodlands
You'll hear Hubcap and Bernie's getting plenty of burger props, but you'd be crazy not to try this equally impressive spot, which boasts all-natural and locally sourced ingredients in addition to freshly baked buns. We think its praises aren't sung nearly enough. Here's to hoping it continues to expand its empire so every Houstonian can stuff their face with smothered Angus burgers and handspun milkshakes!
Heights
Yes, it's next door to a Kroger in a discrete strip center in Garden Oaks. But that doesn't mean the bistro-wine-bar hybrid doesn't have some serious, criminally underrated game. After the departure of chef Erin Smith a few years back (don't worry, her guanciale burger is still there), the resto may have fallen off the radar for a bit -- but they've recently hired Top Chef contestant Casey Thompson to revamp the menu, so the time to visit is NOW.
Galleria
You're probably not brunching here. but you totally should be. That's because the easy-to-miss strip center spot serves up a beastly Sunday spread packed with over 50 awesome Turkish eats. Quit being a fool and hit the buffet to get your fill of a bunch of delicious egg and meat dishes that you'll be unable to identify, and some chai.
Upper Kirby
Despite mostly positive nods in the press, this modern Korean newcomer refurbished its concept to increase traffic in May. The new Dosi focuses on more approachable Korean eats, but with the same enticing flavors. Hit the comeback kid during Soju Hour to get blended and infused soju on the cheap. It'll help wash down all of the Korean fried chicken wings, bulgogi buns, and pork belly ssam you'll be smashing.
Third Ward
As much as we love fried chicken popular kid The Breakfast Klub, we're just as happy skipping the line and hitting up its Bohemian sister restaurant instead. You'll get the same soulful food, this time with a Caribbean feel -- think everything jerked, curried, and stewed with bright, vibrant flavors.
Montrose
Ask for authentic and regional Mexican and most people will send you to Hugo's (or the Mexican spot nearest their house). Equally as inspired but less talked about is this Neartown bistro. With flavors inspired by Mexico City, the kitchen pumps out upscale comida -- in the form of beautiful ceviches, nopalitas, and Veracruz-style snapper -- that would make anyone's abuela proud.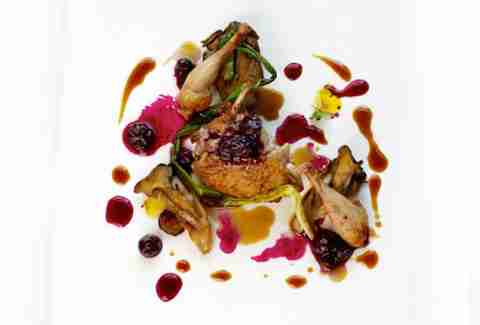 Montrose
If you're on Taft near West Dallas, chances are you're heading to the highly acclaimed Pass & Provisions. But did you ever try the old-school BYOB spot right next door? The elegant grill house may not have as many accolades under its belt, but its intimate atmosphere and impressively prepared eats -- think smoky duck breast, sea scallop risotto, and clams with Spanish chorizo -- make it well worth a trip. Also, we'll say it again: It's BYOB.
Downtown
Blink and you'd miss it. In fact, we're willing to bet you've walked right by this tiny Italian joint without even knowing its there. The spot is mainly frequented by downtown workers looking for a quick business lunch, but we think the menu full of antipasti, baked pastas, and fresh grilled fish is really best enjoyed on a leisurely weekend -- i.e. a time where you can also get boozed-up. Dinner service is Thursday-Saturday.

Sign up here for our daily Houston email and be the first to get all the food/drink/fun in town.