Question: what happens when a Tex-Mex classic that gets seriously abused at movie theaters comes to Houston and melds with things like BBQ, Vietnamese, and Gulf Coast seafood? Answer: The most glorious of all the nachos to ever exist ever, as seen in their full, absurdly cheesy splendor here:
Nancy Ames Nachos
Molina's (address and info)
Multiple locations
The Nancy Ames nachos are reason enough to visit this Tex-Mex institution. We're not sure if the American folk songstress created or simply inspired the dish, but the spicy beef, beans, guacamole, cheese, diced tomatoes, and jalapeño-loaded chips make us love her as much as we love that guy Jose who created our favorite dip.
Monster Kong Nachos
Chacho's (address and info)
Multiple locations
Pile-high nachos come in 1/4 or 1/2 plates, but we have no idea why you wouldn't go for the full, save the fact that maybe you don't want to get a heart attack today. But if you do want one, go for the Monster Kong: a nacho variety plate stacked with an ungodly amount melted cheese; refried beans; chicken & mesquite beef fajitas; shredded chicken; picadillo beef; and a spread of spicy queso, sour cream, and guac. Monster Kong it is.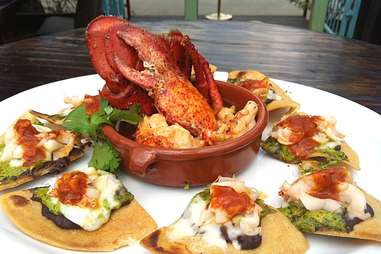 Nacho specials
Ninfa's on Navigation (address and info)
East End
Obviously, the chicken & beef fajitas nachos at this Tex-Mex OG are awe-inspiring, but when Executive Chef Alex Padilla pulls out things like cheesy and decadent lobster nachos, it's game-over.

Char-grilled pork or chicken nachos
Nobi Public House (address and info)
Pearland
It doesn't get more Houston than a Viet-Tex-Mex craft beer bar. It also doesn't get more addicting -- because said Viet-Tex-Mex craft beer bar dishes out char-grilled pork-, pickled jalapeño-, and queso-coated nachos for you to gulp down with your brews.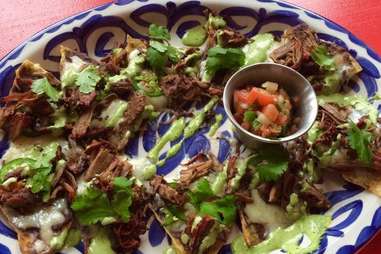 Nachos Solamente
The El Cantina Superior (address and info)
Heights
Clearly, this Tex-Mex newcomer cares for you deeply. That's why it individually crafts each of its nachos to include asadero cheese, fresh jalapeño, black beans, pico, cilantro ranch -- plus smoked brisket, fried chicken, or fajitas -- on Every. Single. Bite.

Nachos Rocio
Teotihuacan Mexican Café (address and info)
Multiple locations
Home-style Tex-Mex means your nachos are loaded with classically delicious offerings like steak & chicken fajitas, beans, cheese, sour cream, guac, and jalapeños. But we love the Nachos Rocio, where spiced ground beef adds a greasy, meaty punch.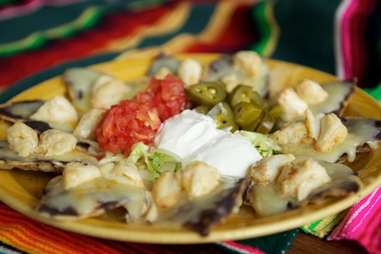 Jumbo lump crab nachos
El Tiempo (address and info)
Multiple locations
Refried black beans, gooey cheese, and tender jumbo lump crab meat top these individually constructed nacho masterpieces. They are like a work of art. A very cheesy and delicious work of art.

Steak, chicken, shrimp, pork, or crab nachos
Fusion Taco (address and info)
Downtown
Get your heaping plate of hot and beautifully greasy chips with a more-than-generous heap of steak, chicken, shrimp, pork, or crab (maybe they can do all?), gooey chile con queso, black beans, corn salsa, pickled jalapeños, and sour cream & guac -- because they're cool like that.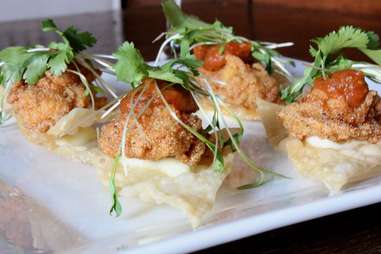 Nacho Mama's Oysters
Max's Wine Dive (address and info)
Multiple locations
These are nacho mama's nachos. Unless your mama made nachos with slippery fried Gulf oysters, garlic aioli, habanero salsa, and hot & fresh wonton chips -- in which case, you have the best mom ever.

Build-it-your-way nachos
Bodegas Taco Shop (address and info)
Museum District
Construct your own nacho masterpiece by piling on things like rotisserie chicken, steak fajitas, pork carnitas, queso, roasted corn relish, pico, olives, refried black beans, jalapeños, and -- screw it -- cilantro-lime rice. Why? BECAUSE YOU CAN.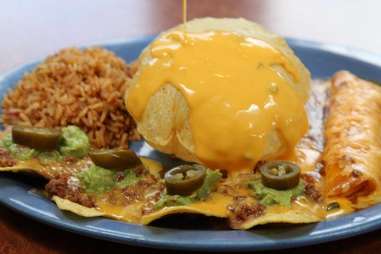 Off-the-menu special #15
Los Tios (address and info)
Multiple locations
Loyal patrons know to order the off-the-menu special #15. Because when you can get your taco meat-, refried bean-, and chile con queso-loaded chips with a side of Mexican rice, puffy queso, and cheese enchilada, you do.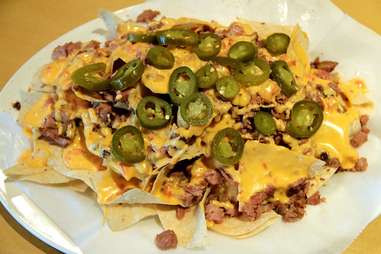 BBQ nachos
Stockyard Bar-B-Q (address and info)
Galleria
Hot and freshly fried tortilla chips come fully loaded with an inhumane amount of queso, jalapeños, and your choice of lip-smackingly good BBQ chicken, pork, and brisket. You can also add sour cream. And you should. You always should.

Nachos Jorge
Arnoldo Richard's Picos (address and info)
Upper Kirby
This nacho plate rises to a new level of brilliance thanks to Chihuahua cheese, marinated red onions, jalapeños, guacamole, refried black beans, and a gorgeous pile of cochinita pibil -- a traditional Mexican slow-roasted pork that is marinated in achiote paste before ending up all over your face.

Barbacoa nachos
Pistolero's (address and info)
Montrose
This taco-and-tequila joint tops its fresh-out-the-deep-fryer corn chips with the usual suspects, plus mouthwatering barbacoa, two types of cheese, and some more cheese in the form of QUESO. Therefore, we can only assume it loves you.
Carne de puerco, tequila lime chicken, & other nachos
Yucatan Taco Stand (address and info)
The Woodlands
With a laundry list of ingredients, including but not limited to roasted garlic aioli sauce; guac & sour cream; shredded pork, beef, or chicken; and three (three!!!) modes of cheese, these monster chip towers make the perfect companion to the tequila flights you're for some reason doing after work on a Tuesday. Worth it!
Sign up here for our daily Houston email and be the first to get all the food/drink/fun in town.