Given that this city sits right next to the huge sushi storehouse that some call "the Gulf," it's no surprise that there are a lot of raw seafood slingers in town. But with all of the sushi options out there, how does one decide which spots are the real deal? Well, going to these nine places is a good start:
Montrose
Sushi traditionalists be warned: this may not be the place for you. Everyone else that loves things like razor sharp cuts of sushi and sashimi and funky, outside-the-box adornments (which are usually edible, too), this is your spot. Dishes range from the playfully sweet & smoky machi cure, to katsu pork belly makimono, and foie nigiri.
Upper Kirby
Despite what we've been led to believe, sushi is less about the fish and more about the rice. Proper attention to details like temperature, packing, and vinegar-flavor are just as important as that buttery toro you love so much. And no one pays more attention to detail than the brilliant Chef Manabu Horiuchi, aka Hori-san. Trust Hori-san to lead you through all kinds of mind-numbing deliciousness with every flawlessly executed piece.
Museum District
When Houston's hottest sushi spot closed out of nowhere in 2014, the city let out a collective, "Awwww nawwwww, bro." Thankfully, "Magic Fingers" -- also known by his human name, Chef Chris Kinjo -- kept his knives sharp and returned with an ever more badass version of a classically Japanese restaurant. Any umami-filled seat in Kinjo's house is an excellent one, but hit the 12-seat sushi bar for the chef's omakase if you want to savor the showy entertainment, course after impeccable course.
Memorial
Not to be confused with the newly opened Izakaya in Midtown, this barely one-year-old Japanese tapas bar is a more than worthy sushi destination. That's thanks to well-vinegared sticky rice and nice selection of perfectly cut fish from notable sushi chef Hajime Kubokawa (formerly of Kubo's) and partner Akira Asano. Hit the intimate five-seat sushi bar for raw-stuffs and Japanese skewers with an all-star track record.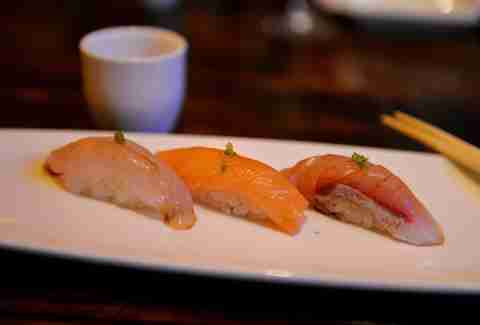 Memorial
With Nobu-trained Chef Adison Lee at the helm, this sultry hotspot is giving big guns like Uchi and Kata Robata a run for its money. Lee's impressively delicate sushi and sashimi is locally and seasonally inspired, thanks to their drive to reach new levels of greatness and a handy in-house forager. Eat the exquisite cuts and rolls alongside a sturdy lineup of inspired takes on Japanese classics and some sake.
Chinatown
You'll find some not-so-authentic (albeit pretty tasty) rolls taking up some real estate on the menu of this unassuming strip mall haunt, but that doesn't mean that Miyagi -- the man behind the knife -- doesn't have some seriously elite skills. One taste of his meticulously cut usu-zukuri and you'll see the mom and pop shop deserves a closer look.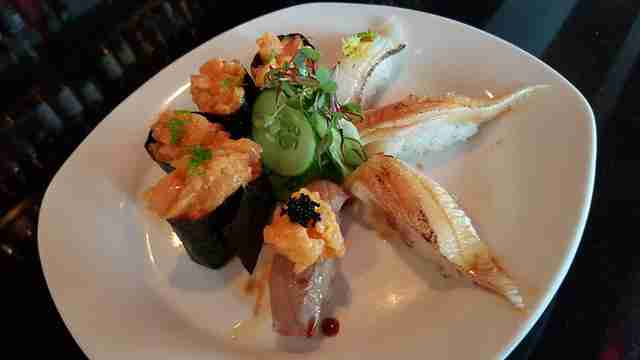 Upper Kirby
While he gets things together for an upcoming project, rising star Chef Jason Liao -- formerly of the highly touted but now closed Preview Modern Seafood in Sugar Land -- signed on to help man the kitchen at this popular sushi spot. That means the time to get a taste of the magic that happens when Co-Chef Mike Tran's noteworthy techniques and sustainable approach mix with Liao's creative flare is NOW (or more specifically, during happy hour when the good stuff is a steal).
Museum District
Japanese owned and operated for 25+ years, this no-frills haunt is as authentic as it gets. Expect buttery-as-all-hell uni alongside and beautifully-prepared hamachi alongside solid specialty rolls in an unassuming atmosphere.
Rice Village
Just like the great Taylor Swift, this OG spot founded by Yoichi 'Yogi' Ueno over 14 years ago proves that great quality and service "never go out of style."* Forget the hip and trendy; Chef Takizawa's old school menu of Japanese classics is backed by superb technique and seasonal flavors that keeps Kubo's name high on the Houston's sushi hit list. *Our apologies if you now have that song stuck in your head (Just taaaake meeee hoooome!!).
Sign up here for our daily Houston email and be the first to get all the food/drink/fun in town.
Brooke Vigginao is a Houston writer who is prettttty sure sushi started on a dare. Follow her at @BrookeViggiano.