Maybe waking up before noon was just too hard today. Or maybe you prefer to eat your pancakes at night. Either way, get excited. Because we've scoured the city for the best "I can eat breakfast whenever the hell I want!" options and narrowed them down to the 11 most excellent.
Galleria
Hours: Every day 'til 3pm
If you're gonna have pancakes for lunch (or as pre-dinner snack), this is the place to do it. These bad boys come stacked with crisped edges and a mound of oozing, whipped, and salted butter. All they need is a soak in syrup and BOOM -- you're never having a kale salad for lunch again.
Montrose
Hours: Every day 'til 5pm
Hungover? We have a plan for you. Wake up at 10am. Find your wallet and phone. Got 'em? Good. Go back to sleep 'til 3pm, put on pants, and get ready for some late-afternoon breakfast action at Blacksmith. Depending on your level of hangover, get the daily black and a sausage, egg & cheddar scratch-made biscuit or the Vietnamese steak & eggs. Now add on a croissant. You've either completely cured yourself or have put yourself into enough of a food coma that you can easily fall back asleep.
Stafford
Hours: Sun-Thurs 'til 9pm; Fri & Sat 'til 10pm
This old-school diner has been feeding Houstonians their most important meal of the day since 1938. Even when the sun goes down. Get here for two-egg plates loaded with all the usual suspects, corned beef hash, and -- because breaded and deep-fried beef is a breakfast food in Texas -- chicken-fried cowboy steak & eggs with grits and a biscuit.
Midtown
Hours: Weekdays 'til 2:30pm; weekends 'til 3pm
Ever have the problem where you can't decide between the pancakes or the eggs, so you order both and look like a complete glutton when you have five plates on the table to everyone else's two? Problem solved: no matter what time of day you stroll on into Harry's, you can get (among other breakfast-y things like the beaut pictured above) Houston's most massive pancake & egg hybrid, the pancake omelet. That's an entire three-egg meat & cheese omelet wrapped in a gigantic pancake. Trust us when we say you want this.

Midtown
Hours: Mon-Wed 'til 9pm; Thurs-Sat 'til 10pm; Sun 'til 8pm
Breakfast for dinner tastes better with boozed-up punch, we promise. Sit out on the big back patio and suck down a few of Maw Maw's cocktails while you work on demolishing your short stack AND your ranchero omelet. It's one of those days...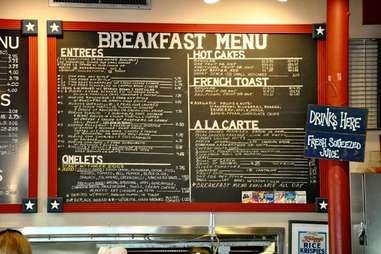 West University/Memorial
Hours: Tues-Sat 'til 9pm; Sun-Mon 'til 2pm
Because why wouldn't you want an enormous plate of hotcakes and pecan-smoked bacon or a seriously large ranchero breakfast burrito at 8pm on a Wednesday? Trick question: you would.

Greenway Plaza
Hours: Mon 'til 5pm; Tues-Sat 'til 7pm; Sun 'til 3pm
A Jewish-Mexican bakery where you can get migas; dulce de leche crepes; cheese blintzes; and build-your-own-tacos, -burritos, and -croissant sandwiches all day long? Count us in!

Upper Kirby
Hours: Open 24/7
Not only can you come here for short stacks, breakfast BLTs, and pork chops & eggs ALL DAY, you can also come here for short stacks, breakfast BLTs, and pork chops & eggs ALL NIGHT -- because this classic diner is open 24 hours, seven days a week, baby.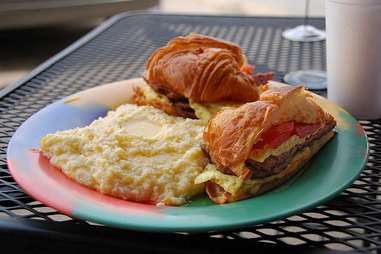 Midtown
Hours: Sun-Mon 'til 5pm; Tues-Sat 'til 7pm
There's a constant line out the door every weekend and it's not because people are taking their office health challenges of standing more often seriously. It's because of butter-loaded grits & fried catfish, crisp-as-all-hell wings & waffles, and chicken-fried steak the size of your head. Have it all for breakfast, lunch, and dinner.

Heights
Hours: Every day 'til 9pm
Wake up (at 5 pm) with deliciously massive plates of huevos rancheros, a good 'ol stack of chocolate chip pancakes, or a chicken-fried home skillet packed with eggs, cheese grits, and sourdough toast at this Heights standby. There's oatmeal as well -- but who are we kidding?

Gulfgate/Pine Valley
Hours: Weekdays 'til 3:45pm; Sat 'til 3pm; Sun 'til 2pm
At this beloved Houston institution, you can get cheap-as-hell breakfast all day err' day (and by all day err' day, we mean until they close). Your eggs & pancakes plate will be no-frills, but that doesn't mean that it won't be downright delicious.
Sign up here for our daily Houston email and be the first to get all the food/drink/fun in town.