Solo dining is trending up, and not just because you can order a bacon appetizer followed by a bacon entrée and bacon dessert without judgment from your boyfriend or girlfriend. There are also the added merits of not waiting for a table at the hottest spots, making friends with chatty strangers, or, best of all, not having to talk to a single human being outside of the ordering process. Here are the best Houston restaurants at which to make the most of your (surprisingly great) solitary eating experience.
Recommended Video
Tuna Eyeball with Timothy DeLaGhetto and Ben Sinclair
Museum District
Sushi bars are practically made for dining alone, especially because shushing your SO during the chef's omakase usually concludes with you spending the night on the couch anyway. At MF, "Magic Fingers" – also known by his human name, chef Chris Kinjo – certainly puts on a shush-worthy show. Reserve a spot at the 12-seat sushi bar and revel in the wizardry.
Upper Kirby
Remember that thing we said about sushi bars being perfect for solo dining? We hope so, because we literally just said it. Go ahead and read it again, but replace "MF" with "KR," "Magic Fingers" with "Hori" and "Chris Kinjo" with "Manabu Horiuchi." Now hit Kata's sushi bar, because that's a lot of replacing, and you probably worked up an appetite. Hori-san pays just as much attention to the rice as he does the fish, so the temperature, packing, and acidity will be just as on point as that buttery toro you love so much.
River Oaks
Getting a prime table at this see-and-be-seen brasserie can be hard. So it's a good thing you don't have to worry about anyone but yourself. Snag a seat at the sleek bar and peruse (via iPad) the surprisingly affordable wine list as you side-eye the young set of Real Housewives table-hopping in red-soled stilettos. The steak frites aren't so bad, either.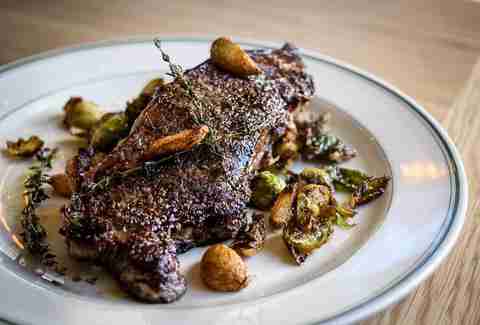 Houston Heights
Bar-top tables and stools near the back bar provide a friendly setting for kimchi burger smashing and pint sipping. The bartenders make for good chatter on slower nights, and free wi-fi during weekdays means your data usage won't be through the roof. For a proper sup', get homey plates like beef bolognese & polenta, or fried chicken & mash. Or visit during the off-hours (3-5pm) for a cheaper late-lunch menu of small plates and sandwiches.
Montrose/Memorial
You may think of pizza pie consumption as a group experience. But these scorched, bubbling, Neapolitan-style pizzas are destined for one. Order an arugula-and-prosciutto pie at the counter and snag a seat with a view of the massive brick oven(s) so you can watch the show. It'll only take about 90 seconds for yours to be ready once it's in. Owner Bill Hutchinson is one of the friendliest guys in town, and the $3 BYOB policy means you can wine and dine on a budget. Pro tip: bring a screw-top bottle so you can easily take whatever you don't finish with you for later.
Midtown
Ramen is unshareable as it is. But this California implant's take on the dish is so shockingly good, you'll want to take absolutely zero chance of your dinner companion asking for "a little taste" before watching him or her slurp up half the noodles in your bowl. Dining solo is the only surefire way to do that. Saddle up to the industrial bar and get the signature Black Tonkutsu, 18-hour slow-cooked pork broth and made-from-scratch noodles, the only thing worthy of a broth so damn good. Don't feel like talking? Don't have to. Craft taps and the TV will keep you company and save you from striking up a conversation with noodles all over your face.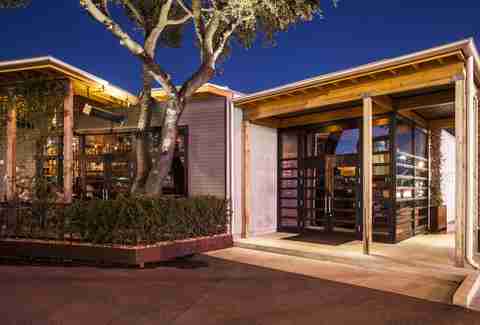 Montrose
A meal at chef Chris Shepherd's soulful restaurant is usually a family-style affair. But you can pony up to the modern farmhouse wine bar (from 3-6:30pm or after 10pm) to smash incredible eats all by your lonesome. In the wine room, the chef pays homage to his buddies around the country, creating an evolving lineup of "covers" that truly sing. Peche's Smoked Gulf Fish Dip, Hog and Hominy Poutine, David Chang's Fuku Chicken Tenders... would you really want to share braised goat and dumplings? We didn't think so.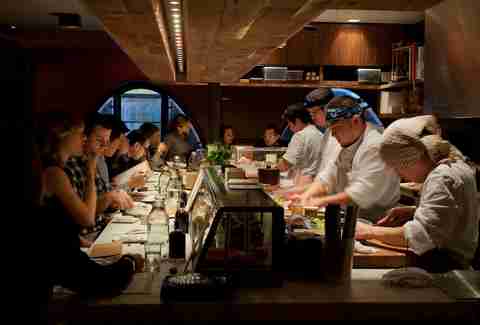 Montrose
Bring a date and you're likely to drop a very large dollar amount at this cool kids' hangout. Hit the sushi bar unchaperoned at "saké social hour," however, and you'll feast like an emperor on a dime (and without the multi-week wait for a reservation). If you don't mind spending some cash, get the omakase for razor-sharp cuts and playful takes on classic Japanese flavors. You'll be happy regardless.
Houston Heights
This Southern charmer has been fairly swamped since opening in the fall, so going at it alone is quite possibly the best way to dodge a wait. Indoor or covered patio bar seating means you're good to go no matter the weather, and a constantly rotating menu keeps things from getting boring. The boozy cocktails and rotating selection of 24 taps should help with that, too. Get the SG Burger, a double meat/double cheese number packed with "comeback sauce" you'll legitimately want to come back for, or the insanely good Beef Belly Burnt Ends, something you'll never, EVER want to share.
Montrose
This craft brewpub is almost always packed, so getting a table big enough for you and your crew can be a bitch. Luckily, there's almost always an abundance of solo stools for you to grab while others give you the hangry stink eye. The Cease & Desist burger is so good it should be illegal, but if you're there on a Tuesday, their steak night special, in which $15 gets you a flawlessly cooked 44 Farms cut alongside seasonally apropos sides, is the WTG.
Montrose
Forget the fancy-pants meal in the formal dining room. Bar bites at the wraparound bar attached to the latter are easier on the wallet, and you can eat, like, three of them without feeling like a beast. Get a few small ones (like BBQ meatballs, ceviche, or mac & cheese, only $5 during happy hour), or go for larger plates like mussels & frites, the house bacon burger, or veal bolognese. All of it pairs perfectly well with an old-school cocktail.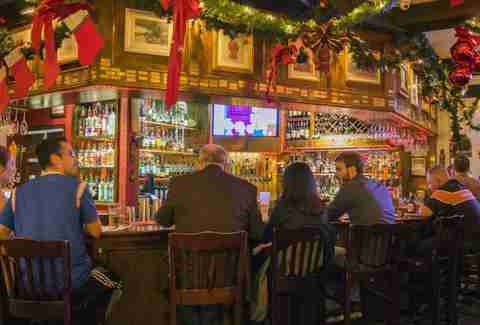 River Oaks
Cozying up with the pub fare at this British tavern is like wrapping yourself in a giant, delicious snuggie for one. Weekday specials – think $5 cheeseburger Mondays, $10 moules marinières, and $22 for a curry and a pint – are no-joke tasty, as are the cheap "Night Owl" plates. Belly up to the bar to grab one with a few pints. You may even find a few real life Brits to faff around with.
Midtown
Wine and dine yourself with a view. All you have to do is reserve a spot at the 28-seat chef's table that envelops the open kitchen. Then get chef Jacques Fox's show-stopping "Gastronomique," a tasting so good it will have you forgetting you're so damn lonely inside. (Or order from the regular menu, which is a bit more affordably satisfying.)
Sign up here for our daily Houston email and be the first to get all the food/drink/fun in town.
Brooke Viggiano is a Houston writer who sorta wants to ditch her SO for dinner tonight. Tweet her @BrookeViggiano, but only expect an answer if there's free wi-fi.